I used the title of this post to see if I could emulate Mike and bring disappointed perverts to the pages of 10,000 Birds. Not that it is a dishonest title at all seeing as this post does feature a buck naked. It is just not exactly what probably 99% of Googlers are searching for.
After seeing the Yellow-headed Blackbird (and other birds that I will be blogging about eventually) at Jones Beach, Daisy and I headed further east on Long Island's barrier beaches to Robert Moses State Park, where beach-goers far outnumber birders except in the coldest months. We parked at field five and headed out on the boardwalk over the dunes, but not before reading this sign: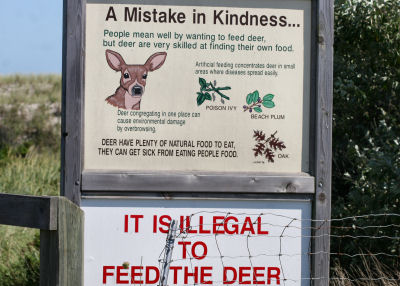 But either other people can't read, don't follow rules, or White-tailed Deer just do amazingly well foraging for themselves in the dunes at Robert Moses State Park because we saw the biggest buck we've ever seen in the flesh.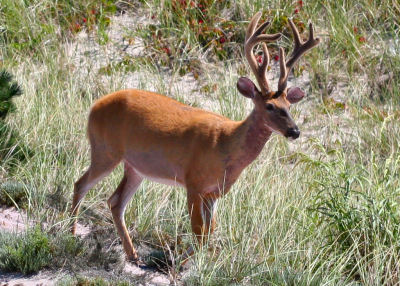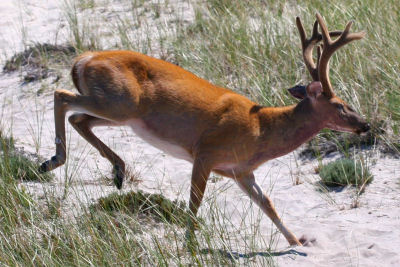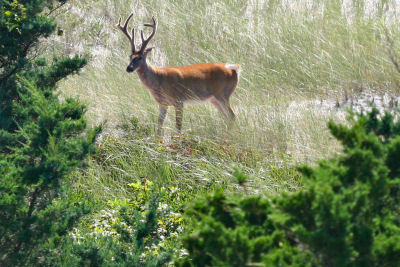 And it wasn't only Daisy and I who were amazed by the eight-point buck's presence. Beach-goers dropped loaded coolers to dig for their cameras, tourists on their way out to the Fire Island Lighthouse ogled the deer instead, and small children shrieked with glee at seeing "Bambi's daddy."
And it was a good thing we saw the deer because the bird life was lacking. Barn Swallows swooped through the air, Northern Mockingbirds and Common Yellowthroats foraged, and Song Sparrows kept me on my toes, as I tried to turn them into something rare. Other than a flyover flock of Double-crested Cormorants and some House Sparrows that was about it. The lighthouse was nice though.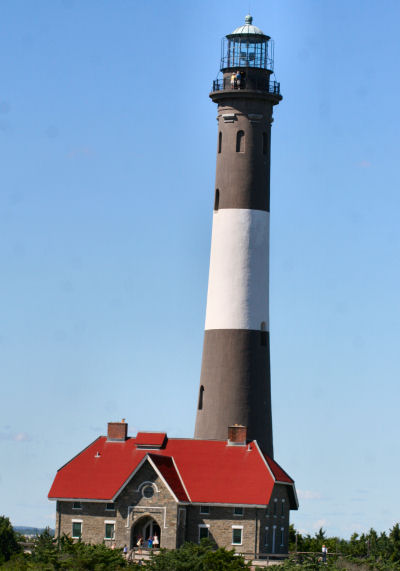 And if you happen to be one of the folks who found this post through Google and you read it all the way until the end, congratulations! Here's a hot redhead as your reward.
Finally, did you ever wonder where the term "buck naked" came from? Well, here's your answer.