When I saw the post on the New York State listserv that a Cattle Egret, and sometimes two Cattle Egrets, had been seen in Drake Park in the Hunts Point section of the Bronx I knew I had to make a stop there on my way back upstate. Not only so I could see the bird and add another check on my New York State list for the year, and not only because it would be fun to see a pretty good bird in the Bronx, Mike's home, while he was upstate, but because it seemed ridiculous that a bird I hadn't seen in the state yet this year would turn up in such an unlikely spot as Hunts Point.
And why is Hunts Point an unlikely place for a tough-to-find-in-New York bird? Well, this bit of info from the Hunts Point Wikipedia entry gives an idea:
Local industry and the approximately 60,000 truck trips per week they depend on contribute in part to the asthma rates among children under 14. The New York City Department of Planning recommends a minimum of 2.5 acres of parkland per 1000 residents. Due to its historically industrial nature, Hunts Point and the rest of the South Bronx have around 0.5 acres of parkland per 1000 people.
But some of that parkland is Drake Park, a tiny one-square-block park that has an even tinier cemetery fenced off within it.
On my way there I got lost and drove aimlessly around the Bronx for awhile before pulling over and calling Daisy to ask her to google me some directions. Back on track, I pulled up at the park and spotted the Cattle Egret from the car. I entered the park and got a couple of distant shots like this one: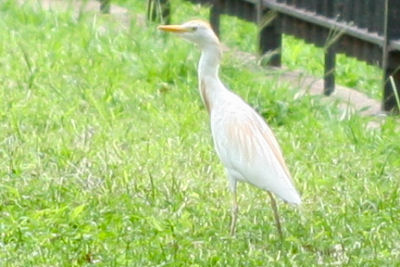 Then the Fish Crows started calling and the egret flew into the graveyard and perched on a tall monument: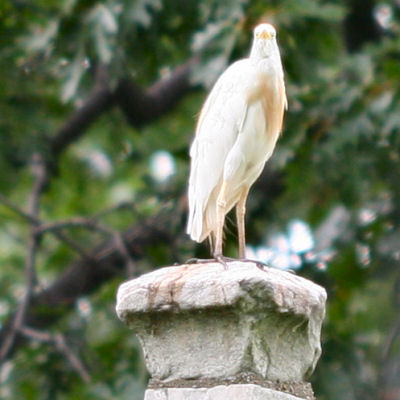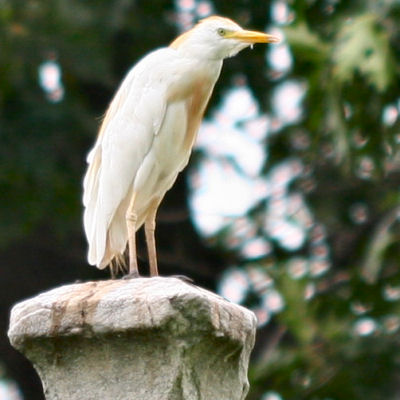 While I was taking these shots one of the horde of ravenous squirrels scared the heck out of me by actually being so bold as to sit on my shoe. At least if it had given me a heart attack my body wouldn't have had to be moved very far!