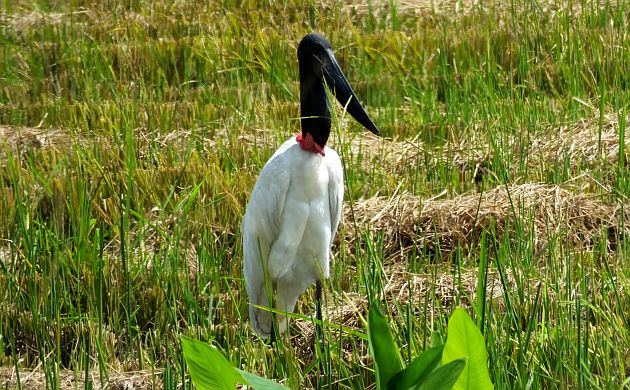 "Tis the season for migration, bi bi bi bi bird, bi bird bi bird."
This little ditty should be sung using the melody for "Deck the Halls", and now would be the time to intone it, at least in Costa Rica. If you were trying to pick out Blackburnian Warblers and other migrants from the September foliage in Central Park, the shores of Ohio, or any other sites in the north a few weeks ago, a fair number of those birds have now made it to Costa Rica. I saw some of them this week and am finally hearing the buzzy call notes of Dickcissels as they migrate overhead during the night.
The diversity of migrants isn't as high as in the eastern USA and Canada, but we do get nice numbers of Blackburnians, Black-and-whites, Wilson's Warblers, and, believe it or not, Cerulean Warblers. We don't see the sky blue little bird of the canopy in droves but bird the right places in late August and early September and you have a pretty good chance of finding a few.
Since we are talking about rare wood-warblers, I might as well mention that the Golden-wings have yet to arrive in numbers but they should be here any day now. Yes, that would be Golden-winged Warbler, a species seen more easily during a Costa Rican winter than anywhere during migration up north. Other wintering passerines that have arrived include American Redstarts, Northern Waterthrushes down in the mangroves, Louisiana Waterthrushes (as one might expect, sticking to rushing highland streams and rivers), tons of Yellow Warblers, Yellow-bellied Flycatchers, and Baltimore and Orchard Orioles among others.
On the raptor front, whirling flocks of Mississippi Kites, and massive groups of Broad-winged Hawks are passing through, and Ospreys are patrolling the beaches. They share the skies with a constant stream of swallows and Chimney Swifts during the day while thousands of Common Nighthawks move through the dark of the night.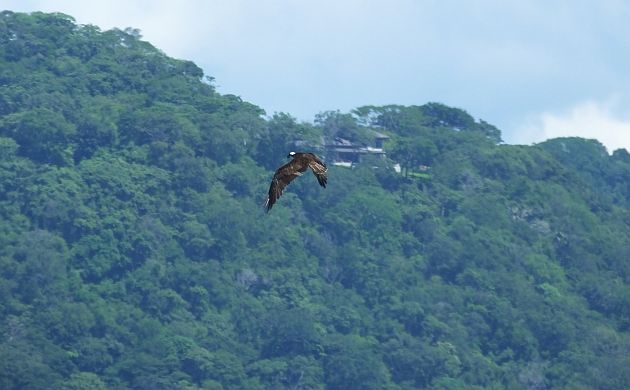 An Osprey on vacation.
The biggest highlight right now, though, is shorebird migration. The massive movement of aquatic birds from the far north is in full swing on Costa Rican shores and last weekend was quite the birding doozy. Saturday, September 24th, was our official, annual shorebird count and although the numbers have yet to be tallied, I know that Diego Quesada and I had a mighty fine day. We started at Punta Morales, one of two accessible sites that attract large numbers of waders during high tide in the Gulf of Nicoya. When the rising water submerges the extensive mud flats in the gulf, hundreds of shorebirds, terns, and whatever else fly in to rest and feed in the lagoons and salt ponds. Since the shorebird scene changes day by day, you never know what might be roosting on a muddy berm, or hiding behind a clod of dirt.
On Saturday, we had good numbers of Short-billed Dowitchers, Black-bellied, Wilson's, and Semipalmated Plovers, a couple Wilson's Phalaropes, lots of Western Sandpipers with smaller numbers of Semipalmated and Least Sandpipers, several Stilt Sandpipers pretending to be tall, slim dowitchers, 20 or or Surfbirds, a few yellowlegs, and bunches of Willets, Whimbrels, and Marbled Godwits. A fair number of Royal and Sandwich Terns also shared the scene.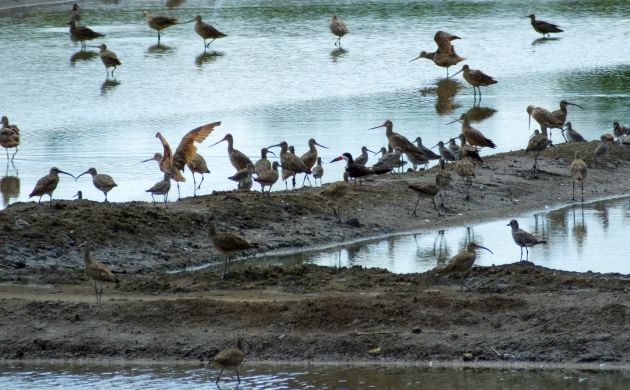 A typical scene at Punta Morales.
Throw in a few calling Brown-crested Flycatchers, Black-headed Trogons, Inca Doves, and singing White-collared Seedeaters and it was birding excellence. However, this was also normal for the site and fairly expected. To find year birds and other goodies, we had to go to Chomes.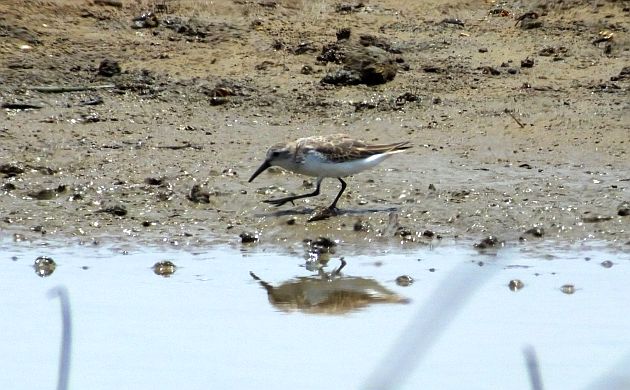 One of the hundreds of Western Sandpipers at Chomes.
Chomes is the other major shorebird site in Costa Rica, and might be the best site in the country for waders. Like Morales, it varies one day to the next, and probably even during the same day as flocks of birds come and go. I'm not sure if anyone has any idea how many shorebirds use this site and the Gulf of Nicoya but it must be in the many thousands. There were certainly a lot of birds there on Saturday, most of them in the same two lagoons near the beach. However, before I could get an accurate estimate, my counting was interrupted by the appearance of a few distant shorebirds with orange-buff underparts. Despite the heat wave interference, we eventually saw yellow legs and got enough looks at them to admit that we were indeed seeing Buff-breasted Sandpipers! Then we realized that we weren't just seeing a few but a whole bunch. I counted 30, then 50, and when another group of Buff-breasteds flew in, there were an unbelievable 64 of these scarce migrants.
This is a really tough bird to see in Costa Rica, even during the peak of migration. It seems like the species can show up one year at certain spots and be absent the next. We probably just don't have enough people looking for them in enough places but suffice to say that before last week, the largest number ever recorded at one time in Costa Rica was a flock of around 30 at the airport a few years ago. With that in mind, seeing more than 60 at once was nothing less than birding mental overload. The same questions and thoughts kept flashing through my mind: "How could so many be there at once? Were we really looking at Buff-breasted Sandpipers? How is this possible? Um, I better call someone!"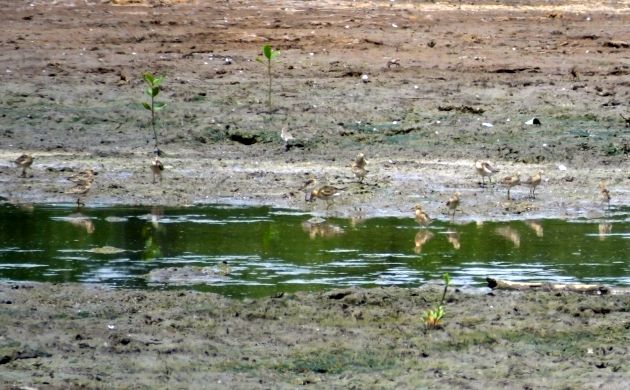 Unfortunately, they were pretty far off for photos- there are a bunch in this image.
At certain points, I almost had to convince myself that I wasn't dreaming. I mean, that's how incredibly unexpected this was. If there was a downside to it, it was not taking the time to check out the rest of the shorebirds before they took off for the mud flats in the gulf. Once they do that, they disperse far and wide and you only see a very small percentage of the birds that were present. Since there are so few if any sightings from the ponds at Chomes, we wondered why so many Buffies were present. Although there's no way to test this idea, we wondered if so many had gone down to ground on the coast because Volcan Turrialba has been pumping so much ash into the skies over the middle of the country. Who knows, but it's at least one factor that wasn't part of the equation in previous years. Flocks of 50 and 30 have also been seen in subsequent days at the same site.
Although that bit of birding news overshadows pretty much everything else, other recent highlights include an Aplomado Falcon seen in Guanacaste, and, for myself, close looks at my year Jabiru.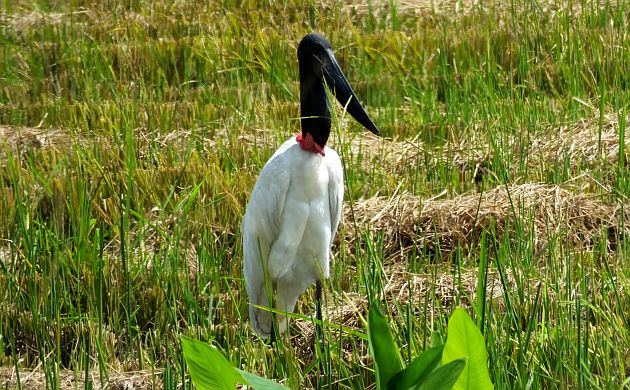 Hello crazy looking year bird!
As always, I hope to see you down this birdy way!