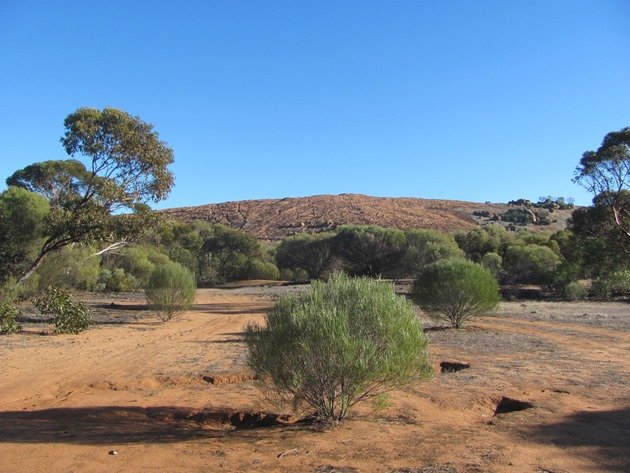 Having spent several weeks in the bush in remote areas south of Broome I have plenty to share, so choosing a place to start is hard! I have decided to start with the most southerly place that we visited and camped. It was also the coldest place that we camped, but with bright blue skies and a campfire it was no problem at all. Burra Rock Conservation Reserve is 55 kilometres/34 miles south of Coolgardie and Coolgardie is 2366 kilometres/1470 miles from Broome if you go as directly as possible and we did not do that! Western Australia is a big state in case you were not sure! Burra Rock Conservation Reserve offers free camping, but you do need to be self-sufficient and there is no mobile phone coverage. The gravel road was in good condition on June 2nd and June 3rd, but may change with wet weather quite fast. We were the only people at the Burra Rock Conservation Reserve and we did not see anybody else on the road either. Thankfully the picnic benches were wooden and not concrete or the cold weather would have prevented us from using them! There are barbeque fire rings, which were great to help us keep warm and you can't beat real toast on a real fire! We don't know how cold it really got overnight, but it had warmed to 6c/43f by 7am! Coffee and toast and time to explore!
Burra Rock has very interesting history. In 1925 it was developed by the WA Goldfields Firewood Supply Company as part of a network of woodlines (bush railways) to provide wood to the miners, boilers and power houses in the Coolgardie/Kalgoorlie area for fuel and timber. The timber cutters lived in bush camps along the woodlines and with some ingenuity they built an eleven million gallon dam to provide water to the woodline steam trains. The reservoirs were made by lighting big fires in the granite and let them burn all night. Then in the morning they would bucket the water onto the granite with the use of horses and the granite would explode in layers. The granite was sledged away and the sections were stood on their side to capture the water! Most of these walls still stand today and still capture water, but after the woodline closed in 1938 the land was leased to farmers and by the early 1980's nobody lived out there.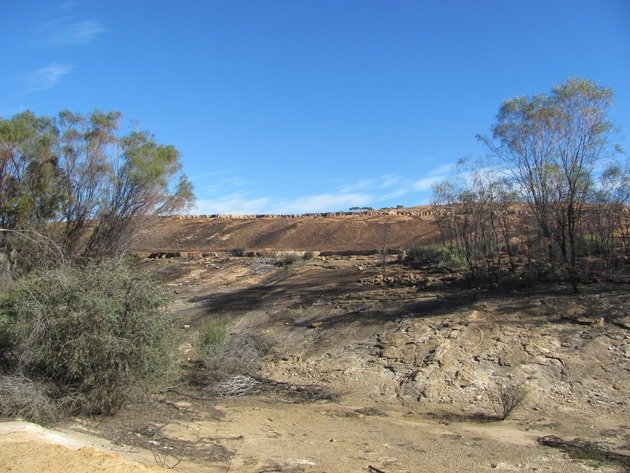 Burra Rock area-two rock walls to collect water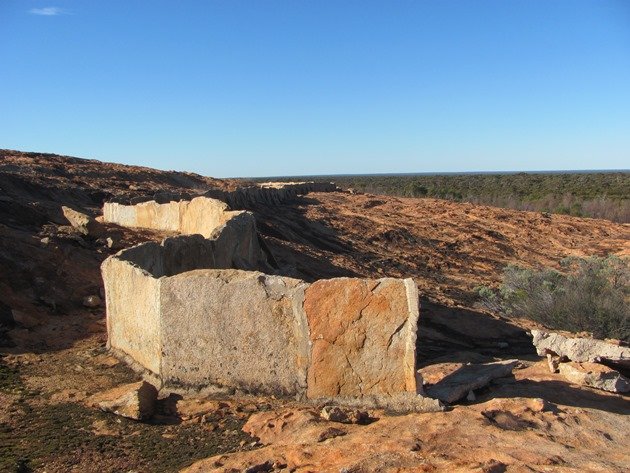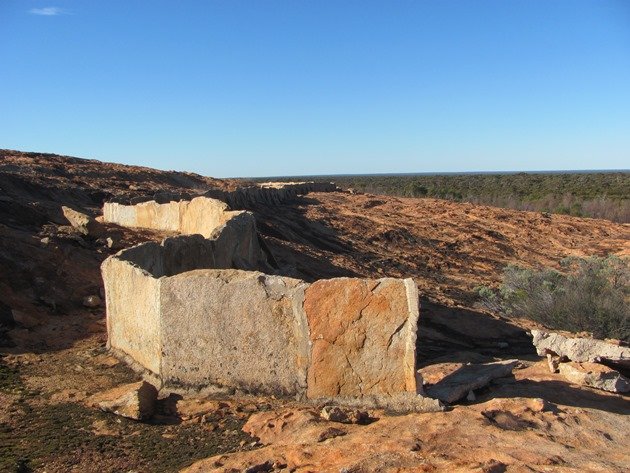 Granite wall to collect water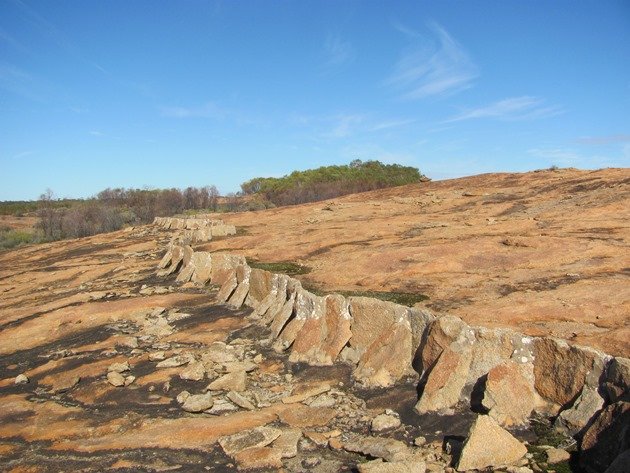 Granite wall with supports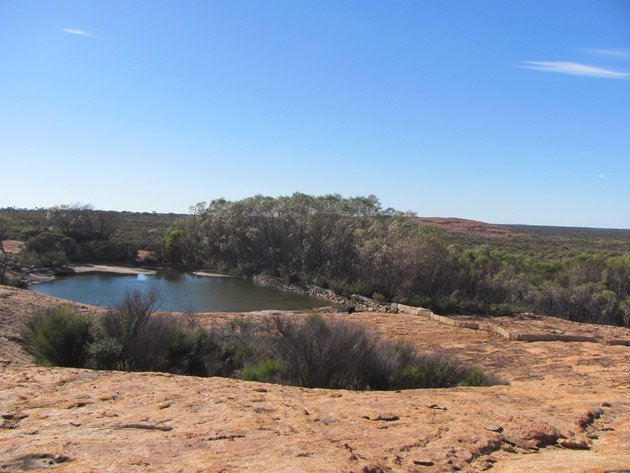 Dam at Burra Rock
Around the camping area we had observed Common Bronzewing, Spiny-cheeked Honeyeaters, Weebills, Inland Thornbills, Purple-gaped Honeyeaters and Australian Ringneck Parrots and as we approached Burra Rock we encountered a pair of Chestnut-backed Quail-thrush. We had hoped to encounter this species on our trip and although it was not the first encounter we did get much better views of the pair of birds than we had at Niagara Dam near Kookynie a few days earlier. The pair of Chestnut-backed Quail-thrush spent a lot more time in the shadows than in the sun, but it was also very early and at least they were not too concerned by our presence! There were also fresh Emu tracks present, but we did not actually observe one at Burra Rock Conservation Reserve during our visit.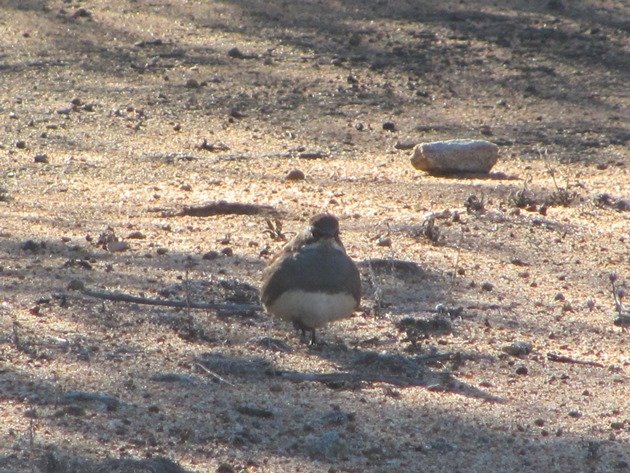 Chestnut-backed Quail-thrush face on!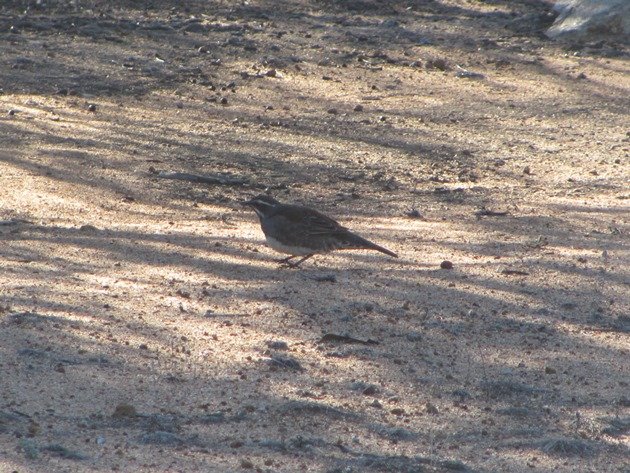 Chestnut-backed Quail-thrush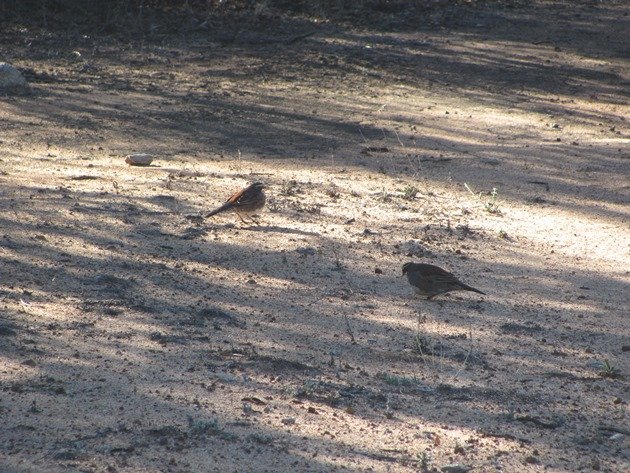 Pair of Chestnut-backed Quail-thrush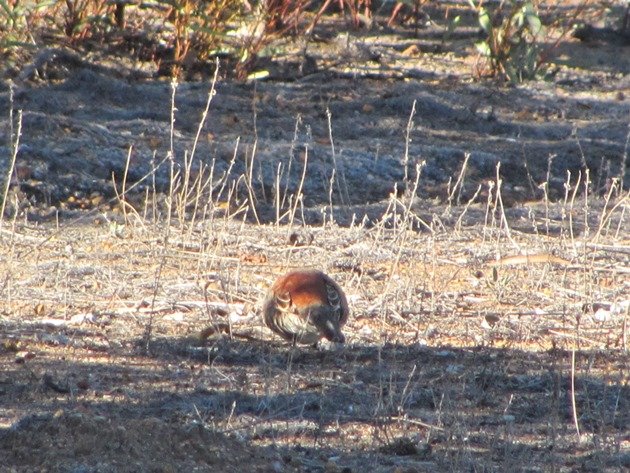 Back of a Chestnut-backed Quail-thrush!
The first dam held a pair of Australian Shelduck and surrounding trees offered Singing Honeyeaters. We climbed to the top of the rock and every area across the granite that offered some protection from the wind and contained moisture was enhanced by the plants growing there. There are spectacular views from the top of the rock and there are other granite rocks in the area that were also used for the same method of collecting water for the woodlines. Another dam on the rock found us looking at a pair of Brush Bronzewing getting a drink, which was a great surprise.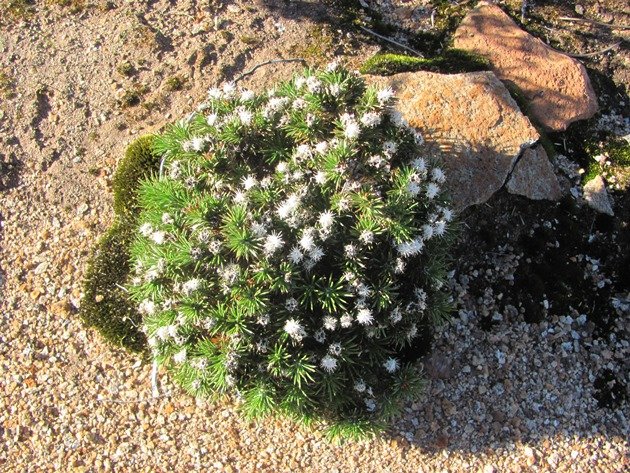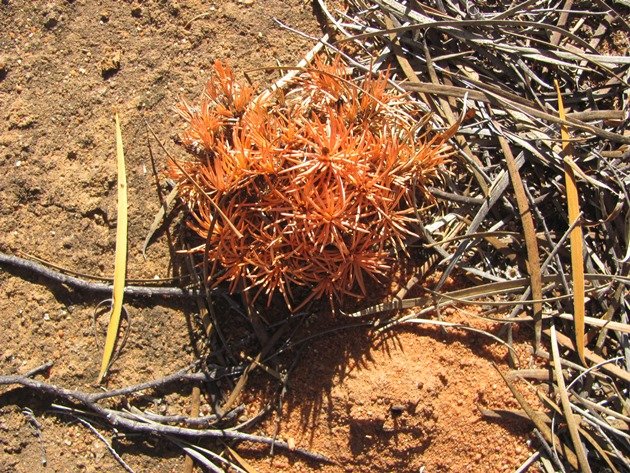 Plants on Burra Rock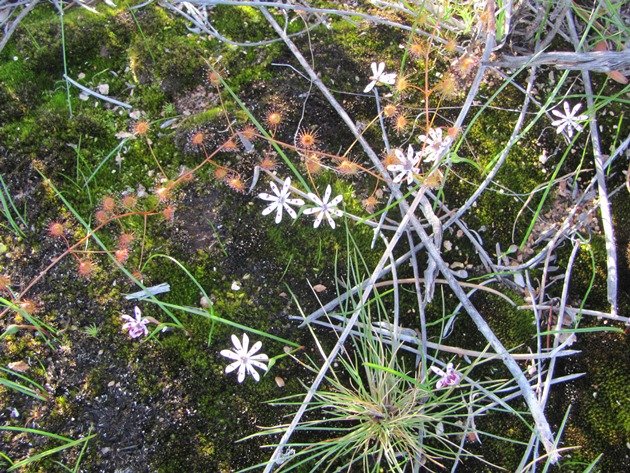 Sundews and other plants Burra Rock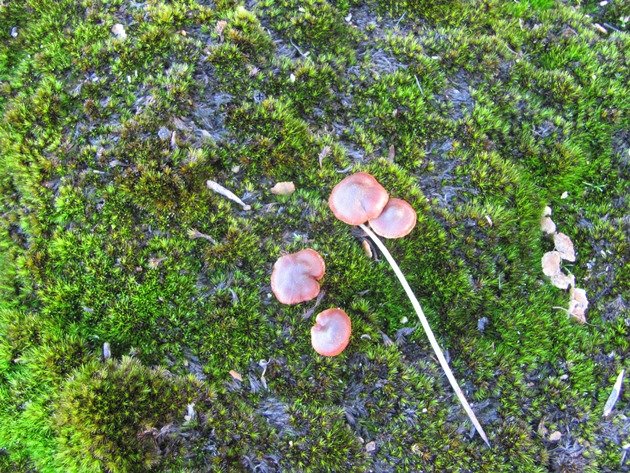 Moss and fungi on the granite at Burra Rock
The trees in the area are mostly very tall and offered us numerous other species including Western Rosella, Willie Wagtail, Grey Shrike-thrush and Red Wattlebird. Yellow-rumped Thornbills teased us among the dense bushes on the rocks and finally cooperated to give us better views! Another bird that we had been encountering a lot over the past few days was the Crested Bellbird and it was usually heard first thing as it called out. We affectionately call it the "Morse Code bird", because it sounds like the tapping out of a code. Don't bother looking too high for Crested Bellbirds, because they are invariably hopping along on the ground! The male Crested Bellbirds don't always display the crest on their heads and the female birds are less brightly coloured.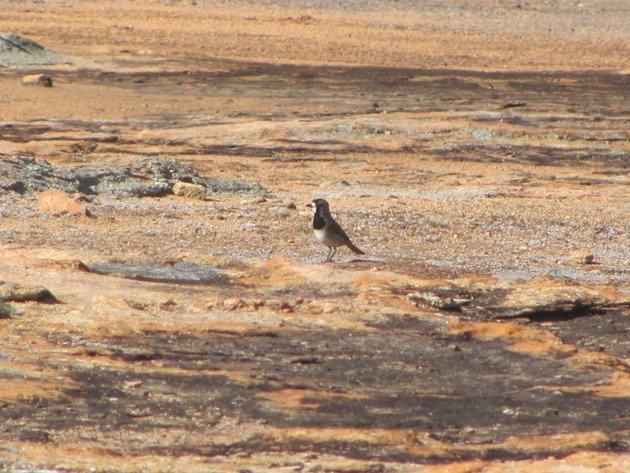 Crested Bellbird-male
Burra Rock Conservation Reserve is an excellent place to visit and explore, but as with so many places in Western Australia you do need to be self-sufficient and not expect to have phone coverage! Thankfully I can write posts in advance for this website and disappear for a few weeks and get away from technology!