I have long wanted to see a Burrowing Owl.  They are owls, which automatically gives them a certain cachet, and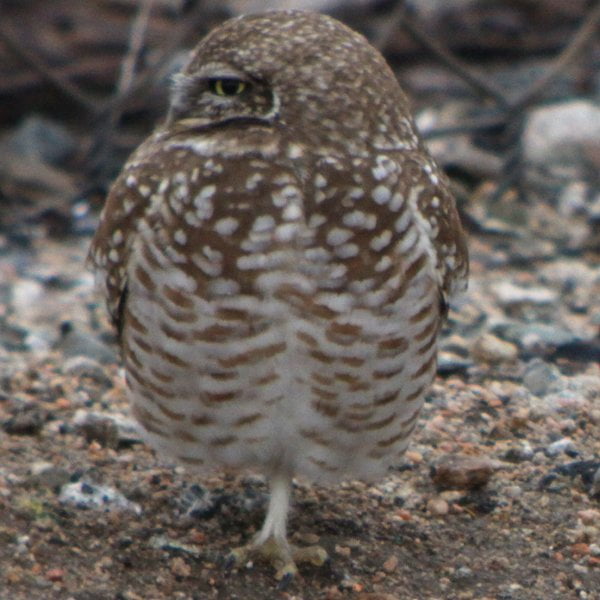 they are little, which makes them cute, and they live in the ground, which makes them even more interesting than your run-of-the-mill owl.  Several years ago I had the perfect opportunity to see Athene cunicularia at the Salton Sea but before Daisy and I got to their burrows an enormous windstorm picked up and the amount of dust in the air made visibility nearly nil so we did not see the owls.  When I was in Ecuador this past November at Pululahua Hostal I could have seen Burrowing Owls but they had switched burrows and Renato did not know where in the vast caldera they had gone.  And, of course, with Larry being a beat writer on 10,000 Birds now I have to read posts like this with amazing images of, and information about, Burrowing Owls without turning green with envy, a difficult task as I am sure you can imagine.
Anyway, it seems that Burrowing Owls are not an easy bird to find in Orange County, California, where I was staying over the holidays, but there are populations in other parts of southern California.  I saw on one of the local listservs that some owls were spotted on the San Jacinto Christmas Bird Count, not that far from Orange County, so I contacted Tom Benson, who wrote the email, and he let me know that I couldn't chase the owls from the count because they were on private property, but that he knew of another population outside the San Bernardino Airport.  He gave me exact directions and wished me luck…which is how I found myself staring through my Swarovski scope into the yellow eyes of my first-ever Burrowing Owls on Monday morning before the rain arrived.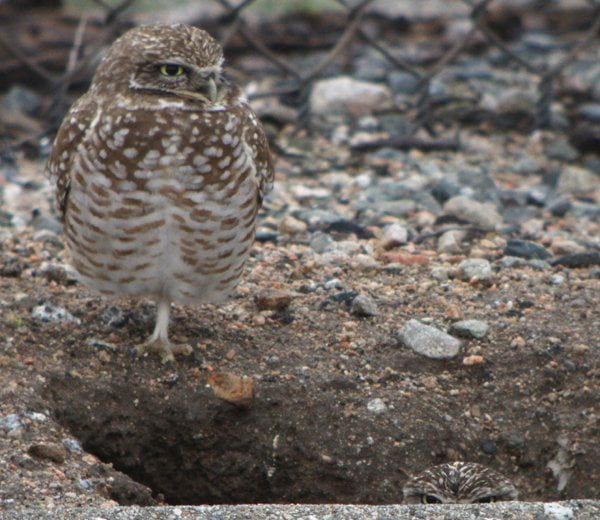 Burrowing Owls Athene cunicularia (the second one is at bottom right)
I spent about fifteen minutes with the owls, and didn't see them do much beyond what you see in the image above.  The bird sitting out in the open would look to its left and then turn its head and look to its right and then turn its head and look to its left and then turn its head and look to its right and so on and so forth.  I really wanted the perfect picture of the owl staring directly at the camera but every single time it turned its head towards me it would blink.  I have at least ten pictures like the one below.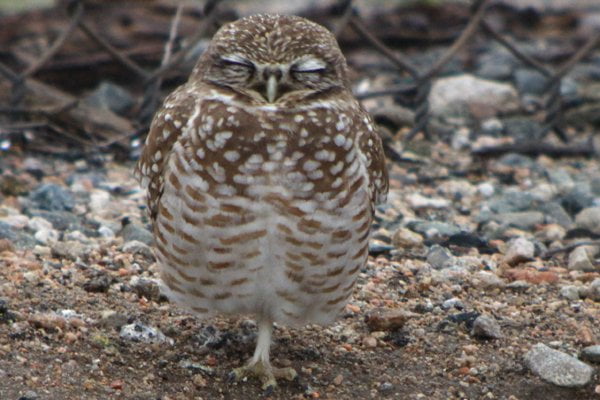 Despite the lack of activity and the blinking tendency of the owl I was absolutely thrilled to finally get a look at a long-wanted life bird, a bird that has been on my most-wanted list for quite some time.  Here's hoping they are around for a long time to come…another reason to check out Larry's recent post and sign the petition.