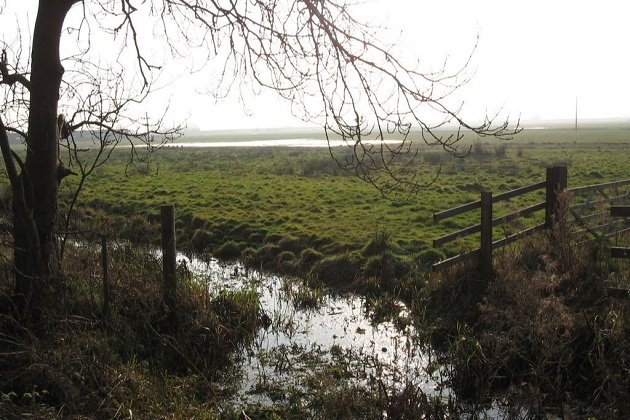 A few winters ago, I went waterfowling in East Anglia. At local Internet forums, my friend Dr B. (sounds like some James Bond's nemesis, doesn't it?) discovered that the usual flock of several thousand Pink-footed Geese was wintering in the Broads National Park. Although a quite common bird of Norfolk, for me it was an attractive lure and a possibility of a lifer.
It breeds in Greenland, Iceland and Svalbard and overwinters (singly and at mountain top hot springs – if Hollywood is to be trusted) along the coasts of northern Europe. Since it doesn't reach the southeast of the continent, where I reside, I have never had a chance to observe it.
B. took me through the alluvial plains of the Waveney, the Yare and the Bure rivers that make the Broads – the youngest (1988) and the smallest of the national parks of Britain. The park itself is a narrow green strip winding down the river valleys. The morning was gloomy grey, but at least the bitter northerly that was chilling the bones for days had stopped.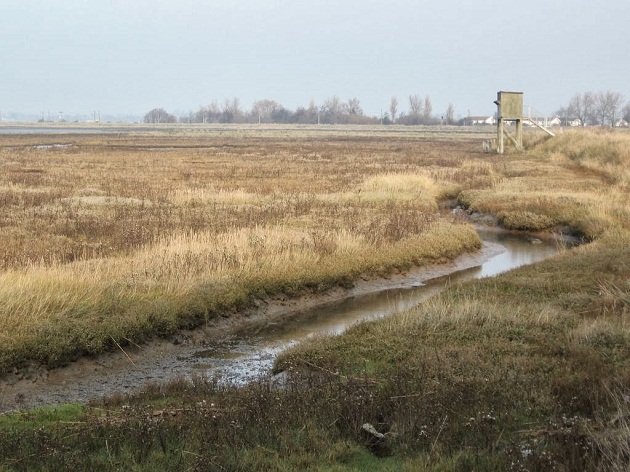 First site of the day was Breydon Water, the large estuary at the mouths of the Yare and the Waveney. The biggest surprise among the Breydon birds was one Little Egret, only the first of several I was going to see that day. In my native Serbia, I've observed this species in winter only once, while here in East Anglia every site held one. Still, the tide was not nearly as high as we hoped for and all the birds were quite far away. Common Shelducks, Grey and Golden Plovers, Avocets and many other – they all were shimmering in the circle of the spotting scope.
Next were the wet meadows of Tunstall Marshes (cover photo), where grazing sheep awaited us and, among them, Mute Swans. Fast winding flight and one Common Snipe disappeared, followed by slow wingbeats of a Little Egret, while our bins are turned toward numerous spots in the sky: geese, no doubt about it, more than a thousand but way too far to determine the species.
Nearby Cantley Marshes were the next stop. Two Common Snipes, one Brown Hare and… geese! More than fifty, but… Bean Geese, elegant birds with very dark heads and a bit like their pink-footed relatives. While not those we were looking for, I am not disappointed: this is twice as many as I had ever seen in Serbia.
Along the A149 towards the Hickling Heath, I've noticed large clods of earth remained after plowing and was about to say to B. that in deforested agricultural areas of Serbia wintering Common Buzzards even use those clods as perches. But, before I managed to open my mouth, we came closer, enough to notice that those clods were much grayer than the dark brown soil, like sacks of fertilizer left in the field… In the next moment, we were even closer: geese! But we were on a motorway and heading past them!
At the next round about we made a U-turn and came back, but now we were in the wrong lane, from which it was almost impossible to see that field… another U-turn and finally there we were, at the beginning of a farm road convenient to stop and observe.
Hundreds of Pink-footed Geese were landing in that field, possibly to roost for the night, a mere 50 meters from us, with heads as dark as the Bean Geese, but close enough to see their meat-pink feet. One of them was partially leucistic. Sitting in the car and scanning the 2000 birds strong flock… Such a perfect moment.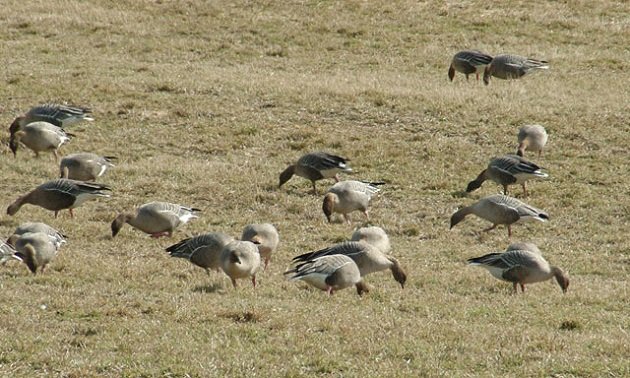 Pink-footed Geese  (c) Wikipedia Commons
Overtaken by the excitement, only a few days later did it dawn on me that I had a camera with me! But, at that moment, taking photos was something superficial; something that would take away my attention from the sight of my first Pink-footed Geese. Out of all the reserves we visited, they waited for us – by the motorway!
A perfect day had a perfect ending on Hickling Heath, a fen by Hickling Broad. And a broad is a… good looking girl? Well, no, it's a local word for these strange lakes, more of a large widenings of the river itself, whose geomorphology was a puzzle until it was discovered that in the 12th century peat was mined in the area, until the rise in ground water table had filled the cuttings and created the lakes that we know today. With 6 square kilometres, Hickling is the largest of the broads.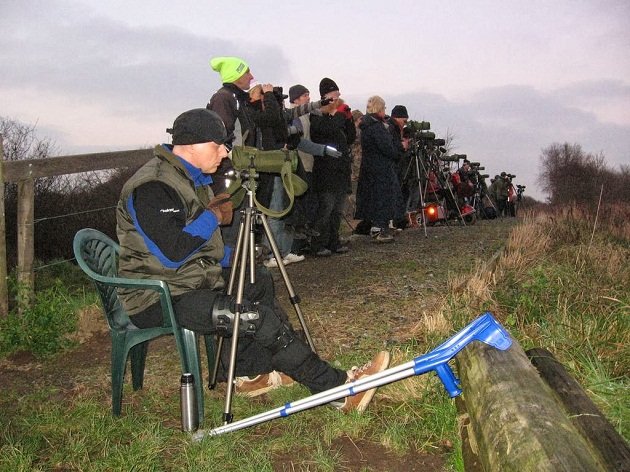 We reached Hickling Heath at sunset, to find about 30 birders patiently waiting for the spectacle of Common Cranes coming to roost. And now we were all standing at the low dyke and scanning bulrush, reedmace and common reeds. Marsh Harriers were coming to roost; too, more than 20 were already there. Above the reed fronds, two Barn Owls were quartering, so white below that they appeared like pieces of paper quivering in the wind. Some motion, excitement in the group… finally the cranes! Well, only three of them. There were ten times more birders than birds! (I was a bit surprised and not overly enthusiastic about the sight – while groups of 10 or more birders are an extreme rarity in Serbia, recently one such group of 30 workshop participants was practicing their counting skills on 8000 geese and 20,000 cranes.). Three more cranes… Barn Owls in thickening darkness… and the temperature goes down to 4°C. Time to call it a day.