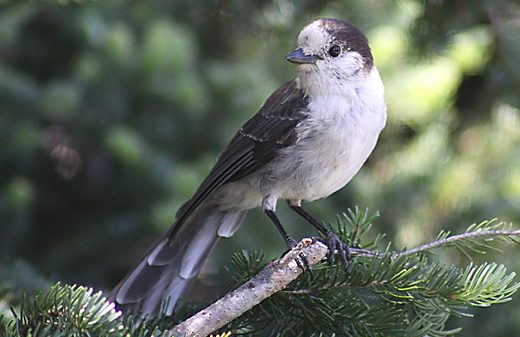 Those of you who have been waiting with bated breath for the past few months in anticipation can finally exhale: Canada has a new national bird. (Well, not official, that is—but more on that later.)
After vigorous, engaged public debate, the winner is the Gray Jay, a bird only found in Canada's boreal forests that, supporters say, reflects well on Canadians themselves, with its friendliness, hardiness, and smarts. (Adorable photo above by Corey)
To attain the top spot, the Gray Jay beat out contenders such as the Common Loon, Snowy Owl, Canada Goose, and Black-capped Chickadee.
Whether the Canadian government will adopt this recommendation remains to be seen; at the moment, there is no official Canadian national bird. Currently, the Gray Jay's status is honorary, through a contest sponsored by the Royal Canadian Geographic Society. The organization's officials note that the country's upcoming sesquicentennial is the perfect time to select a national bird.
Whatever happens, here's to you, Gray Jay. You're Canadian through and through, you thrive in frigid conditions that make most of us to the South blanch, and you're cute as a button. Love, your neighbors to the south who tomorrow will be feasting on Ben Franklin's preference for our national bird.