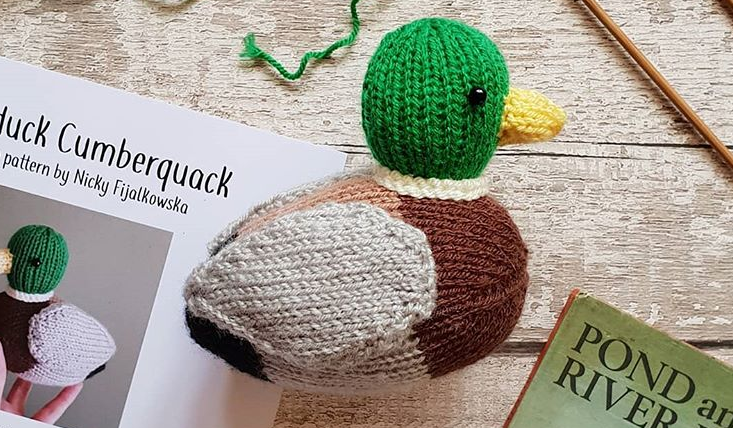 I  haven't had much time to bird. After looking for different species every day for the first six months of the year, lately I can't manage to actively search for any kind of bird unless I'm traveling. The usual excuses apply: I've been sick, tired, busy with work, etc., but it still sucks.
Since my hour or so of free time every night is usually relegated to my living room with night falling outside, any birding I do has to be compatible with the couch. That's when I discovered Nicky Fijalkowska, bird-knitter extraordinaire!
My grandmother taught me to knit when I turned nine, and since then I have knit on and off throughout my teens and twenties. I'm currently in a very intense on phase with this millennia-old craft, churning out sweaters and mini-mitten ornaments and an abstract-looking owl. Browsing Instagram's #knitting hashtag one day, I came across a very, very realistic rendition of a snipe, perfectly stitched in brown and tan and sitting on a pumpkin. Instantly falling in love with Fijalkowska's account, I went gah-gah for her patterns of a cockatiel, a puffin, a robin, and so much more.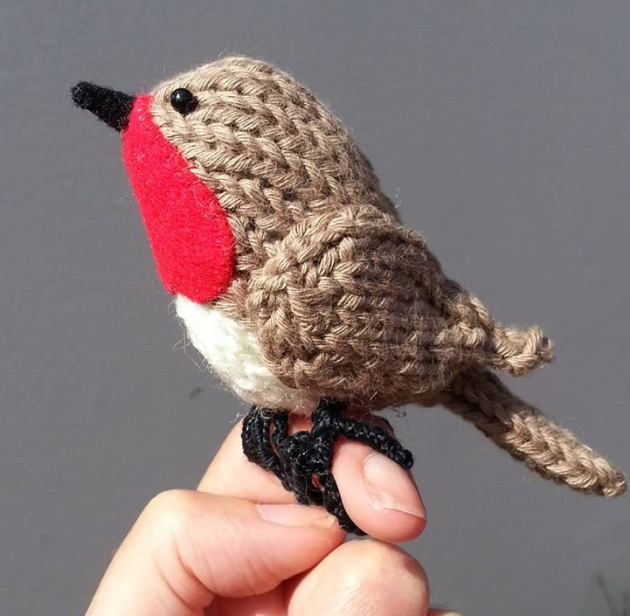 Photo courtesy of Nicky Fijalkowska.
Like me, Fijalkowska's first exposure to yarn and needles came as a kid. "I tried knitting as a child but never really clicked with it," she explained, "but then in my 30s I ended up with severe post viral fatigue after the flu, which ended up with me losing my job as a copy editor and being housebound for six months." She continues, "I taught myself to knit (from library books! Another reason why libraries are so important) and managed to make it work this time!"
Beginning to bird when she was young, she once claimed membership in the Young Ornithologists Club and kept careful track of her sightings. "When I was a teenager I stopped birding as I thought it wasn't cool," she said, "but then when I had my daughter I took it up again, to teach her about birds and share lovely days out in nature."
Not everyone would consider uniting the two pastimes, as knitting is primarily accomplished indoors (though it doesn't have to be, as #placesyoucanknit attests) and birds live in the outdoor landscape. But while Fijalkowska enjoyed knitting, she didn't appreciate long projects. "I realized that I needed to knit something smaller as my interest wanes over large knits and my tension goes to pieces. Birds seemed the obvious choice as I like them so much!"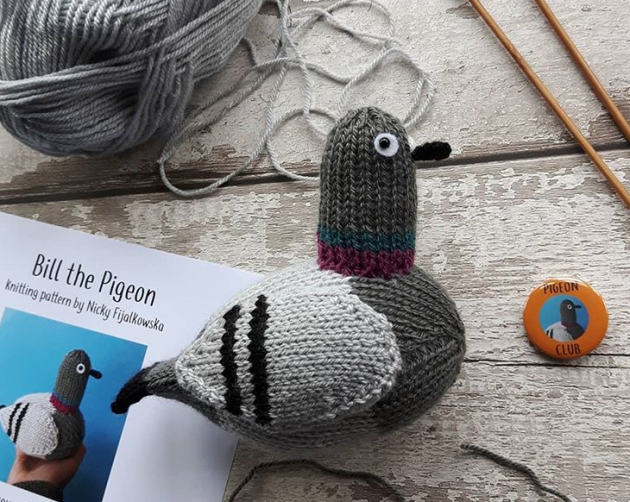 Bill the Pigeon. Photo courtesy of Nicky Fijalkowska.
In addition to running a very successful Instagram account, Fijalkowska sells her patterns and bird kits on her Etsy site and in a book and calendar. As her website attests: "This year I've also designed a knitted curlew for the RSPB to promote their Curlew Recovery Program, and a knitted sandpiper for the Net Loft in Alaska, for their Birds By Hand project, to raise awareness of the Cordova migration flyway."
While all her patterns are amazing, Bill the Pigeon holds a special place in her heart: "He's easy to knit and very cute. Lots of people seem to hate pigeons but they are actually very smart, gentle and sweet birds with big personalities."
Until I can get back into the swing of birding, I'll content myself with working through her patterns, starting with the cockatiel, then the Blue Footed Booby, and then the Canada Goose she is currently designing for this year's Project Peace. Stay tuned to my knitting account to see the finished products.
Happy bird-knitting!