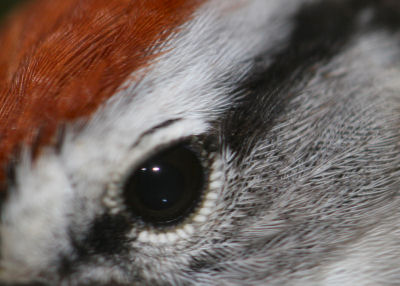 Chipping Sparrow, macro-style
On Friday, at my Aunt Bonnie and Uncle Paul's house in Saugerties, NY, I enjoyed myself watching their feeders and photographing the freeloaders. Their two clear-plastic feeders suction-cupped to their living room window had a steady stream of visitors but only titmice, chickadees and Chipping Sparrows would let me get close enough to get the kind of shot I wanted. Since I have already used pictures of chickadees and titmice on this type of feeder on the blog, I will stick to the Chipping Sparrows in this post.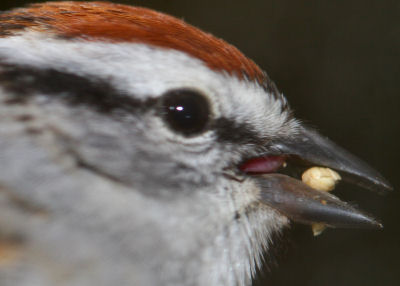 Chipping Sparrow enjoying free food
In addition to the "normal" Chipping Sparrows taking advantage of my aunt and uncle's hospitality a single leucistic Chipping Sparrow fed on the ground. Maybe it was too ashamed to show itself for a close-up?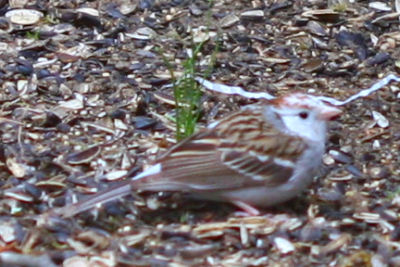 Also present in the yard were Mourning Doves, a hen Wild Turkey (sometimes a whole flock will come in when my aunt calls them), Northern Cardinals, Brown-headed Cowbirds, Grey Squirrels, Eastern Chipmunks, American Goldfinches, White-breasted Nuthatches, and more that I can't remember. And, believe it or not, they have had a Black Bear come and sit at the picnic table they use as a platform feeder (literally, he sat on the bench and ate off of the table).
After our meal my niece found a Red Eft, or newt, on the front walk: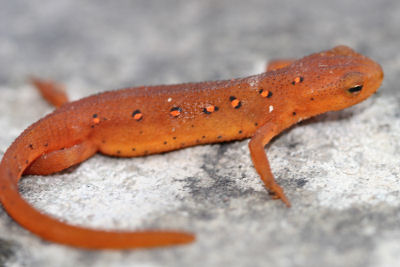 After his photo-op we moved the newt to a safer location where it was less likely it would be trod upon.
And then Daisy and I said our good-byes and headed down to New York City, where I had an absurdly good day of birding on Saturday (tomorrow's post will be looooong).