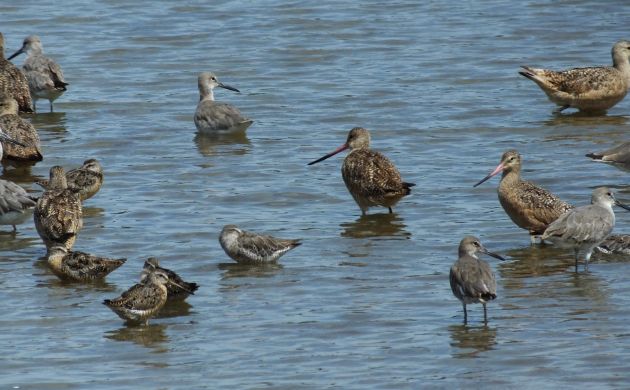 August is shorebird time in much of the birding world, Costa Rica included. Sandpipers, plovers, and other long-legged birdies that zip down from the tundra lands might not be on the target lists of most visiting birders but for us locals, these are some exciting times. Sure, we still get excited to see Resplendent Quetzals, dozens of hummingbirds, and chances at literally hundreds of other resident species (one would have to be more jaded than a collection of Ming Dynasty artwork to not be excited), but now is migration time and as every birder knows, migration equals a chance at the unexpected. Who knows what sneaks in on lost wings under the cover of darkness? Which seasonal "friend" is going to make an appearance in the backyard? Is some off the RADAR stint hanging out on a nearby mudflat? As far as shorebirds go, just about anything seems possible, and especially so in Costa Rica because no one is watching. Sure, a few people spend a couple of hours now and then in shorebird habitat but the coverage is at the lower end of minimal and several sites are simply inaccessible.
The best accessible site is a set of coastal shrimp ponds next to the village of Chomes. This out of the way place is THE shorebird hotspot for Costa Rica because the ponds act as erstwhile mudflats next to acres of more natural mudflats in the nutrient rich Gulf of Nicoya. When the tide comes in to erase feeding sites used by Marbled Godwits, Black-bellied Plovers, dowitchers, and the like, a lot of them fly over to the shrimp ponds for some much needed avian R and R.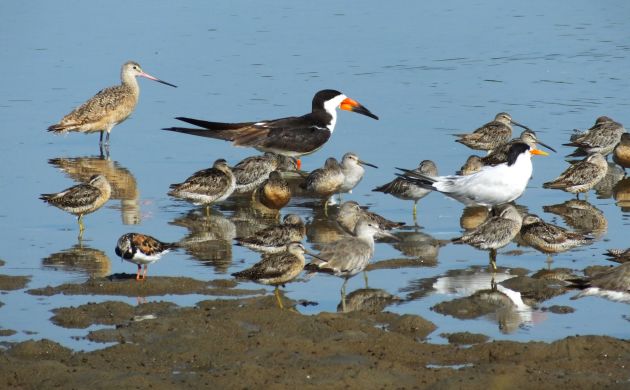 Shorebirds hanging at Chomes.
Basically, the place is a shorebird magnet and if some rare bird is hanging out in the gulf, it's probably going to pay a visit to  the Chomes shrimp ponds. As you scan flocks of shorebirds with a scope, other shorebirds fly in to check out the happening mud flat scene, a Common Black-Hawk calls from the mangroves, and birder happiness ensues.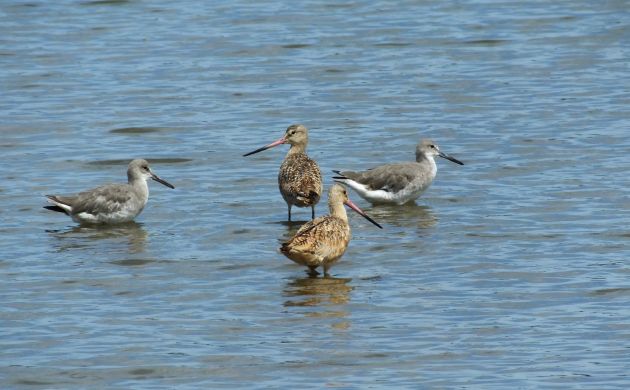 Marbled Godwits and Willets are hard to miss at Chomes.
On a good day, I have seen 23 species of shorebirds at Chomes (including one of Costa Rica's only confirmed Hudsonian Godwits), and more than 30 species of plovers and sandpipers are possible. There's always the chance that some new bird for the country will occur (as happened with the one day crazy Maguari Stork), and I like the idea of adding species to my Costa Rica list (finally ticked a Long-billed Curlew on Sunday).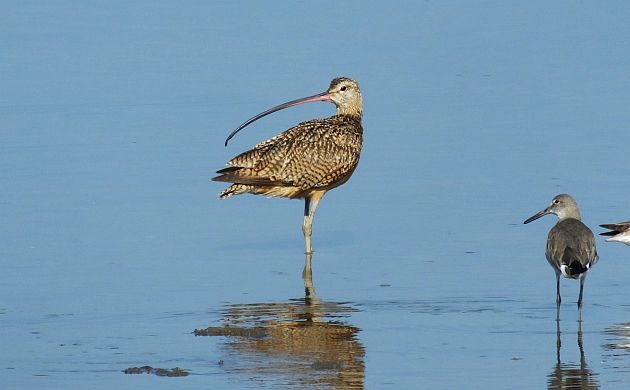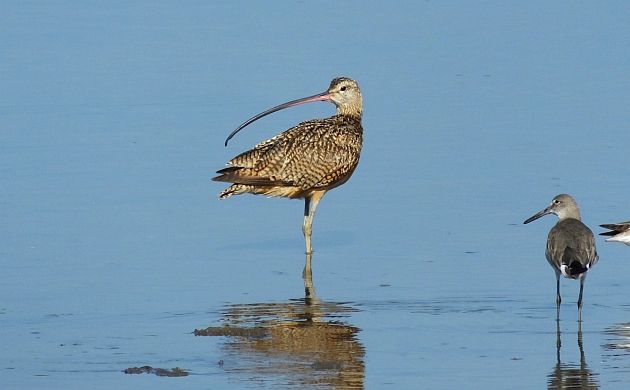 A Willet thinks, "I'm not impressed…" as a Long-billed Curlew strikes a provocative pose.
While Chomes can give you a serious solar beat down complements of good old Helius, the power of the unexpected helps wick away the sweat. Add dry forest species like Double-striped Thick-Knee, Lesser Ground-Cuckoo, and Yellow-naped Parrot on the drive in and a day of birding at Chomes becomes a good day indeed. If you happen to bird Chomes, please add those observations to eBird to help the database for this important site.