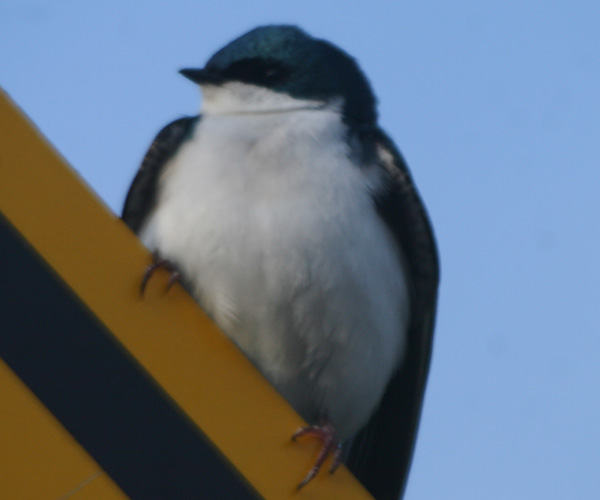 the only picture you get today…sometimes just looking at the birds is better than trying to photograph them
Will Raup and I decided we would spend all of Cinco de Mayo scouting for the Hudson Mohawk Bird Club's Century Run that will be on May 19th. We birded ourselves to exhaustion and was it ever worth it!
The day started when I picked Will up at 4 AM and drove out to western Albany County's Partridge Run State Wildlife Management Area to look for owls. The only species we tracked down was a single Barred Owl that actually responded to my imitation! While looking for other owls we heard an American Woodcock peenting and doing its display flight, one of many advantages to being out before dawn, another being the opportunity to hear Ruffed Grouse drumming deep in the woods!
From Partridge Run we headed down to Black Creek Marsh, a near-required stop as dawn is breaking for those to wish to have a really Big Day in the Capital Region. Jory Langner met us there for a last morning's birding on his Big Year before a trip to Korea (lucky guy). Black Creek did not disappoint and we left the marsh with about 60 species total for the day, including our first of the year Sora, Yellow-throated Vireo, and Common Moorhen (though we failed to ID the moorhen by the call we heard we ran into another birder, Larry Alden, who later reported that he had seen the moorhen and heard it making the same call). The only real disappointments were the lack of bitterns and a minimal number of warbler species. We would go all day without finding a bittern species and warblers we added slowly, one at a time, never coming across a mixed foraging flock, though we did end the day with a respectable 12 species of warbler.
After leaving Black Creek we made the automatic stop at a Stewarts for coffee, chocolate milk and breakfast sandwiches. I think if it weren't for Stewarts being everywhere in the area I would probably starve to death while birding.
On the way to Five Rivers EEC we spotted an American Kestrel harrassing a Red-tailed Hawk and a Brown Thrasher singing, the only thrasher we would get for the day, probably the same bird as our only Brown Thrasher last year (it was in the same spot during last year's Century Run).
At Five Rivers we added our first Northern Waterthrush of the day, though the usually reliable Louisiana Waterthrush was not in its usual spot (for a great post on how to tell these birds apart visit Jochen or Charlie). We also tracked down our first of the year Blue-winged Warbler and Prarie Warblers. A large flock of White-throated Sparrows moving through the undergrowth was worth sorting through to try and find a White-crowned Sparrow but we couldn't pick one out. The odd sounds of Bobolinks were welcome after far too long without them, and we managed to spot two males high up on bare branches next to their usual location in the fields. Bobolinks really are one of the coolest birds.
A visit to the visitor center to report our first of the year sightings turned up John Kent, a fellow birder, who managed to just beat us to the sightings log so he got credit for the first Prarie Warbler of the year at Five Rivers. That's okay though, as we still got credit for the Blue-winged Warbler and the Bobolinks and we spotted a White-crowned Sparrow at the feeders! All that work sorting through White-throated Sparrows and we get the White-crowned at a feeder…it figures.
Stops at Deer Mountain Nature Trail and Holt Preserve did not net us our target species of Worm-eating Warbler and Hooded Warbler (they would have been back early) but we did get our first female American Redstart of the year and our first Ovenbird of the year. We also got great looks at a pair of Pileated Woodpeckers.
Stanton Pond in Coeyman's Hollow netted both yellowlegs species and Gadwall. For some reason Gadwall love to linger on this pond…I just hope they stick around for two more weeks. A drive past one of the City of Albany's reservoirs (they forbid stopping for fear of terrorists, even though New York City's reservoir system is open to the public, so long as you get a free permit), the Alcove Reservoir, was rewarded with Common Loons, Common Mergansers and another lingering waterfowl, a Horned Grebe in full breeding plumage! That was a surprise as he should be well north of us by now. The Coxsackie Reservoir held another loon, two more Gadwall, two female Common Mergansers and another surprise, a single Ruddy Duck!
At this point Will and I realized that we had a shot at actually making it to 100 species on our practice run so we decided to go for broke. At Vosburgh's Marsh at the southern end of the county we were delighted by our first Mute Swan in the only location in the county where they are regular. A scan of the river netted us our first gull of the day, a Ring-billed, and some Double-crested Cormorants flying by.
We then drove to the Coxsackie Creek Grasslands Preserve where we figured we had a shot at three species we still needed for the day: Savannah Sparrow, Eastern Meadowlark, and Wilson's Snipe. We spotted a Savannah Sparrow before we even got out of the car, nailed a Wilson's Snipe as it flushed from a wet spot, and heard an Eastern Meadowlark singing as we walked through the fields. If only every bird was so cooperative!
Our drive north along the river was lackluster and we didn't add another species except for Chimney Swift until we got to the Dunn Memorial Bridge and spotted the nesting Peregrine Falcons there (see the previous post for a link to their nestbox camera). It was somewhere around this point that our lack of sleep started to get the better of us and I found myself driving Will crazy by incessantly singing 1970's rock lyrics that had somehow become stuck in my head, especially "Don't Fear the Reaper." Don't ask me why, but I think sleep-deprivation as it relates to birders' brains would be an interesting subject to study.
Next up was Papscanee Island, which we arrived at needing five more species to get to the magical 100 species mark. Will spotted a Wood Thrush as we stepped out of the car for number 96. Just a short way down the trail we finally found our first Hairy Woodpecker of the day for number 97. A long dry spell ensued until we simultaneously spotted a Black-and-white Warbler on a tree trunk for number 98. Will picked out two Osprey flying over the trees for number 99 and as I was ready to give it up and go elsewhere he spotted a Black-throated Green Warbler for number 100!
But was this enough for us? No, of course not. It was only 5 pm and we had at least three hours of daylight left. Up to the Rennselaer Tech Park where we hoped for the reliable Orchard Orioles but they proved to be not so reliable. On to the Cohoes Flats, which we viewed from New Street, where we got the other two common gull species, Herring and Great Black-backed. Then we headed to Vischer Ferry where we met up with another birder, John Hershey, and managed to find our last new species of the day, a singing Common Yellowthroat.
I was asleep the moment my head touched the pillow.
Species list (if you're really bored): Canada Goose, Mute Swan, Wood Duck, Gadwall, Mallard, Green-winged Teal, Common Merganser, Ruddy Duck, Ruffed Grouse, Common Loon, Horned Grebe, Double-crested Cormorant, Great Blue Heron, Green Heron, Turkey Vulture, Osprey, Northern Harrier, Broad-winged Hawk, Red-tailed Hawk, American Kestrel, Peregrine Falcon, Virginia Rail, Sora, Common Moorhen, Killdeer, Greater Yellowlegs, Lesser Yellowlegs, Solitary Sandpiper, Spotted Sandpiper, Wilson's Sandpiper, Wilson's Snipe, American Woodcock, Ring-billed Gull, Herring Gull, Great Black-backed Gull, Rock Pigeon, Mourning Dove, Barred Owl, Chimney Swift, Belted Kingfisher, Red-bellied Woodpecker, Downy Woodpecker, Hairy Woodpecker, Northern Flicker, Pileated Woodpecker, Least Flycatcher, Eastern Phoebe, Eastern Kingbird, Yellow-throated Vireo, Warbling Vireo, Blue Jay, American Crow, Fish Crow, Tree Swallow, Northern Rough-winged Swallow, Barn Swallow, Black-capped Chickadee, Tufted Titmouse, Red-breasted Nuthatch, White-breasted Nuthatch, Brown Creeper, Carolina Wren, House Wren, Marsh Wren, Ruby-crowned Kinglet, Blue-gray Gnatcatcher, Eastern Bluebird, Wood Thrush, American Robin, Northern Mockingbird, Brown Thrasher, European Starling, Blue-winged Warbler, Yellow Warbler, Yellow-rumped Warbler, Black-throated Green Warbler, Pine Warbler, Prarie Warbler, Palm Warbler, Black-and-white Warbler, American Redstart, Ovenbird, Northern Waterthrush, Common Yellowthroat, Eastern Towhee, Chipping Sparrow, Field Sparrow, Savannah Sparrow, Song Sparrow, Swamp Sparrow, White-throated Sparrow, White-crowned Sparrow, Dark-eyed Junco, Northern Cardinal, Rose-breasted Grosbeak, Bobolink, Red-winged Blackbird, Eastern Meadowlark, Rusty Blackbird, Common Grackle, Brown-headed Cowbird, Baltimore Oriole, House Finch, American Goldfinch, House Sparrow
104 total, if you count the Common Moorhen.
We also spotted a variety of frogs, turtles, and mammals…and I wouldn't mind not seeing a Yellow-rumped Warbler or a White-throated Sparrow for a couple of months.