So, if you aren't already sick of the birds of the Marine Nature Study Area after over imbibing on Black Skimmers and Great Egrets, there is one more bird that Daisy and Kerry and I spotted there that I would like to share with you: a Clapper Rail!  After we had been at the preserve for over two hours and I had basically given up on seeing one, though they are usually pretty reliable in the tidal channels, we were on our way out of the preserve.  The tide was strongly coming in and usually the rails don't show much except at low tide but one rail apparently didn't get the memo.  It needed a bath and even three people looking at it through binoculars and taking pictures of it could not dissuade it from getting itself as clean as a bird can get in salt water flowing through a saltmarsh.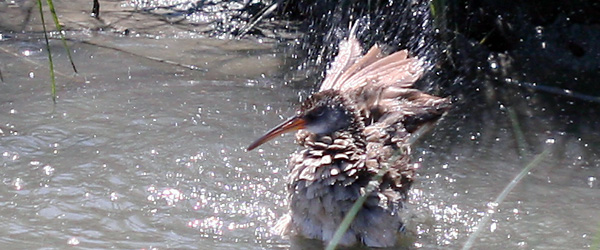 The three of us watched the bird bathe for at least a full five minutes, and it was a heck of an experience.  Especially interesting was watching the rail use its big ol' foot to scratch its head.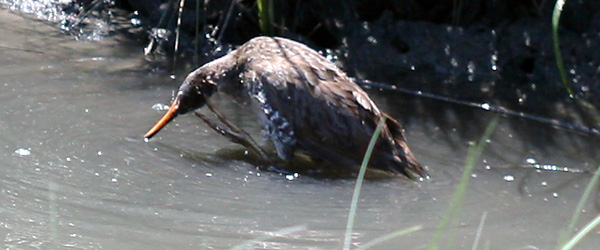 One nice aspect of taking shots of a bird bathing is that one ends up seeing things when one looks at the picture that one can't see in real life, considering how violently birds tend to shake themselves when bathing and how much water is flying around.  For example, take a look at the picture below.
I'm just afraid that Kerry, the novice birder on her first birding expedition, will now expect Clapper Rails every time she goes birding.  Especially after getting such good looks.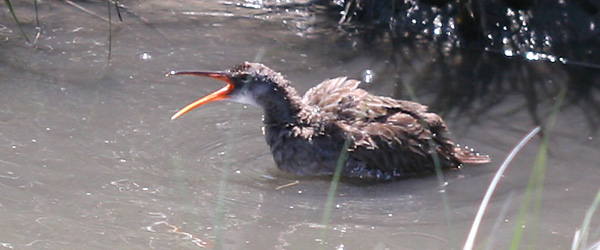 I must say that the little bits of marsh grass sticking up into my pictures were quite frustrating.  Then again, if there weren't something preventing a perfect picture people would probably think I was posing a dead and stuffed Clapper Rail for these pictures.  Either way, once the rail was done bathing it headed back to into the saltmarsh, leaving behind three very happy people.