Though most people probably have only heard of eiders in relation to eiderdown pillows, the Common Eider is a bird well worth getting to know for more than its warm, insulating feathers.  Somateria mollissima is a seaduck that breeds colonially in the far north across North America, Europe, and Siberia (it is in the far north where eiderdown is collected from nests once the birds have left them, a practice that is sustainable and causes no harm) but spends its winters in more temperate climes, which is where most birders, including this one, manage to track it down.
The Common Eider is one of three birds in the genus Somateria, the other two being King Eider S. spectabilis and Spectacled Eider S. fischeri.  Despite its common name, Steller's Eider Polysticta stelleri, is in a different genus (how's that for confusing?).  To see Spectacled Eider one needs to travel north; they breed in Alaska and Siberia and winter in the same region.  Steller's Eider also breeds in Alaska and eastern Siberia, on the Arctic Coast, but winter in both the southern Bering Sea, the Baltic, and northern Scandanavia.  King Eider are more widespread than either Steller's Eider or Spectacled Eider but not as common as, well, Common Eider.  They breed across the tundra in Asia, Europe, and North America and winter in similar areas to Common Eider (coastal rocky shorelines), but Common Eider is more likely further south.*
So, if one is going to see any eider one is going to see Common Eider, which only makes sense.  Fortunately, drake Common Eiders are absolutely gorgeous birds with striking black and white plumage, a pale green nape, and an ungainly but utilitarian wedge-shaped bill that makes the head shape distinctive.  Hens have the same head shape that one can pick out from long range once one is familiar with it, but are more muted with colors ranging from gray to brown depending on which population one is seeing.  Despite their less striking coloration they are still pleasing to the eye.  First-winter males also have the same easy-to-pick-out-head-shape but their head lacks any white plumage and is colored  more like the female's and their body looks like a muted version of the adult male, with a white chest but much less white on the back.
All the pictures below were taken in Essex County, Massachusetts on 31 January 2010.  I hope you like them and I hope you get a chance to spend some time watching Common Eider too!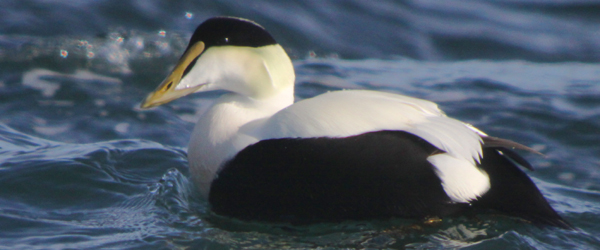 Common Eider.  adult male above and adult female below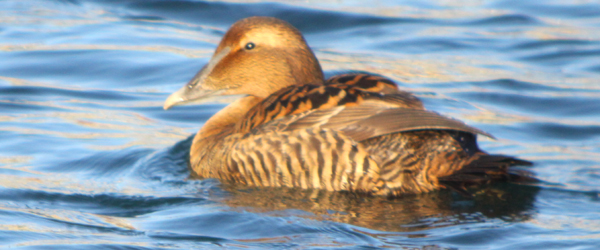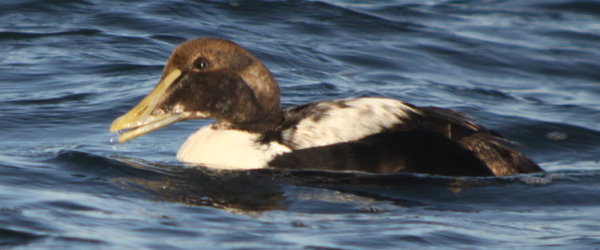 first-winter male Common Eider above and a flock of Common Eider below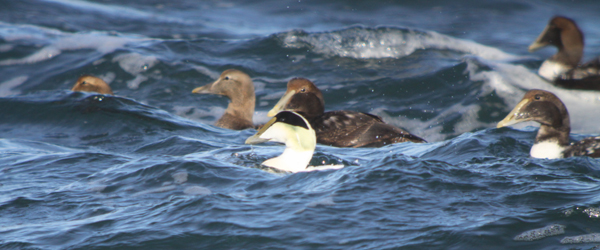 below are adult male Common Eiders followed by first-winter birds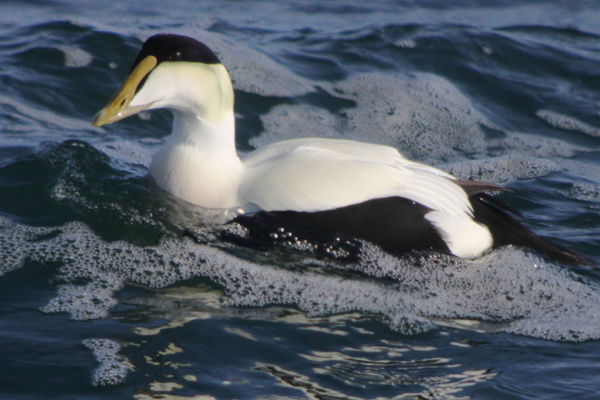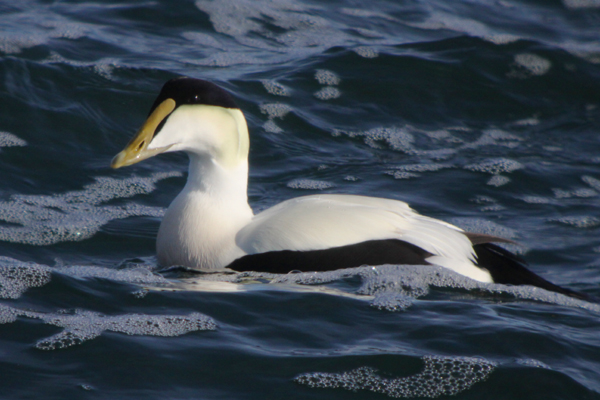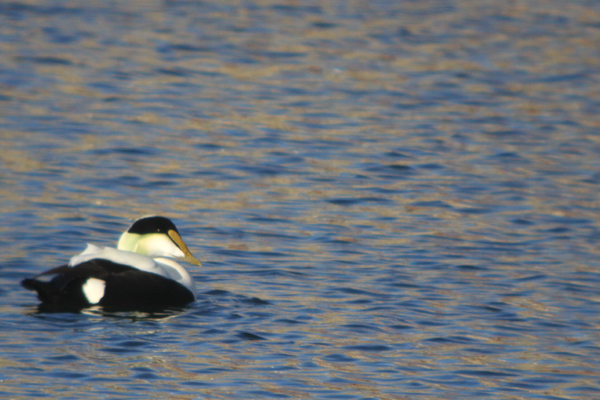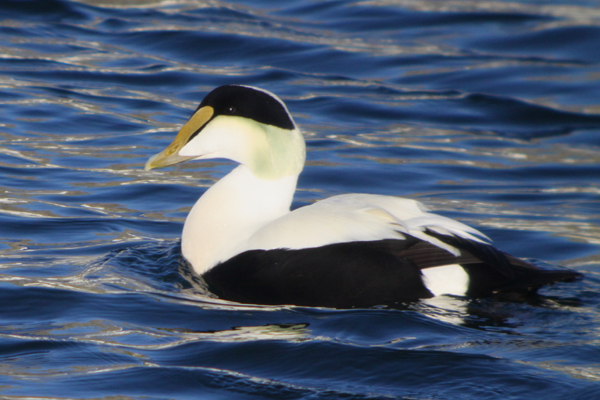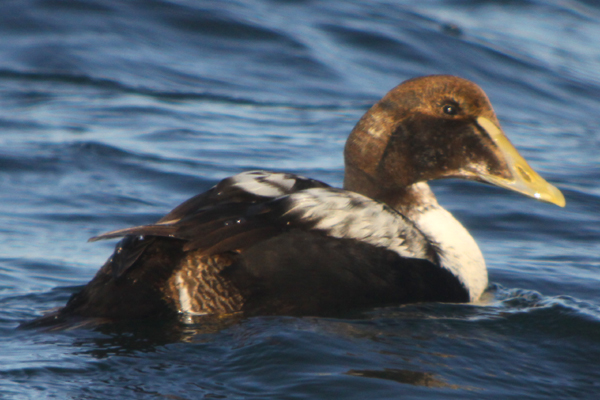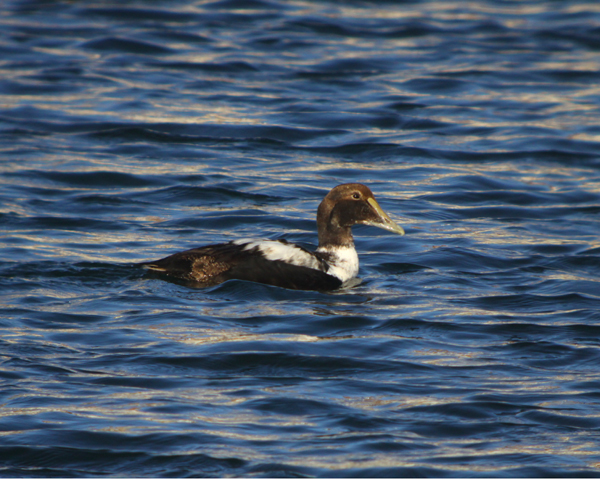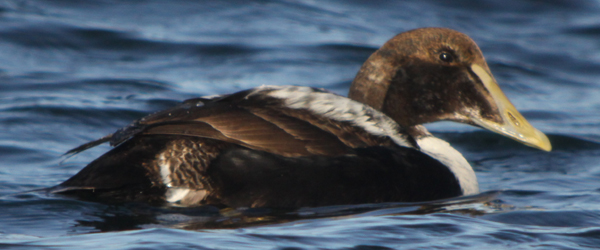 finally, for comparison, Common Eiders with a White-winged Scoter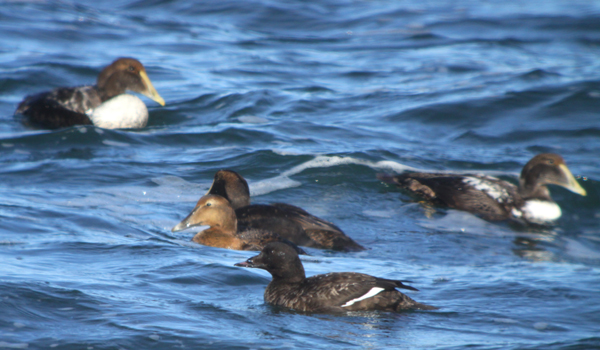 *Interestingly though, in the Common Eider species account in Pete Dunne's Essential Field Guide Companion it is noted that "Several decades ago, King Eider was the expected wintering eider south of New England.  Sightings of Common Eider were considerably fewer.  This has changed, and Common Eider now lives up to its name, outnumbering King Eider along the mid-Atlantic coast."