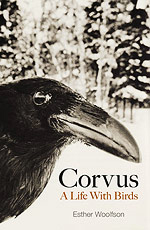 It has been awhile since I reviewed Esther Woolfson's Corvus: A Life with Birds (I liked it), but the American edition has just been published by Counterpoint Press and, fortunately for you, they have agreed to work with 10,000 Birds to give away a copy of Corvus: A Life with Birds to one of you!  All you have to do is email me the best (as judged by me, with some help from Mike and Charlie) one-paragraph (five sentence maximum) explanation of why your favorite corvid is your favorite corvid and you will win!  Sweet, right?  Just email your entry to 10000birdsblogger AT gmail DOT com with "Corvus contest" as the subject line by 11:59 PM EST, Sunday, April 26, and you'll be entered (we reserve the right to post any and all entries in the post that announces the winner).  Make sure to include the address you want the book shipped to (and it wouldn't hurt to drop a comment on this post saying you've sent an entry).  How easy is it to enter this contest?  So easy that you are limited to one entry per person, mostly because I don't want to wade through a giant pile of paragraphs from one person.  For those who are unsure of exactly what a corvid is, well, keep reading and we'll help you figure that out.
Corvids is the common English term for the family of birds known to Latin enthusiasts as Corvidae.  They can be found all over the world and include jays, crows, ravens, and magpies.  Corvids are often considered among the most intelligent of birds, and they feature heavily in many cultures' mythology.  I can't imagine that there is a person on this planet who has not been in the presence of a corvid at some point, so we at 10,000 Birds feel that this contest is as inclusive as we could make it.  If you are still unsure if you want to enter, well, check out the sample paragraph below to see how easy it is and then send your paragraph to 10000birdsblogger AT gmail DOT com by April 26!
White-throated Magpie-Jays are my favorite corvid.  They are amazingly beautiful, with the coolest feathered crest sticking out of the top of their head.  The fact that they are as opportunistic as most corvids and will even steal dog food makes them even cooler to me.  Other corvids are boring when compared to a White-throated Magpie-Jay.
See how easy that was?  Now get writing and get your entry in quickly!  You could be the proud winner of Corvus: A Life with Birds!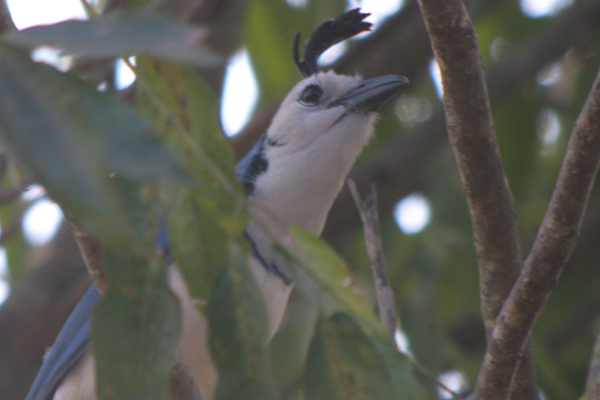 White-throated Magpie-Jay