"Visions of cloud forests with limited visibility, rain forests with dripping trees, snakes, slippery trails, mosquitoes, and spectacular birds. Take all the birds in North America and place them in a country the size of West Virginia, and you have some idea of the density of the birdlife in Costa Rica." Guest author Jack Cole made a long-awaited trip to avian paradise earlier this year, took plenty of photographs, and then wrote an evocative essay about his adventures for 10,000 Birds. If you can read his words and NOT want to go to Costa Rica you really should think about taking up another hobby…
Little did I know, when I answered an 'advert' in Birder's World magazine back in 1991 that it would develop into a close friendship with an adventurous and ambitious British lad from Bath named Charlie Moores. That year our birding bond was set, as we dashed madly about the San Francisco Bay Area seeking birds to add to his SpeedBirding year total. Over the ensuing years, my home has been Charlie's bed and breakfast during his 48 hour layovers in San Francisco, and my car has been his hide for much film and many photos. I have read and marveled at his trip reports, drooled over his photos, envied his way with words, and armchair-birded my way around the world.
Because of all this, I was both surprised and flattered when Charlie asked me if I would mind writing about my recent trip to Costa Rica. I decided to do so, but be forewarned: I am not a blogger, nor am I much of a photographer. I did get some decent pictures with my heavy scope and my light digital camera, and at Charlie's request I will share them with you.
Costa Rica. A birder's dream trip. I admit to have dreamed about it for many years, never really giving it much chance of becoming realty. But last year I decided it was time, and in early March, together with good friends Ed Frost and Jane and Larry Wilson, the dream came true. I chose the time and length of our visit, and the lodges where I wanted to stay based on their varied elevations and recommendations, and then turned it over to the folks at Gateway Costa Rica. They made the lodging, transportation and meal reservations, plus arranged for guides on four full days.
Costa Rica. Visions of cloud forests with limited visibility, rain forests with dripping trees, snakes, slippery trails, mosquitoes, and spectacular birds. Take all the birds in North America and place them in a country the size of West Virginia, and you have some idea of the density of the birdlife in Costa Rica. Then add the color and you have true avian overload.
Our first day began by birding the spacious and gorgeous gardens behind the Hotel Bougainvillea on the outskirts of San Jose. The flowers outnumbered the birds, but we came away with two dozen or so species to get the trip started. Among them were our first Grayish Saltator, Blue-grey Tanager, Tropical Screech owl and Rufous-capped Warbler, a bird much more difficult to see in Arizona. Jane spotted a Blue-crowned Motmot, one of the birds we all wanted to see.


Tropical Screech Owl Megascops choliba (left) and Blue-crowned Motmot Momotus momota
After lunch the four of us boarded a 27 passenger van for a 2.5 hour ride to the Savegre Mountain Hotel. This hotel, actually a group of small lodges, is located in the cloud forest of the Talamanca Mountains at an elevation of 2,200 meters (7,220 feet). This area is one of the best places to observe the Resplendent Quetzal, and we were not disappointed. The lodge was founded in 1954 by the Chacon family, and in fact the current owner, Marino Chacon, was our guide the following day. We walked a short distance down the road in the morning, and were greeted first by a hoard of photographers, and then by their subjects, at least 20 Quetzals. This is courting time for the quetzals, and we watched them preening, dancing and flying with the long feathers over their tails waving on the air.


Resplendent Quetzals Pharomachrus mocinno
Unfortunately, we couldn't linger, as Marino had many more birds to show us. His encouraging calls of "Come, come, look…see that?" led us from one enchanting bird to another. Most were shy, but some flitted around our feet and posed for long, admiring looks. We found an Emerald Toucanet, the cover bird of our Garrigues/Dean field guide (we later met the author), and seemingly at every turn there was a new tanager or flycatcher. Sometime during the morning an adorable little brown dog attached itself to our group.
After lunch we piled into Marino's 4×4 and as he drove up, up into the hills, the little brown dog ran along with us. After we parked at the top of the road, we began a hike up, always up, a trail, and the little brown dog set off through the forest, reappearing now and then on the trail, only to disappear once again. Finally his foraging paid off, as he flushed the sought-after Spotted Wood-quail.
Marino (photo left, with 'little brown dog') promised quality in lieu of quantity here in the higher cloud forest, and he did not disappoint. Among the birds we saw were a flock of beautiful Silvery-throated Jays, the rufous form of the Costa Rican Pygmy Owl, and a brief glimpse of a Buff-fronted Quail-dove.The main lodge was surrounded by several hummingbird feeders, in turn surrounded by several photographers with their monstrous hooded lenses. We ate our meals while watching Yellow-thighed Finches, Slaty Flowerpiercers, and various hummers, among them the beautiful White-throated Mountaingem, both male and female, and the Green Violet-ear. A pair of Long-tailed Silky-flycatchers frequented a tree beside the lodge. The next morning, Marino allowed us to accompany him and another couple in search of even more and different birds.


White-throated Mountain-gem Lampornis/Oreopyra castaneoventris
(male, left, and female, right)
It was with both reluctance and anticipation that we left the lodge after lunch for our next destination, the Selva Verde Lodge in the rainforest of northeastern Costa Rica. The roads in Costa Rica make our California corridors of potholes seem rather tame. Add in the winding, twisting, narrow roads over the mountains, and you have an adventure in itself. But we always arrived safely at each stop without incident, and our drivers were skilled and cautious.It was dark when we arrived at Selva Verde, but we were able to make out our first bird there, an Orange-billed Sparrow, beside the path. In the morning we awoke with the dawn chorus, and from the elevated boardwalk around our rooms we saw our first Keel-billed and Chestnut-mandibled Toucans. After breakfast, a driver picked us up for the short ride to the grounds of the La Selva Organization for Tropical Studies. We met Christian, our guide for the day, and set off to explore the property. It soon became very hot and humid, and the birding was rather slow, but after lunch we encountered a mixed flock that provided one new species after another in rapid succession. We saw a Fasciated Antshrike on a nest, and a walk down one of the paved trails led us to a staked-out Crested Owl.


Blue-grey (top) and Golden-hooded Tanagers
Thraupis episcopus and Tangara larvata

Keel-billed and Chestnut-mandibled Toucans
Ramphastos sulfuratus and R. swainsonii
On our second day at Selva Verde, after I viewed some Collared Aracaris on a 6 AM birdwalk, we were driven to nearby Braullio Carrillo National Park. Our guide, Joel Alvarado, led us up and down the trails and pointed out more and more beautiful birds, like Blue Dacnis, Scarlet-thighed Dacnis, Green Honeycreeper and Shining Honeycreeper, and four species of woodcreeper. The best birds of the day were a pair of Ornate Hawk-eagles, calling and courting near a previous nest site. When we returned to the lodge, we stopped beside the Sarapiqui River and found a Fasciated Tiger-heron staring into the rapids, and at dusk we stood and sat on the swaying bridge over the river until a Short-tailed Nighthawk made a brief appearance.


Cinnamon Woodpecker Celius loricatus (left)
and Streak-headed Woodcreeper Lepidocolaptes souleyetii (right)
The next day our 3.5 hour drive was made memorable by a stop at a hummingbird station at Cinchona, where we added five more hummer species, and another stop at a village park which featured roosting Black and white Owls. Our destination was the Hotel Villa Lapas, near the Carara National Park and the Tarcoles River, not far from the Pacific Ocean.We were off bright and early the next morning, with Ernesto Carman, our extremely knowledgable and enthusiastic guide, leading the way to Carara. Before and after our full day of birding, Ernesto took us onto the bridge over the Tarcoles River. In the morning he immediately spotted a bird that had eluded him on his last 15 visits to this site, a snow white Yellow-billed Cotinga. Two Double-striped Thick-knees were along the bank in addition to other waders and shorebirds. In the park Ernesto was absolutely magnificent! If you ever go to Costa Rica, do all you can to book this young man. I don't think we missed a bird that was within eyesight or hearing. He twirled his birdpod with skill and speed, and nothing escaped his keen eyes.


After a quick lunch we drove up into drier habitat, where Ernesto pointed out a roosting Pacific Screech Owl, paused as a flock of White-throated Magpie Jays flew across the road, and brought in such lovely creatures as Turquoise-browed Motmot and Violaceous and Baird's Trogons.


Pacific Screech Owl Megascops cooperi (left) and Violaceous Trogon Trogon violaceus
We ended the day back at the bridge, watching pairs of Scarlet Macaws fly down the river. Below the bridge the crocodiles were splashing, and as the sun set we headed back to the lodge to tally our sightings for the day.


Crocodile (left) and Scarlet Macaw Ara macao
We began our final full day with one more adventure, a 3-hour boat ride through the mangroves along the Tarcoles River. Our skipper/owner Luis Campos knew his birds, and it seemed as if he knew precisely where each and every one would be. Mangrove Black Hawks soared overhead, while Mangrove Swallows flew in and out of the nest box on the boat. We saw the Mangrove (Yellow) Warbler and the Mangrove Vireo, but we missed the Mangrove Cuckoo. It was truly a mangrove day. After lunch we boarded the van once again for a short ride back to the Hotel Bougainvillea, and in the morning left at 6:30 for the airport.


Anhinga (left) and Mangrove Swallow Tachycineta albilinea
Some final thoughts: I cannot say enough about the friendly, efficient service we received from Gateway Costa Rica. Everything went so smoothly, even when we requested transport time changes, once at the last minute. I highly recommend them. All of our accommodations were quite pleasant, from the luxurious Hotel Bougainvillea to the spartan but clean (except for the 3-inch spider over my bed one evening) Hotel Villa Lapas. The food at all locations was excellent. Except for the Hotel Bougainvillea, all meals were buffet style. The ice cream sundaes at Villa Lapas, where we dined outdoors, and the variety of desserts at Savegre Lodge were especially delicious. We had no language problems despite the fact that none of us was proficient in Spanish. Because March and April are the dry season, the few showers that we had were never when we were birding. The trails were dry and well maintained, there were no mosquitoes, and thankfully, no snakes. Would I go again and stay longer? In a heartbeat. Would my non-birding wife approve? Not so much.
Text and photographs copyright Jack Cole, San Jose, California. April 2008.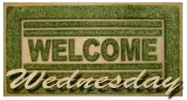 Welcome Wednesday is that special day of the week where we invite you to share your insight, excitement, and angst about issues pertaining to wild birds and birding. If you've got something important to say, 10,000 Birds can be your soapbox. If you think reading about birds and birding and everything that goes with them is fun, imagine writing about your favorite topic! Whether Welcome Wednesday inspires you to write about conservation, a first encounter with a particular bird, your favorite birding spot, or anything else related to our free-flying feathered friends, feel free to contact us about writing a Welcome Wednesday post.