This past Sunday Andrew and I once again went looking for birds while the women did, well, women things I guess.  Because it was raining in most of southern California, well, pouring actually, proving Albert Hammond right (no, not the Hammond for which Hammond's Flycatcher is named, but the Hammond who wrote the song that goes It never rains in California / But girl, don't they warn ya / It pours man it pours), we decided to head south and east to the desert, hoping that the rain wouldn't find its way there.  Well, as we approached Anza Borrego Desert State Park the sun broke through the clouds, proving our strategy a success.  But then the wind started.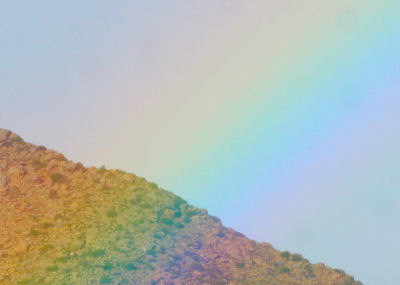 a rainbow on our approach to Borrego Springs
And the wind didn't stop.  At the visitor center for the state park, located in the town of Borrego Springs, we only managed to scare up a single Verdin, disappointing to say the least considering that previous visits had netted me Gambel's Quail, Greater Roadrunner, Black-tailed Gnatcatcher, Cactus Wren and other birds.  No problem we figured, we'd just hike up the Palm Canyon and find birds there.  Well, we did find birds there, but Common Raven, Black Phoebe and Anna's Hummingbird were all birds I've seen in or over Andrew's backyard in Temecula!  The hike was great though, with beautiful scenery and the reward of a palm tree oasis at the end of the mile-and-a-half up-canyon stroll.
After hiking the canyon a drive through the adjacent campground netted more common birds like House Sparrows, House Finches, Lesser Goldfinches, and White-crowned Sparrows.  Again, all birds that we could have seen in Temecula.  Even the American Kestrel we spotted in Borrego Springs wasn't enough to satiate my need for a bird-fix.  Wind, more so than rain, snow, or virtually any other weather condition, is the bane of birders.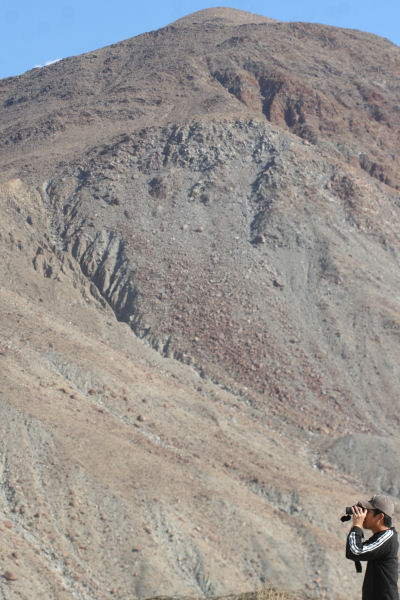 Andrew trying, and failing, to find birds in Anza Borrego Desert State Park
So we gave up, packed it in, threw in the towel.  The birds were simply not around to see.  We didn't even make an attempt for rare thrashers, Long-eared Owls, or anything else.  The wind had won.
On the way out of town, as we drove up the steep incline on switchback after switchback, I caught sight of movement in a rocky wash.  "Stop the truck!" I yelled.
Andrew complied and we were rewarded with a whole freaking herd of Desert Bighorn Sheep!  Wow!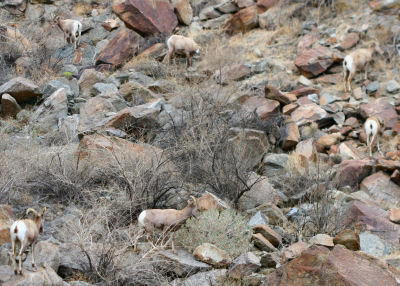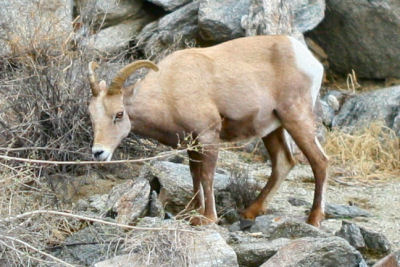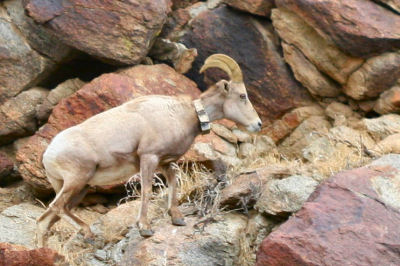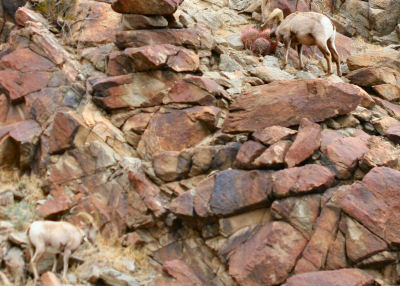 Talk about an awesome experience.  We watched them for at least fifteen minutes, joined by other travellers that also pulled over for the spectacle.  The big ol' ram in the last picture stayed busy the whole time eating a cactus.   We also spotted three sheep with radio collars like the one in the third picture.  We counted a total of twelve Desert Bighorn Sheep, which is twelve more than either of us had ever seen.  It certainly made up for not seeing any birds, and proved that as long as you are out looking you will see something.
And on the way back, almost to Temecula, I FINALLY spotted my life California Thrasher on the side of the road.