Yesterday, I described the excitement of landing in Oakland and birding Arrowhead Marsh. By the time I finished there, checked into my hotel, and found my way to the hills above Oakland, the sun was growing low in the sky. The dramatic heights of Oakland Hills and the other elevated areas east of Oakland proper are breathtaking. The birding is pretty sensational too.
My first destination was a set of trails through the Sausal Creek Watershed. Sausal Creek flows from the East Bay Hills to the Oakland Estuary passing through distinct habitat zones. The Friends of Sausal Creek, fine friends indeed, work industriously to maintain an intact riparian corridor from the hills to the bay accessible to all. Riparian was just what I was looking for, so I sought out the trailhead for a section of Zone 1, which encompasses the upper elevations of the watershed. No more waterfowl for me, I was looking for leaf gleaners! I found them too. Upon arrival, Black Phoebes greeted me and provided an escort, alerting the inhabitants to my presence. Not all of them flew away. I spotted Brown Creeper, American Robin, Winter Wren, Song Sparrow, and one of my target species, Chestnut-sided Chickadee. I love those birds! I missed some of my other targets though, which I attributed partially to the darkness of the overhanging canopy and in part to the difficulty of the conditions (for me, not the birds). This winter must have been a wet one out here, because the creek was high and the trail sodden. I couldn't connect with the rest of the loop, so I struck out for points north, searching out the high and dry.
Huckleberry Botanic Regional Preserve in Contra Costa County sounded inviting. A native plant community seems like the right place to locate native birds. Unfortunately, the preserve, though stunning, was as dark and muddy in parts as Sausal Creek was. It had the added benefit or detriment, depending on how you look at it, of being steep. I didn't find the pitch of the path helpful, considering the sloppiness of the path. However, I hung around the top of the trail and had a ball. Anna's Hummingbird seemed fairly common here, just like everywhere else I went in the area. Western Scrub-jay, which offered me only poor looks earlier, came out big and blue here. Ruby-crowned Kinglet sang in the trees while Spotted Towhee mewled in the brush. I got great looks at California Towhee and Dark-eyed Junco (of the Oregon race), but less satisfying peeks at Band-tailed Pigeon soaring through the valley and Bewick's Wren, my first, skulking in cover. Last but not least was a Red-tailed Hawk really giving it to what looked like a juvenile Bald Eagle!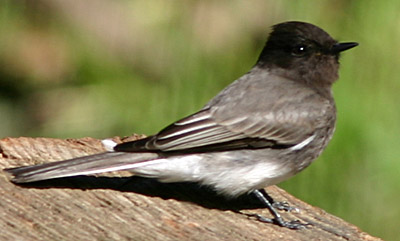 Black Phoebe