Here is Manakin Tour Part One if you missed it.
The next day we headed for a warmer and more humid area of the forest where a new prize awaited us at the end of the trail.  This was a tough trail that had not received any maintenance, we had to cross two streams and the small bridges were broken; we waded through some water, pushed away lots of branches, and removed prickly vines from our clothes and skin.  As we approached the target area we got some great looks at the Pygmy Owl that Paola spotted in a branch; the sound of the jungle was intense at this early hours and it made it more difficult to find the sought bird by sound.  But this task was not difficult for our local guide who quickly and accurately took us some 20 feet in front of the new gem:
Wire-tailed Manakin
I found this video on Youtube that you must watch.
We spent some time admiring this bird and his family as they proceeded to fly back and forth from branch-to-branch as guard dogs running on a fenced in property.  We were right at the edge of their lek and they were protecting it and wandering about these stumpy intruders that disturbed their peaceful home.  We never saw the female but we did get good looks at a juvenile manakin that was following the guarding rituals that his older parent was presenting to us.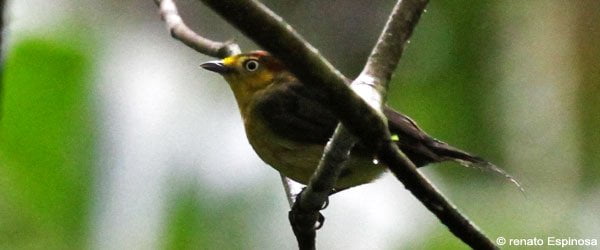 Wire-tailed Manakin Juvenile
Totally satisfied with the experience we left the manakin family in peace and proceeded back to the other forest in search of better views of the Blue-capped Manakin and the Blue-backed Manakin.  Unfortunately we never got any better looks so we continued to other habitats in search of other types of birds.
Two days later we drove further into the jungle where an imaginative Ecuadorian signed a lease agreement with the Huaoranies so that he could build a lodge inside their territory and develop a mutual benefiting relationship of conservation and sustainability.  I was so impressed with their work that I offered to build a free web site to help them promote their sustainable conservation Project.  I will leave their name for the next blog where I will introduce them and their new website.   For now we will follow our manakin birds deep in the Huaorani forest where we were pleasantly surprised by the elusive Blue-backed Manakin out in the open.  He was so pleased with our presence that he stayed still until I managed to get the best viewing spot to get the picture below: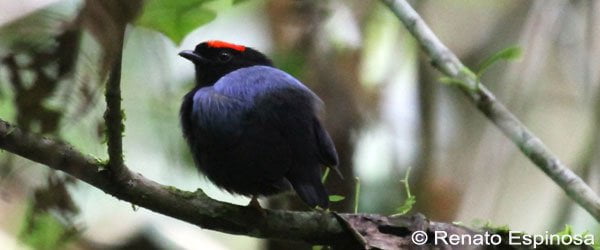 Blue-backed Manakin
Here is another stunning leking video from YouTube.
In the same way as our previous jewel, the Blue-crowned Manakin also made an unexpected appearance and remained close-by for longer periods so I could get camera focus and a good picture: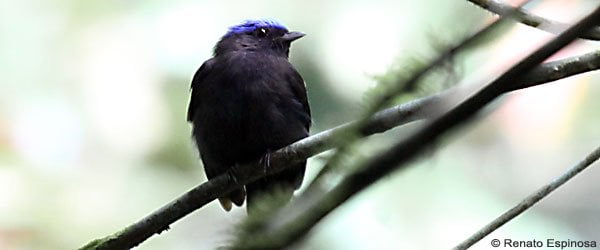 Blue-crowned Manakin
I could not find any lekking videos of this manakin but here is another YouTube video that you must see.