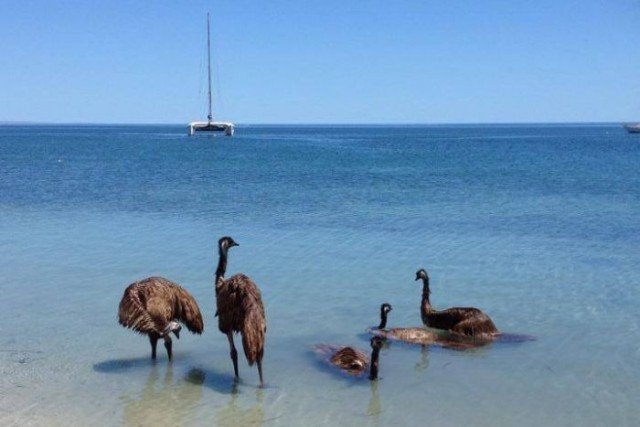 First, Australia gave us surfing swans. Now, the latest aquatic antics come courtesy of Emus. Clare tipped us off to this nugget: a mob of Emu wading into the waters of the Monkey Mia preserve. (Photo above by Katie Hughes/Monkey Mia Wildsights through ABC Rural)
These birds definitely have the right idea, as temperatures Down Under last week soared above 40 degrees Celsius (that's over 100 degrees Farenheit, for the non-metric among us), postponing some Australian Open matches.
So the Emu decided to do as people do: go to the beach and cool off in the waves! According to Clare, "It is rare, but not unheard of, for Emus to venture into the water. They have very oily feathers, so [they] would not get saturated."
Bonus benefit of taking a dip in the ocean: The birds had a chance to spend some quality time with Monkey Mia's famous dolphins!