On Saturday, a mere two weeks after having moved into my new digs in Queens, I decided it was time for a major birding expedition. After a week of examining subway lines and bus schedules and checking weather reports I figured that a ride on the E or F subway lines to Woodside to catch the Q53 bus to Jamaica Bay Wildlife Refuge would only take an hour and would be free considering that I have already bought my $81 monthly Metrocard. So, in the pre-dawn darkness I walked down into the Kew Gardens subway station and started my trip.
When I got off the train and waked back aboveground in Woodside the sun had barely risen and was mostly behind clouds. The streets were wet after an overnight rain and my bus was pulling into its stop. I hopped on, put my Metrocard in the reader, and, just to make sure, asked the driver if the bus would get me to Jamaica Bay. He pointed out that I was on the right bus going the wrong direction and that I wanted the stop across the street. Oops! Oh well, no harm, no foul, and it bought me time to get a $.75 cup of coffee while I waited for my bus.
I was the only person to get off the bus at Jamaica Bay and I got a couple of odd looks from my fellow passengers but what did I care? I was already seeing Ring-billed and Great Black-backed Gulls flying overhead and large, long-tailed icterids, oh, Boat-tailed Grackles! A couple American Crows were cawing and Fish Crows were caaing and I was birding and life was good.
My first order of business was a walk around the West Pond and passerines galore were present. Song Sparrows, Carolina Wrens, Red-winged Blackbirds, and American Robins were singing and White-throated Sparrows and pair of Swamp Sparrows were quickly ticked off for the day. Then a couple of lingering American Tree Sparrows made up for the ones that had dodged me in the Bronx. Two of our three regular mimids made appearances with Northern Mockingbirds everywhere and a couple of Gray Catbirds mewing from the bushes. In the bay to the south of the West Pond were Brant galore, a few Bufflehead, and a single drake Red-breasted Merganser. Then the flight off the bay into the pond began and I was spellbound. Hundreds, if not thousands, of scaup, mostly Greater Scaup but Lesser Scaup as well, came flying over my head, beating into the north wind, to plop down in the pond. They moved so fast it was difficult to focus so the pictures I got are almost abstract rather than illustrative.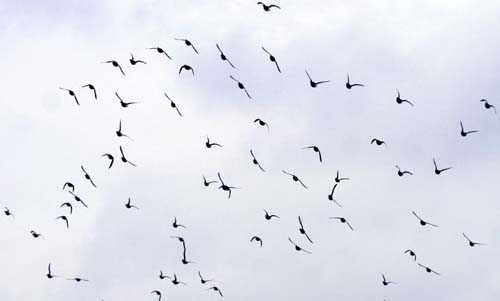 Then Snow Geese started flying over, in smaller numbers, but still, Snow Geese!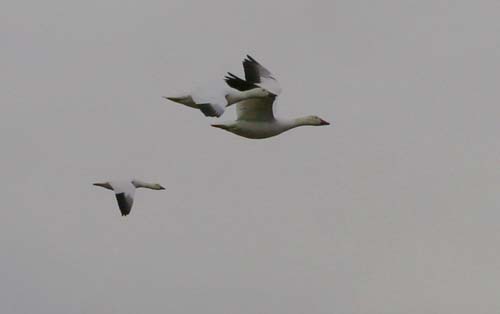 I just stood and watched the waterfowl for awhile, enjoying the birds already mentioned plus Green-winged Teal American Black Ducks, Ruddy Ducks, Mallards, Northern Shovelers, Canada Geese and Mute Swans on the pond.
I continued my walk out onto the Terrapin Trail and scanned through a flock of about 150 Snow Geese on a mud flat hoping to find a Ross's Goose. No luck. A single American Oystercatcher flying by was a nice sighting though, as was a small flock of butterbutts. I continued around the pond without seeing much of anything new, well, except for a Great Blue Heron, a Great Egret, and a Northern Harrier living up to its old name, Marsh Hawk. A brief stop in the visitor's center got me warmed up and I headed across Cross Bay Boulevard to the East Pond Trail.
The walk to and area around Big John's Pond had some of the same passerines as the trail around the West Pond had and Big John's Pond itself held only a couple of drake Mallards and a pair of Northern Shovelers. The East Pond itself, however, held thousands more scaup as well as a sprinkling of other ducks that I've already mentioned. A new bird for he day was a single Double-crested Cormorant perched in the Raunt. Walking the muddy trail beneath birches to the blind I noticed that something had been eating the birch catkins.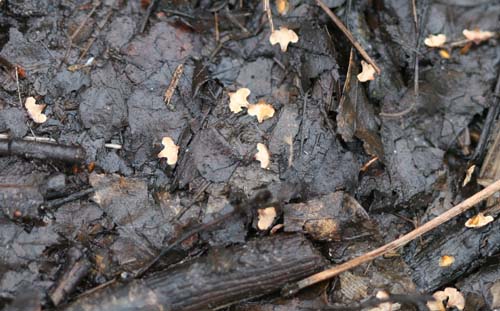 remnants of birch catkins
I decided that American Goldfinches had been feasting and forgot all about it as I scanned the pond from the blind, managing to find a pair of Wood Ducks perched in a tree low over the water just north of the blind. That was it for new species and as I walked back along the trail adding them to my list I heard a familiar sound that seemed out of place. It sounded like redpolls, and, sure enough, a flock of twelve Common Redpolls briefly fed on some more catkins before taking off through the trees to the north. Nice!
The long walk to the north end of the East Pond led me through the largest flock of Yellow-rumped Warblers I have ever encountered. I am sure that bigger flocks occur along the beach but having well over a hundred of them moving through the trees all around me was pretty cool. Looking into the bay north of the East Pond got me three more American Oystercatchers, a bunch more Brant, and other common species. I also had an interesting encounter that I will write about in a future blog post.
The north end of the East Pond held three drake Canvasbacks mixed in with a bunch more scaup. I don't know why so many scaup decided to hang out at Jamaica Bay this year but their numbers are impressive. On the walk back to the bus stop across the street from the visitor center I had one more new bird for the year, my first-of-season Eastern Phoebe. I hope it finds enough bugs to survive…
The bus ride back north was shortened when I decided to get off at Forest Park and walk the length of the park home. As you are already aware if you read this blog every day (and why don't you?), my walk through the park was rewarding. I also spotted four species of woodpecker, a bunch of other common birds, and heard a report of the first Pine Warbler of the year which failed to put it a repeat appearance. Not a bad day's birding!