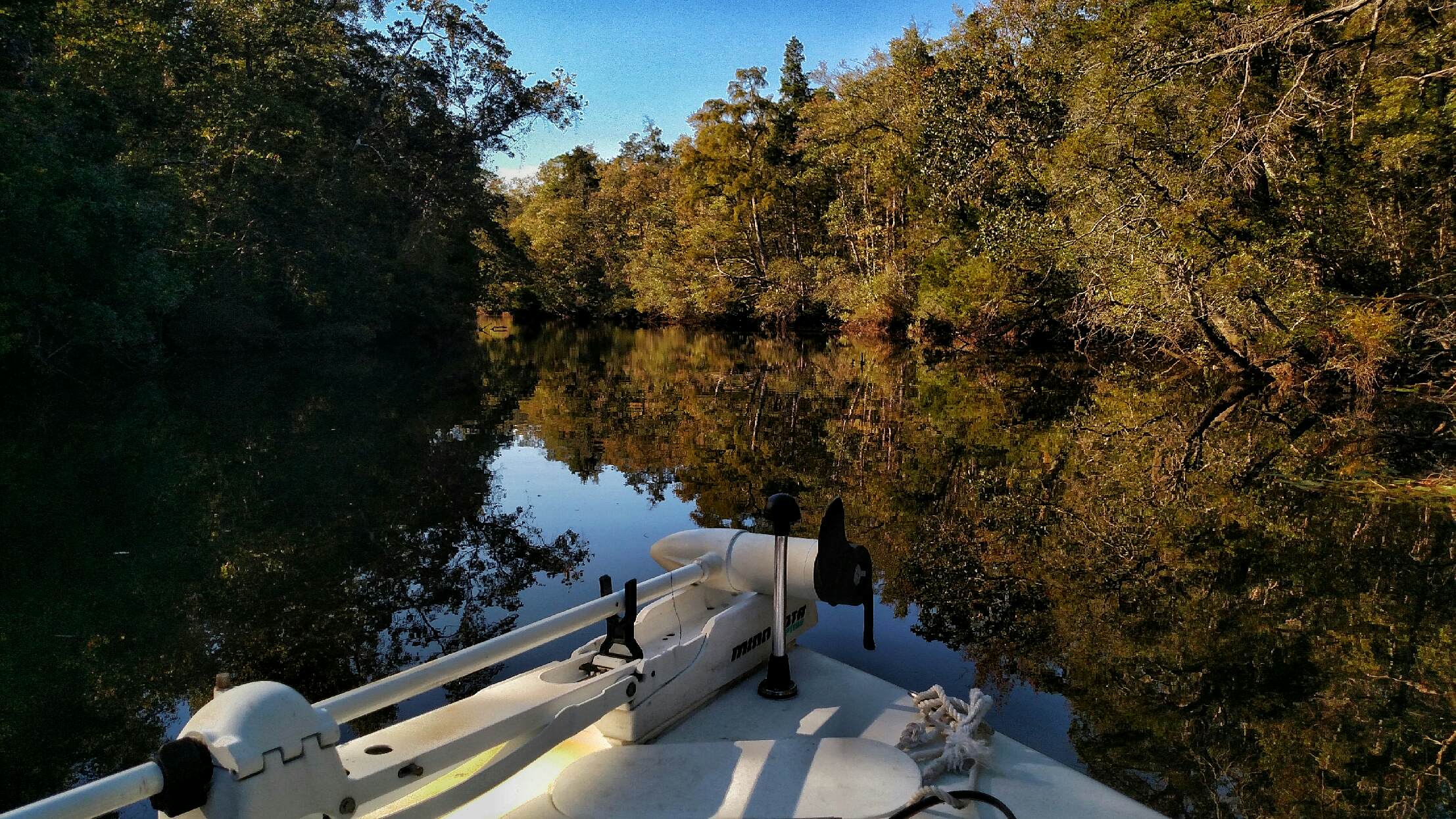 It was odd to realize that with a temperature of 85 degrees F and a breeze, I felt like "fall" had begun in Northwest Florida. My husband and I decided to take advantage of the "cooler" weather and embark on an afternoon boat ride from East Bay up the Yellow River.
The marsh grasses had already turned from green to brown, creating the ruffled shoreline beneath tall pine trees. In some areas wooden docks and boardwalks provided the only evidence of nearby human habitation; in others, multi-colored, bay-front homes enjoyed short walks to the water. Here and there, spits of pale sand became playgrounds for families and dogs, or hunting areas for Great Blue Herons.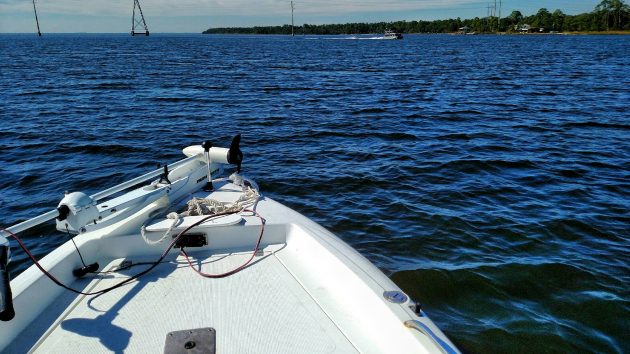 A view of East Bay.
I purposefully left my camera behind for our trip, taking only my cell phone and binoculars (though obviously I still took many photos with the former). I've been doing a lot of freelance photography recently, and I wanted to use this opportunity to just look and bird without worrying about light or my shutter speed. Besides, I didn't need a still image to identify my familiar Florida species.
Brown Pelicans were the most numerous birds, flapping against the wind, diving for lunch, or floating along on the gentle waves. Royal Terns joined them in their aerial acrobatics, while golden-eyed Osprey watched the water vigilantly from their high, nest perches.
In addition to birds, the air was full of bright orange butterflies, making their way across the bay only a few feet above the water. I worried that one strong gust of wind would plunge them into the waves below, but they flew doggedly on.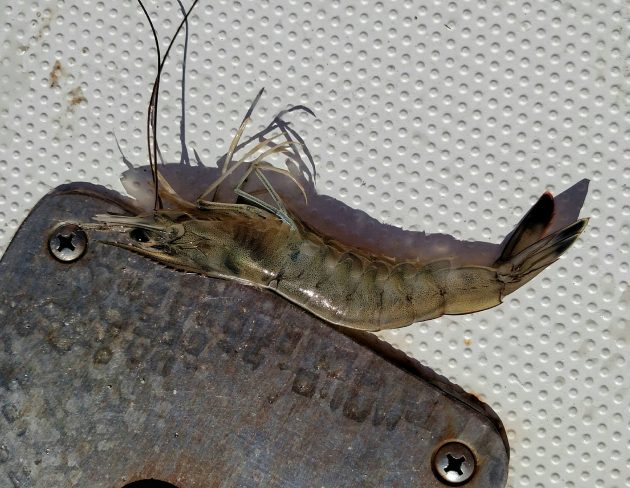 The lone shrimp we pulled up in the cast net.
My husband remained more interested in the species below the surface. Standing at the front of the boat, he threw his trusty cast net off the side, pulling up menhaden, croaker, and even one large shrimp to use later as bait for snapper fishing.
Eventually we moved on, traveling from East  Bay to Blackwater Bay and then towards the Yellow River. We watched a Bald Eagle soar on the warm updrafts over the marsh, while another actually stood on a mudflat, looking for prey. Leaping mullet demanded our attention as they launched themselves into the air, landing every time with a satisfying splash.
Up the river, however, habitat changed and so did the birds. Marsh grass still grew in patches, but now the sides of the waterway were made up of lily pads and their spherical, yellow blossoms, or mountain-like clumps of cypress knees. Trees stretched their limbs over the water in search of sunlight, and dead snags stood in the middle of the channel, devoid of bark or leaves.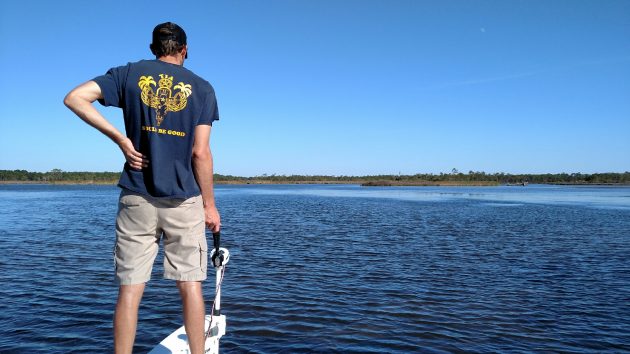 Heading towards the mouth of the Yellow River.
Here, the bird community made itself known through the metallic buzzing of Blue Jays and chatter of Belted Kingfishers. A lone Anhinga stood on a log to dry its feathers, while a Great Blue Heron spread its wings and croaked as it fled our noisy arrival. In particularly dense patches of trees, Gray Catbirds whined and flitted from bank to bank. A handful of Red-bellied Woodpeckers let loose nasal-like giggles, and spinning around with my binoculars I caught sight of a few of them methodically climbing tree trunks.
These river areas of Northwest Florida always strike me as mysterious. Brown water limits visibility, but I know that a ton of fish species call this river home, not to mention the alligators. The surface was so calm that it reflected perfectly the foliage above, in form if not in color. We hardly ever see people on our riparian excursions, perhaps adding to the wilderness feeling of the area. Of course, we're not in wilderness at all, but at least some vestiges remain.