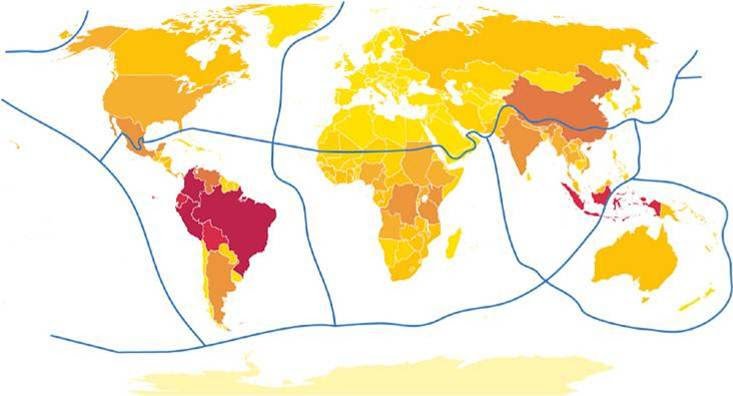 Summer is normally the vacation season, for ordinary tourists at least. Birders follow different patterns of bird migration and their local activities and travel accordingly. But – where?
I discovered this cover-photo map somewhere at the BirdLife International's website. It illustrates the bird richness per country. And what does it tell us, other than the obvious "head for South America" or perhaps Indonesia?
It divides countries into categories, where the next category has 200 more species. In some cases the data are outdated, e.g. Costa Rica has 900 and not 800 species, but I made no corrections, remaining faithful to the original map data. Shown as a list, it looks like this:
Less than 200 bird species: Antarctica; oceanic islands
201-400 sp: Madagascar, north African countries; European countries; Asia Minor, Arabian Peninsula, Mongolia
401-600 sp: Honduras, Guatemala, Guyana, Suriname and French Guyana, Chile, Paraguay, Uruguay; the Sahel countries (Africa), Namibia and Botswana; Central Asian countries and Cambodia
601-800 sp: Canada, Costa Rica, Panama; Russia; Guinea, Ivory Coast, Ghana, Central African Republic, Equatorial Guinea, Gabon, Congo (Brazzaville), Zambia, Zimbabwe, Malawi, Mozambique, South Africa; Laos, New Guinea (PNG); Australia
801-1000 sp. – now the pace quickens: USA; Angola, Cameroon, Nigeria, Uganda, Sudan, Ethiopia; Nepal, Myanmar, Malaysia, Vietnam
1101-1200 sp: Mexico; Argentina; DR Congo (Kinshasa), Tanzania, Kenya; India
1201-1400 sp: Venezuela; China
1401-1600 sp: Ecuador, Bolivia; Indonesia
1601-1800 sp: Colombia, Brazil, Peru (Looking for smaller areas of these huge countries? Focus on the wider triple border area – the birding top of the world.)
Still, thinking where to travel next, you may have only two weeks and cannot make up your mind which areas to visit. It may be slightly impractical to focus on big countries such as Brazil or Indonesia.
Hence try the comparison of the species richness not per country – but per square mile. Then you get a more realistic picture and those tiny tropical countries rightfully stand out in the spotlights. Mongabay.com has done exactly that.
This portal has compared on a per unit of area basis data on the percentage of a total global number of species of birds, amphibians, mammals, reptiles, fish and vascular plants, creating a biodiversity index. And the results are indicative, representative and nothing short of surprising: Brunei, The Gambia, Belize, Jamaica, El Salvador, Costa Rica, Rwanda, Equatorial Guinea and Panama top the list.
Yet, when we rearrange that list taking only bird species density per unit of area basis into consideration, the top-10 spots of the list are occupied by no less than 14 countries and that list looks somewhat different. The percentages are from the original Mongabay.com table, but here I added the number of species/endemics quoting the Fatbirder.com. Here are the top-10/14:

1 Ecuador (with 16 % of the total global number of bird species – 1665 bird species at the national checklist / 11 national endemic species)
2 Panama (8.8 % of the global number – 976 species / 12 endemic species)
3 Costa Rica (8.6 % – 920 sp. / 5 en)
4 Vietnam (8.3 % – 826 sp. / 10 en)
5 Nepal (8.1 % – 891 sp. / 1 en)
6 Guyana (7.9 % – 796 sp. 0 en)
7 Guatemala (764 sp. / 1 en), French Guyana (727 sp. / 1 en), Malaysia (781 sp / 19 en) (all 7.1 %)
8 Honduras (778 sp. / 1 en), Suriname (735 sp. / 1 en) (all 7.0 %)
9 Nicaragua (6.8 % – 781 sp. / 0 en)
10 Rwanda (670 sp. / 0 en), Malawi (698 sp. / 0 en) (all 6.3 %)
To put these percentages into perspective, Ecuador's 16 per cent is close to bird richness of Australasian Zoogeographic Region with 17 % and Indo-Malaysian Region with 18 % of the total. Panama's eight per cent is close to Nearctic (North America and Greenland with 8 %) and Palearctic (Eurasia, Middle East and North Africa with 10 %). And now think of those tiny countries above containing as many birds as whole zoogeographic regions.
Malaysia, Rwanda and Ecuador top my wish list. Which countries top your list?
Cover photo map by BirdLife International