The image that made me look hardest in this year's Digiscoper of the Year 2011 competition was that of a Little Owl (Athene noctua) by Mario Cea taken at night! Digiscoping is normally hard enough during the day and action shots with good light are doubly tough, but this was the first time I had ever seen anything like this: action at night.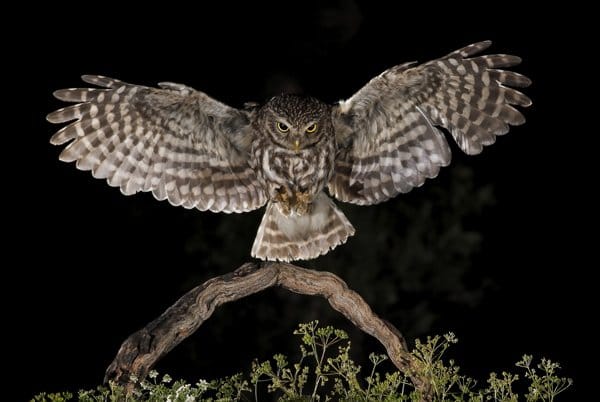 2nd place Digiscoper of the Year 2011 by Mario Cea
For a while now, friends and I have been playing with little flash setups to see what was possible and if it might be viable to support digiscoping in poor lighting situations. Now, we were thinking mainly about forests and cloudy days, but Mario Cea really stepped outside the box with this Little Owl.
Wanting to know more and figuring others would also be interested, I contacted Mario and asked him to write something about how the photo came to be made (here my rough translation from Mario's native Spanish):
MC: I would like to describe how I came to take this photo that – despite being completely created by the technique of digiscoping – is based in conventional photography and, more specifically, in the complex and laborious technique of high speed photography. I had had a few photography sessions with a pair of Little Owls using a small 17-40mm objective and my Canon 7D, a ton of tripod-mounted flash units, and an automatic infra-red sensor.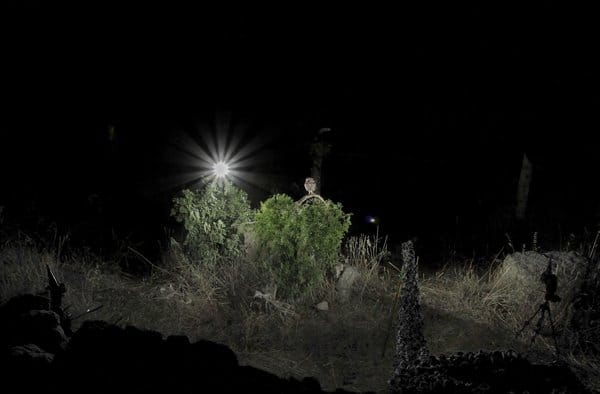 During the long nocturnal periods between visits by the Little Owls, I ended up whiling away the time thinking about various different compositions, lighting, etcetera. One evening, it occurred to me that I could try a session with digiscoping: "why not?". The location allowed me to set up the telescope sufficiently far away – about 35m / 115ft – such that the entire bird and outstretched wings could fit in to the image. I got working on it, and the next afternoon I set up the equipment:

A number of flashes mounted on tripods such that they would correctly illuminate the scene even in complete darkness;
An automatic infra-red sensor that would trigger the camera's shutter and fire the flashes when the Little Owl crossed its path;
40m (130ft) of cable connecting the various system elements; and
A Canon 7D mounted on a Swarovski Optik ATM80 HD and TLS800 digiscoping adapter.
flash guns set up and ready for action
By the time night fell, everything was perfectly in position, lighting tests carried out, and the focus adjusted to the position in which the Little Owl should be when it crosses the infra-red sensor.

Now it is just a matter of waiting…

Half an hour after hiding in my car, I saw how one of the Little Owls approaching the setup… the next stop has got to be his regular perch, how could it be otherwise?
The flashes fired and my camera captured the first of a number of images I managed to get that evening. I had reached my goal: I was able to capture an image of a Little Owl in flight and in complete darkness, that demonstrated that this type of photo can also be taken with digiscoping.
two more images captured by Mario Cea on that evening
Mario Cea is from Salamanca in western Spain and has been digiscoping for 6 years:
MC: Even though I continue to practice a combination of digiscoping and traditional photography, digiscoping strikes me as being a real breakthrough in the photographic world, and a continually evolving technique.

I have always tried to push the limits of what is possible with digiscoping and to show that many different types of images can be achieved with digiscoping and that digiscoping really doesn't have any limits.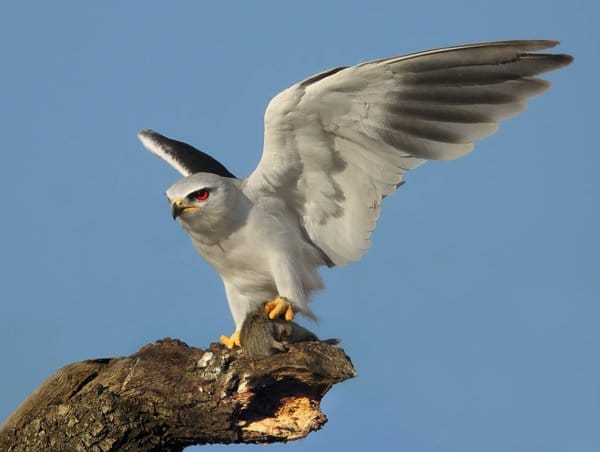 Mario's image of a Black-winged Kite (Elanus caeruleus) and prey won second place in the Digiscoper of the Year 2010 – I look forward to see what he dreams up for next year's competition!