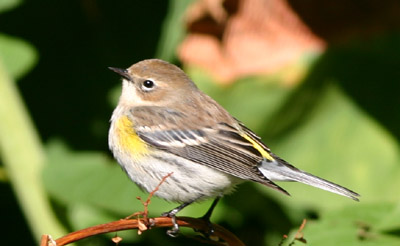 Yellow-rumped Warbler
The term may strike fear in the hearts of those dreading a nuclear winter, but for bird watchers, it evokes all the adreniline-fueled excitement of a kid in a candy store. What exactly is a fallout? A fallout is, in the birding sense of the word, a mass of birds, exceptional in both number and diversity, that descends on a given locale as a result of meteorological or seasonal forces.
When we think of fallouts, we usually envision a rampaging horde of migratory passerines invading the local migrant trap, whether it's a propitious public park or an inviting shoreline. Sometimes a multifarious flock drops in for basic rest and refueling. After all, migration can carry a bird over thousands of hungry miles. Migrants make pitstops at key points along the way, often stopping at the same places around the same time year after year. Some of the most storied birding spots in the U.S. achieved acclaim on account of the predictability and awesome magnitude of their annual fallouts.
Other fallouts are caused by difficult weather conditions. Challenging headwinds or powerful precipitation might persuade ambulant avifauna to sit a day out. Sometimes a big storm makes the choice for a flock by blowing it hundreds of miles off courdse or pinning it down in an unexpected area. Sometimes it's songbirds that comprise such a fallout and sometimes it's seabirds. Either way, the experience of being engulfed by dozens of different, dazzling bird species, some of them quite rare, is unforgettable.
When it comes to songbirds, spring fallouts are best. At this time of year, wood-warblers, tanagers, orioles, and the rest are in full breeding plumage and song. However, autumn fallouts have their charms as well, particularly for those taken with the challenge of identifying birds in their subtle fall plumage. Furthermore, for many of us, fall hasn't truly fallen until that final fallout of late migrants drops in, Yellow-rumped Warblers and kinglets in all their frenetic, innumerable glory.