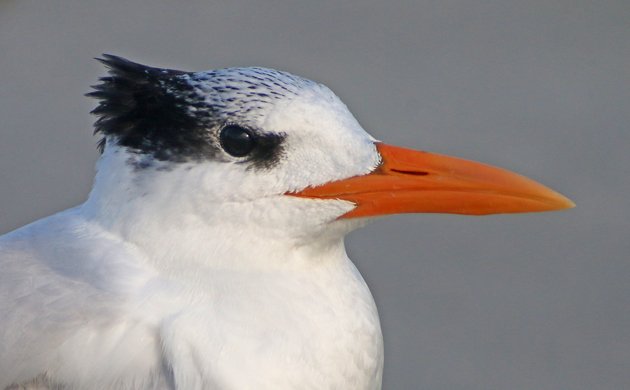 The week of President's Day this year found me, my family, and some close friends spending a week in a beach house on Tybee Island, a low-lying, barrier island just east of Savannah. As always, I spent most mornings out looking for birds, and because the seven of us had only a single minivan to get around, I had to keep my morning outings relatively brief so I was confined to Tybee Island. Not that doing my birding on Tybee Island was some kind of horrible chore but the 5.2 square miles (8.3 square kilometers) was a much smaller area than I am used to when birding. That said, being forced to bird such a small area over multiple days forced me to explore nearly every inch of the island.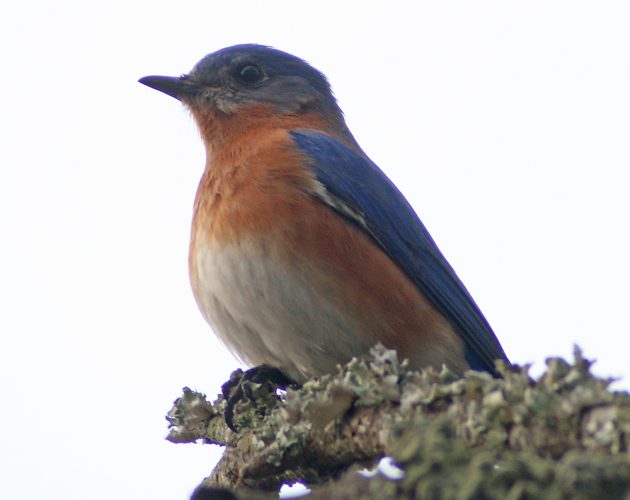 Eastern Bluebird at Jaycee Park
And exploring Tybee was mostly a pleasure! The south end of the island at low tide is greatly expanded by a huge expanse of sand bars where shorebirds like Willets and Red Knots feed. At high tide the same area is used by gulls and terns to roost. The north beach featured a host of Ruddy Turnstones around the jetty. Boat-tailed Grackles were ubiquitous and at any time a Brown Pelican could fly overhead. Where you reach the entrance of the gated community on Horsepen Road (circled in green below) was a great spot to find herons, egrets, and ibises roosting at high tide. The road that ran between marsh and a remnant of the maritime forest (circled in red below) was great for flocks of foraging passerines and Clapper Rails called regularly from the marsh. Jaycee Park (circled in yellow below) had Eastern Bluebirds and the slough held an Anhinga on two different visits and a Green Heron on another.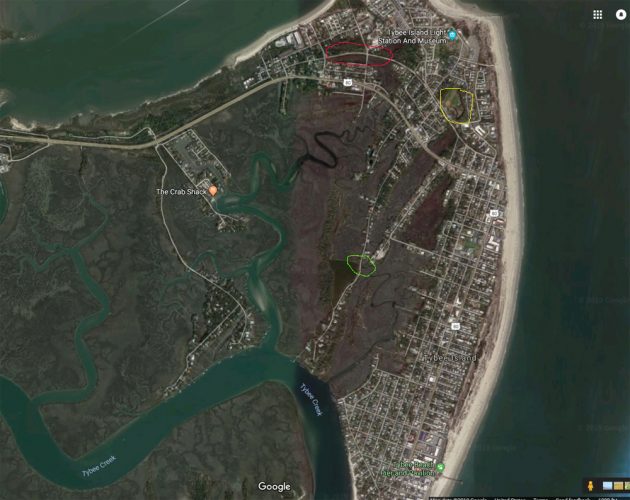 Unfortunately, almost every morning we were on Tybee Island featured some kind of adverse weather condition. Rain two days, heavy winds and rain another, and fog another day made birding conditions less than ideal. Nonetheless, I did my best and ended up with seventy-nine species in the just over five full days we spent there, a list slightly padded by visiting Oatland Island Wildlife Center, about fifteen minutes west of Tybee proper, one afternoon. But I might have eked out a few more species on Tybee Island itself if I hadn't spent the Friday morning of our week there exploring in South Carolina.
How did I find so many species? Mostly, I cruised around Tybee early in the morning looking for likely habitat after having consulted Google Maps to figure out what looked like the best places. The streets of Tybee are often lined with large trees and where there is space between houses there is often some nice habitat. Yellow-rumped Warblers were around in numbers everywhere but if I heard Carolina Chickadees I would usually find other species traveling with them. Northern Parula and Yellow-throated Warbler were each spotted once, both in that red-circled area on the map, and Brown-headed Nuthatches were found in several locations.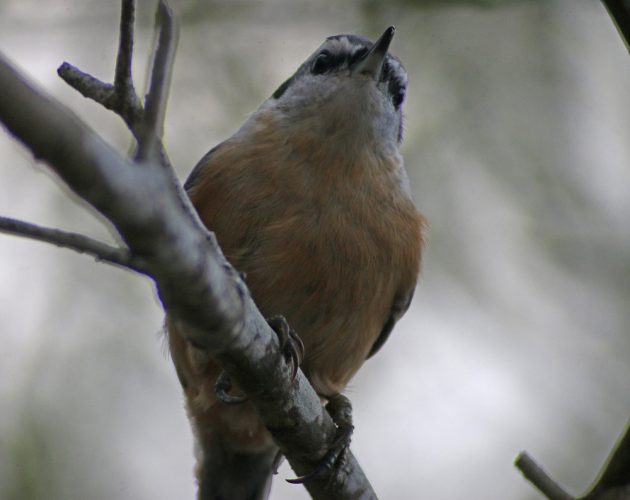 The same spot I found the parula surprised me with a Red-breasted Nuthatch one morning, the southernmost one I have ever seen.
The morning that featured high winds and rain had an even nicer surprise. For some reason, I chose that day to try to check out the north jetty in the morning, a location rumored to be the only spot in Georgia where one is likely to find wintering Purple Sandpipers. Not only did I not find the sandpipers but I barely found the jetty as the wind had combined with a very high tide to leave virtually no beach and nearly the entire jetty was underwater. Also effected by the high water was a Clapper Rail that I found strolling through the dunes.
Now this was a nice surprise! You don't normally get looks like this at a rail!
The marshes along Horsepen Road were good habitat and where the gate keeps you from heading further south there was a nice gathering of roosting wader birds at high tide. Great Egrets dwarfed the Snowy Egrets and Tricolored Herons roosted with Little Blue Herons. White Ibis foraged in flooded marshes while Black Vultures soared overhead. It was a very nice spot to park the car and get the scope out and look to see what was around while digiscoping the close stuff.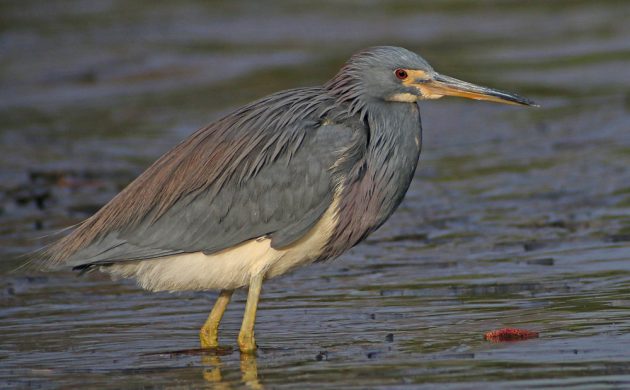 Will I ever grow tired of confiding Tricolored Herons in the south? I hope not!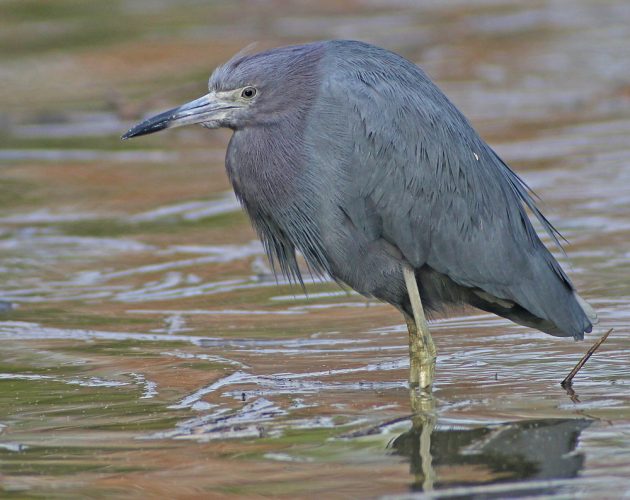 Little Blue Herons are not as flashy as Tricoloreds but I think I like them more.
One massively negative aspect of birding Tybee Island is the sheer volume of feral cats and outdoor cats. They are everywhere! It is clear that the trap-neuter-release efforts are doomed to failure, as they always are, and I saw three obviously pregnant cats in my short time there.  One obvious colony (technically just off of Tybee), where I twice watched people stop to put food out, had not a single cat ear-tipped, making me wonder if there was even an attempt to neuter. The culture on Tybee seems to be all about outdoor cats and even a peremptory perusal of search results for cats and Tybee Island comes up with a host of results. Though the people caring for the cats are undoubtedly well intentioned it does not bode well for the native fauna that so many introduced predators wander the island. For this reason alone I would recommend that birders spend their tourist dollars elsewhere, in a place that puts the conservation of native species above that of cats. Why spend money in a place that is actively destroying birds?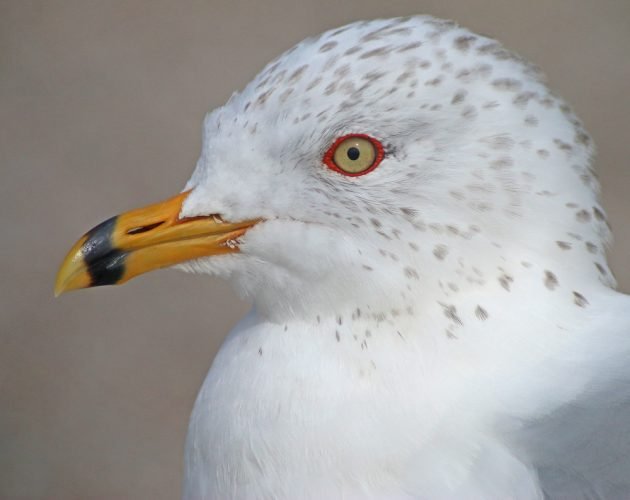 This Ring-billed Gull was lured to my beach blanket by kids eating chips. It didn't get any.
The beaches and ocean of Tybee Island had the expected species like Royal Tern, Brown Pelican, and Black Skimmer. Waterfowl were surprisingly sparse, with Bufflehead, Double-crested Cormorants, and Hooded Mergansers the only species I saw with any regularity. Gulls were almost entirely of three species – Laughing Gull, Herring Gull, and Ring-billed Gull. Occasionally an Osprey went overhead and other than at the south end of the island the only shorebirds I saw were Sanderling and Ruddy Turnstone. I spotted an occasional Northern Gannet well offshore but no movements of ducks at all except for a single distant flock of scaup heading north on my first day there.
All-in-all, we had a good time at Tybee. The food was good, the company excellent, and the birding pretty good. If it weren't for the cats and the weather it would have been a pretty perfect trip. The folks on Tybee Island can't help the latter but they can do a lot better on the former. There are plenty of places you can appreciate the coast in the southeast. Until the cat situation gets better you should not spend your money at Tybee.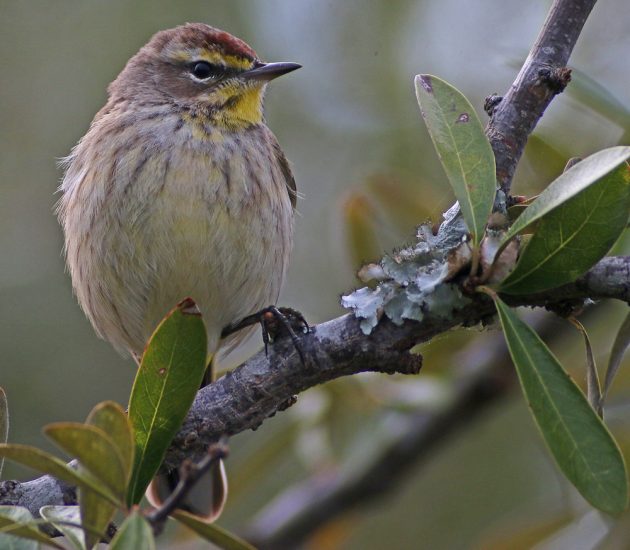 Birds that feed on the ground like this Palm Warbler are in particular danger of being predated by cats.
…