After spending the early morning on Saturday birding at Alley Pond Park I was happy with having seen my first Eastern Phoebe of the year and thought I could rest on my laurels for the rest of the weekend.  Then the accursed listserv had to ruin my peace of mind by letting me know that someone found a Ross's Goose at Jamaica Bay Wildlife Refuge while I was looking at no-good, lousy phoebe.  Why did this sighting and its reporting destroy my peace of mind?  Because Jamaica Bay Wildlife Refuge is (mostly) in Queens, I am a Queens lister, and I had never seen a Ross's Goose in Queens (though I have, of course, seen several in New York State before).  Sunday morning would therefore be devoted to hunting down Chen rossii so I could happily check it off of my Queens checklist…either that or it was all just an excuse to go birding on both mornings of a weekend!
Now finding this Ross's Goose was going to be no easy task.  There are about 2,000 Snow Geese currently fattening up in and around Jamaica Bay Wildlife Refuge and a Ross's Goose is little more than a diminutive Snow Goose.  Finding it in the constantly relocating flocks of Snow Geese would be like finding a small needle in a needle-stack made up of constantly moving, slightly bigger needles.  And it could be a literal wild goose chase if the Ross's Goose had moved on since it had been seen.  Despite the long odds I was walking the trail to the West Pond before 7 AM Sunday morning, disappointed that I could see other ahead of me already setting up, and more than glad to yell at the photographer walking down to the edge of the pond despite the obvious signs ordering visitors to the refuge to stay on the path.
And the West Pond was covered with Snow Geese, with well over 1,500 birds all around the edges.  I found Andrew scoping them already and joined him and we scoped the flock together.  It was tough, as the geese were packed together and some were quite distant.  I found a bird that looked really good and was likely the bird but couldn't get Andrew on it, then bumped my scope and could not refind the candidate.  Then the geese started taking off and flying to the north marsh and we were rather quickly left with only a few dozen birds to scope through, none of which was our quarry.
I should take a moment here and just mention how awesome it is to live so close to Snow Geese, even if we do only have them for the winter.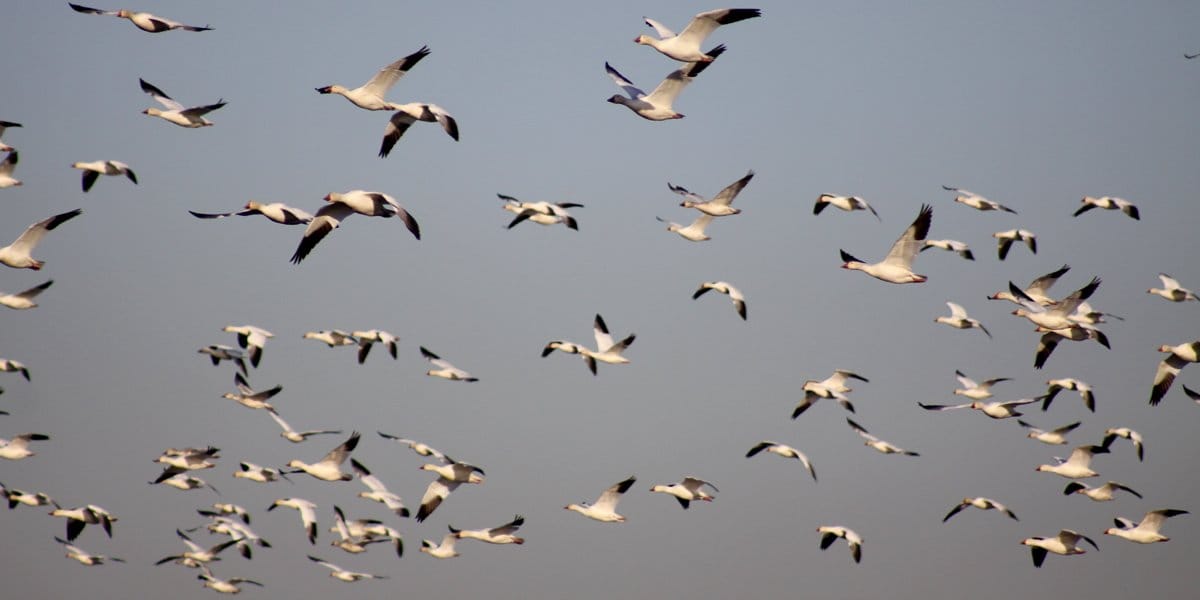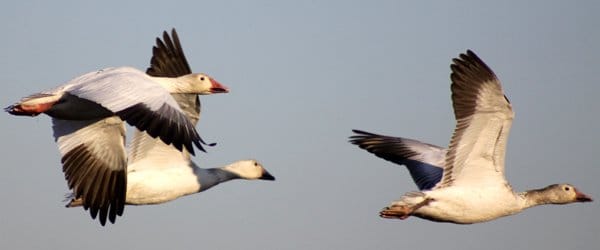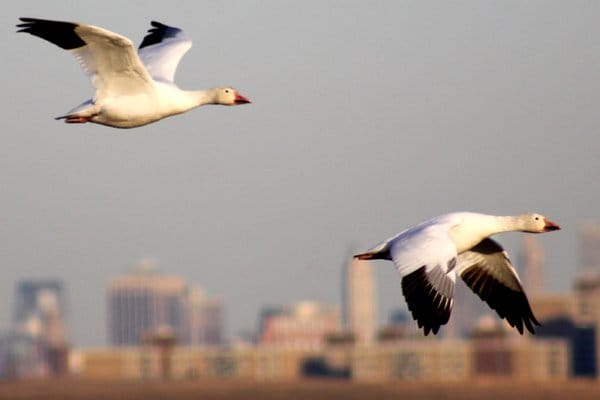 So, yeah, even without a Ross's Goose to find just being out and about and enjoying the Snow Geese was a fun morning.  That and seeing my first Osprey, American Oystercatchers, and Golden-crowned Kinglets of the year in Queens was nice as well.  But a Ross's Goose would make the morning even better so Andrew and I, joined by a third birder, Joe, continued to scope the Snow Geese.  One might think that we would eventually have scoped all the geese but the north marsh is big, the geese are constantly moving, and geese are often obscured by plants, other geese, or long range.  Take a look at the shots below and try to even figure out how many geese are in each static image and you get an idea of how tough it is to find one goose among a couple thousand when they are far away and moving around.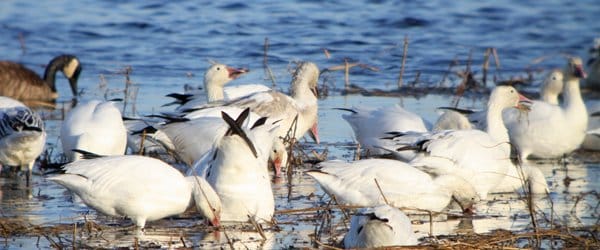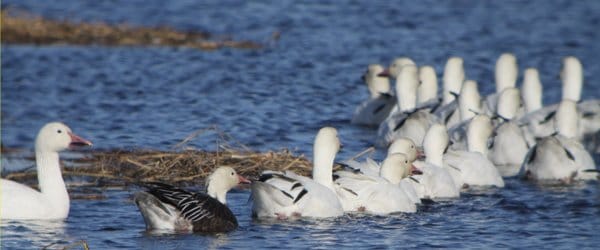 Add to the challenge the fact that a goose can radically alter its appearance by changing its posture, or by being in the water next to a goose that is on land, or simply by turning away from the observer and you can see why after an hour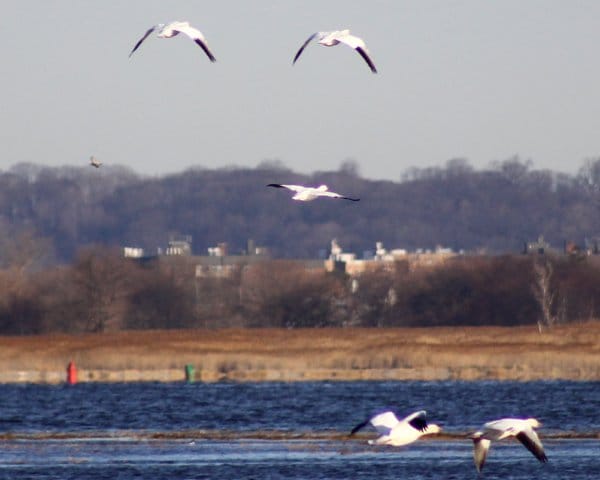 and a half the three of us were going crazy and about to give up.  I had forgotten to wear gloves and though it was above freezing a bit of a breeze from off the water was torturing me and making my fingers freeze.  I stepped a bit down the trail from Andrew and Joe to get some flight shots and was on my phone trying to explain to Seth why we were still scoping the geese and hadn't found our bird when Andrew called me over because he and Joe had the goose!  He let me look through his scope and, sure enough – small bird, no noticeable grin patch – a Ross's Goose!  Within seconds it had taken off and headed north so all I got was a couple of lousy flight shots, the best of which is at right (the Ross's Goose is the small one in the middle).
Bird number 276 in Queens!  And one up on Andrew and Doug, my nearest challengers on eBird, who both had already seen one in Queens!  Of course, we deserved to see the goose after getting out and about so early and dedicating so much time to the search but it was still a surprise when our patience and persistence paid off so nicely.  Now if I could only find my Queens Turkey Vulture…