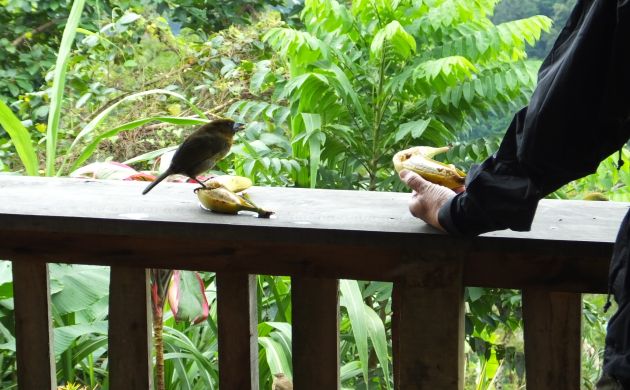 The survivalist birder scoffs at feeders. I recently became aware of this after an erstwhile interview with one of those wild, bearded purists while looking for mixed flocks in an anonymous, well known site in Costa Rica. As I crept through the forest and wondered where the birds were, a hint of movement caught my attention on the other side of a tree fern. The birder reflex brought the bins up to my eyes as quick as the flick of a manakin's wings but instead of an antpitta, the focus revealed…another birdwatcher!
After a brief introduction, we got down to business and I asked the muddy-footed fellow what he had seen. He said (or grunted) "I glimpsed a White-necked Jacobin and a few other things but it's slow right now. Have you seen any tanagers?".
I replied, "Not in the forest but I did see some over at the feeders. Speaking of feeders, there are like a dozen jacobins around them. Crazy easy. Check out this photo".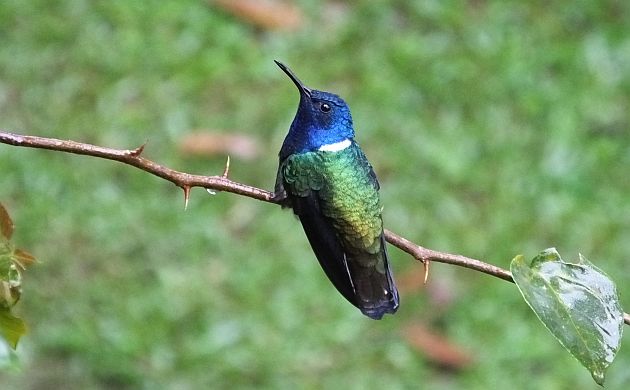 Male White-necked Jacobin.
Purposely ignoring the camera screen adorned with a crisp, eye-smacking image of a jacobin, he shook his head, and stated matter of factly, "Well, you can count them birds if you want but I don't. Feeders are….well, they are for woosies! They give you an unfair, unnatural advantage and anyone who watches them doesn't know the real deal when it comes to birding. Harumph."
At that, I started to sort of edge away and plan my escape, especially  because his wild eyes and extreme response sort of reminded me of someone who doesn't eat enough chocolate. I opted for acquiescing with, "Yeah, birds are always better in natural surroundings! Who needs feeders when we can see them 100 feet above the ground in a back-lit canopy!"
He nodded with a grunt, I left him with his cloud of happy mosquito friends, and skedaddled back out of the forest like a ground-cuckoo heading to an antswarm (that would be urgent fast). Oh, I also went back to the feeders and relished in the benefits:
Hummingbirds: You know those hummingbird feeders at home? Or the ones in Arizona that make you feel prety dang satisfied with life? Yep, same thing in Costa Rica except that you see things like White-necked Jacobin, Fiery-throated Hummingbird, Violet Sabrewing, and Green Thorntail. What do those look like you wonder? You already saw the jacobin above, the sabrewing is big and purple, the thorntail is an exquisite, flying, feathered bug, and as for the other one…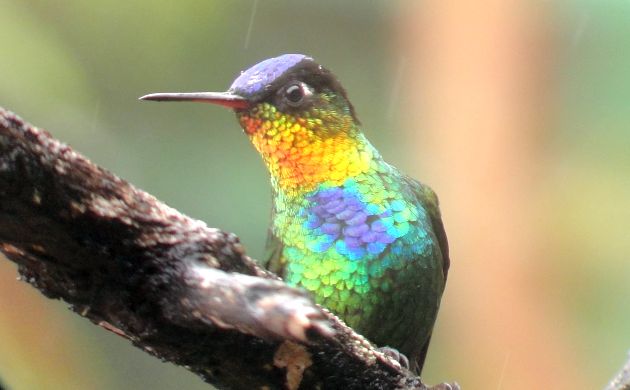 A Fiery-throated Hummingbird from the feeders at Paraiso de Quetzal.
Staying dry: It rains a lot in Costa Rica. Unless you stand out in the rain while watching the feeders, you can hang back under some wonderful awning and keep yourself and the optics dry while looking at Emerald Toucanet, Prong-billed Barbet, and the like.
You can get some rather close looks at Emerald Toucanet…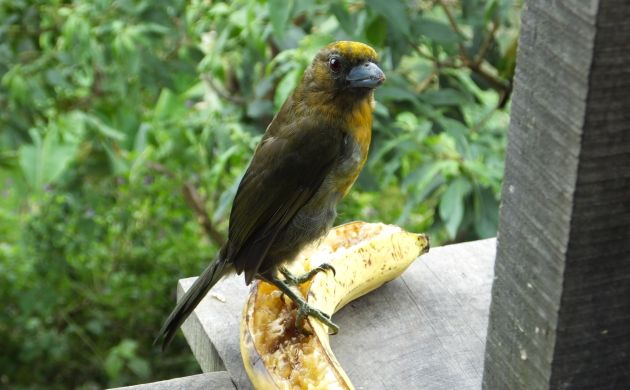 A Prong-billed Barbet claims a banana at the Cinchona Colibri cafe.
No muddy trails: Muddy trails can't be helped and you might have to walk on a few to see forest interior species but it's nice to watch a well-stocked feeder when you get tired of the sticky, tropical mud.
The moth sheet: This is one heck of a sweet bird feeder invention! Although not orginally meant to see birds, it works wonders for seeing shy forest species. Put the sheet in the forest, make sure that it's lit at least a few hours before dawn, and enjoy the early morning, avian show. Few places in Costa Rica have this attraction but to see a good one in action, visit Rancho Naturalista. On a recent trip to Rancho, the moth sheet gave me close looks at Plain-brown and Spotted Woodcreepers, Red-throated Ant-Tanager, Tawny-chested Flycatcher, White-breasted Wood-Wren, Plain Antvireo, Golden-crowned Warbler, and other birds.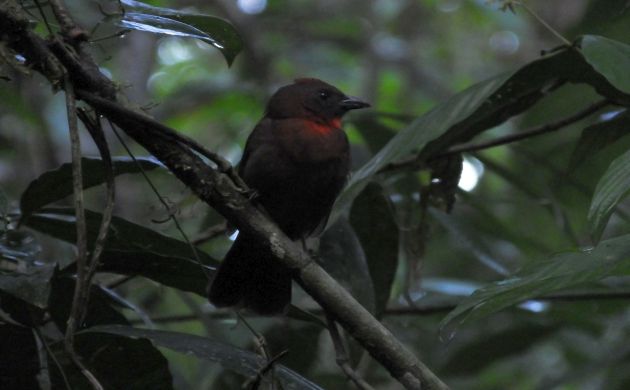 A Red-throated Ant-Tanager from the moth sheet at Rancho. 
Canopy birds up close: Yep, some feeders attract euphonias, tropical woodpeckers, Scarlet-rumped Cacique, and crazy colorful tanagers. Normally, most of those are bopping around way high up in the trees. It's a nice change to watch them up close and at leisure.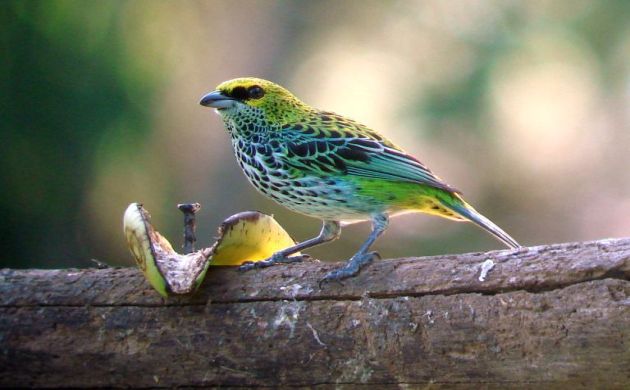 A Speckled Tanager comes to a feeder at Talari Mountain Lodge.
Check out the bird feeders when visiting Costa Rica to test out the camera, soak up the details of life birds, and to keep on watching birds in the rain. Oh, and don't worry about running into any wild-eyed, survivalist birders in the forest. That might have been a tad bit exaggerated.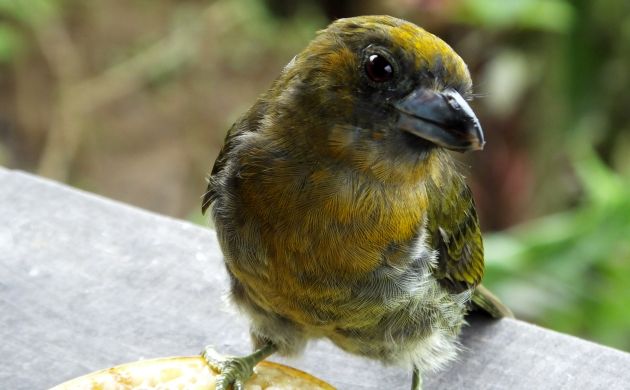 "Yodel yodel  ha ha ruf!" (In Prong-billed Barbetish, this translates to "Harumph, I don't care where you see me!")