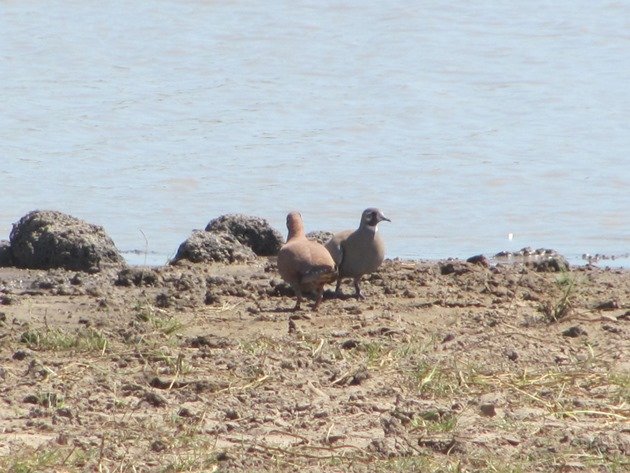 Flock Bronzewings Phaps histronica are an interesting bird that can show up in pairs or even large flocks on the odd occasion around Broome. It has been a few years since we have seen a large flock and in fact the last time we saw one close up it was a lone bird among the Plumed Whistling Ducks at the Derby Poo Ponds! Other recent observations have been distant and until last Tuesday we had not had a good look at a pair of Flock Bronzewings for quite some time. In theory you should have a better chance of a Flock Bronzewing encounter at the beginning or end of the day, but in practice we have seen them at varying times and on this occasion it was between 11am and 1pm. After two hours with them we left them to it!
First impressions of Flock Bronzewings are that they are a very large bird and you can imagine them becoming a meal in days gone by. They were first described by the English ornithologist John Gould in 1839 and he named them the Harlequin Bronzewing. They are an extremely nomadic species and so it is very hard to estimate the population of this endemic Australian bird. As seed eaters they are often found in arid areas and open grass plains. They are heavily camouflaged if they remain still and may easily be overlooked if they don't move. Wikipedia gives details of weight being in the range of 260-320 grams and a length of 280-305mm, so you can appreciate they are a large pigeon! They are listed as being of "least concern" by the IUCN Red List of Threatened Species, but it should be noted that nobody really knows how many of this species inhabit this continent. I did find it interesting that when I searched for the species on Birdlife Australia in their "find a bird" it did not exist! This would indicate that you are not probably going to add Flock Bronzewings to your Australian bird list easily!
Our pair of Flock Bronzewings were close to a muddy pool of water in open grass plains and they kept close together.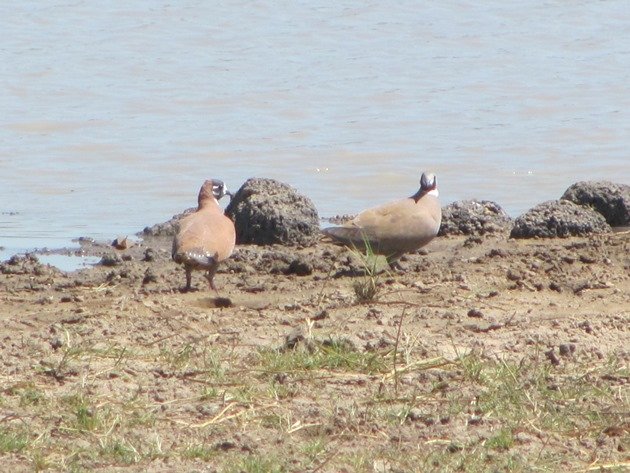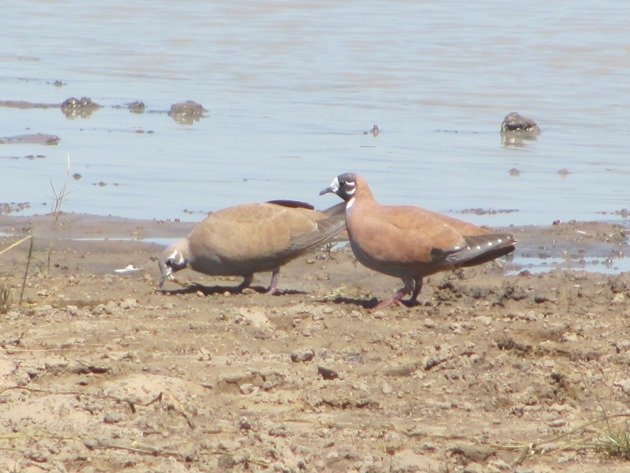 We remained in our vehicle using it as a bird hide and watched the pair move around the dusty ground. The female Flock Bronzewing is relatively pale compared to the male bird and almost matches the colour of the dusty land in that area.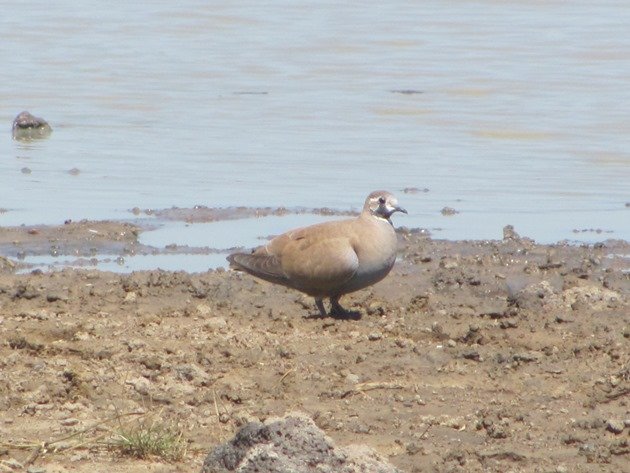 Female Flock Bronzewing
The male Flock Bronzewing is a darker brown with a grey front that is more obvious and the stand out feature is the white around the face.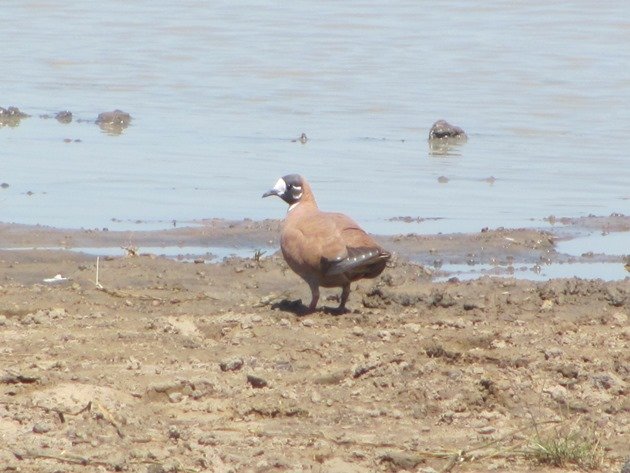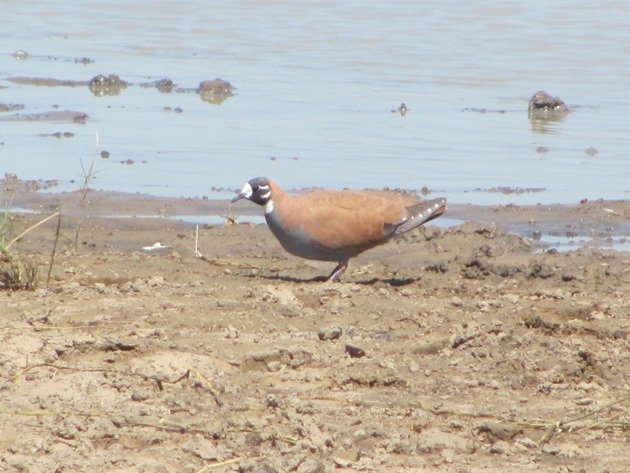 Male Flock Bronzewing
The ground was very dusty and this seemed ideal for the male Flock Bronzewing to take a short dust bath! It then fluffed itself up and preened its feathers and it was a beautiful sight to behold!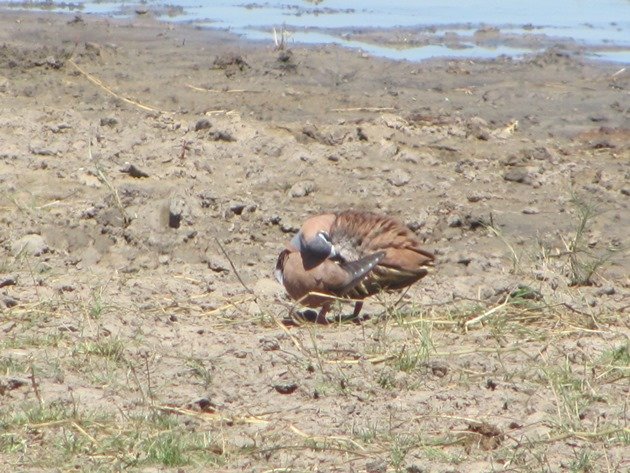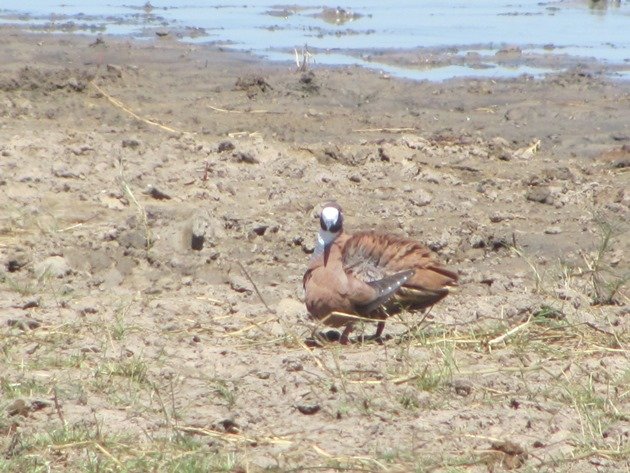 Male Flock Bronzewing preening
It was incredible that despite the presence of a very slow moving vehicle in the area the pair of Flock Bronzewings were not disturbed. They allowed us to move gently around them to improve on the light and two hours later they were still there enjoying the muddy edges and dust! This is one species that I would never say was a "dead cert" in the Broome area, so if you happen across a Flock Bronzewing anywhere in Australia you should treasure the moment!