When my plane touched down in Frankfurt late in the morning on Saturday the 9th of May I was focused on finding my way to the shuttle that would take me to the Frankfurt Intercity Hotel where I would be staying for about twenty-four hours before getting back on a plane and flying to Kazakhstan.  The shuttle stop was easy to find and it was only after I found my way to the stop and I heard the familiar chirping of a House Sparrow that I remembered to look for birds!  Of course, as is only to be expected, a Feral Pigeon was bird number two of my brief time in Germany but bird number three was much better, a Magpie!  I didn't get anything else of interest on the short ride to the hotel, which seemed to largely serve the business community and airline employees, seeing as it is less than ten minutes from the airport.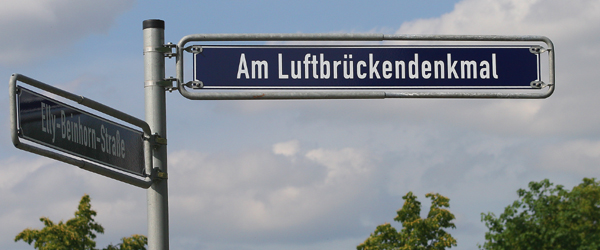 Once I checked in I managed to track down Sharon Stiteler, and she let me know lunch was happening in ten minutes, and I elicited a promise that we would go out "and embarrass ourselves on European birds," which, of course, being the ignorant Americans we are, we did.  Not that we are intentionally ignorant or anything, of course, but because whenever one is exposed to a brand new avifauna one manages to screw up quite a bit (like calling a European Serin a Yellowhammer).  So after our delicious lunch, where I got to meet some of the other folks on the trip (you'll meet them too in good time), we went off looking for birds.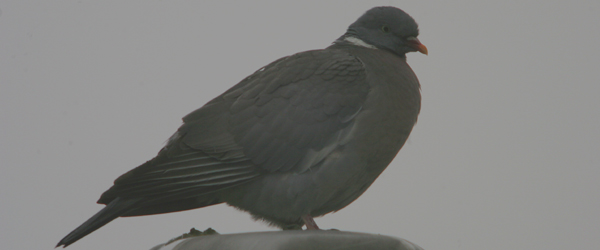 Wood Pigeons like the ones above were the most common bird in the area around the hotel, which was smack dab in between the airport and a highway and consisted mostly of mowed fields with some scattered trees and the occasional brushy tangle.  The roads and parking lots in the area were apparently used as rest areas for long-haul truckers and we got some odd looks from German truckers who had just awakened and seemed rather surprised to run into people with a host of optics strapped to themselves excitedly babbling in English about birds.  Of course, because Sharon had been around for several hours before I arrived, she and Clay Taylor had already tracked down some cool species like a nesting Short-toed Treecreeper which she was kind enough to share with me.
Sharon was awash in lifers, having never birded Europe before at all, while I was getting lifers in drips and drabs, mostly among migrant species that I had missed during my only previous visit to Germany in October of 2007.  In the 24 hours we were at the hotel before the flight, while the Swarovski Optik folks were in meetings, Sharon and I were either eating, sleeping, or birding, either solo or together or, when the meetings broke, with the Swarovski folks.  Considering that the land was not managed for birds at all and the constant traffic of both the highway and the airport, I was pretty pleased to total twenty-eight species, of which eight were lifers.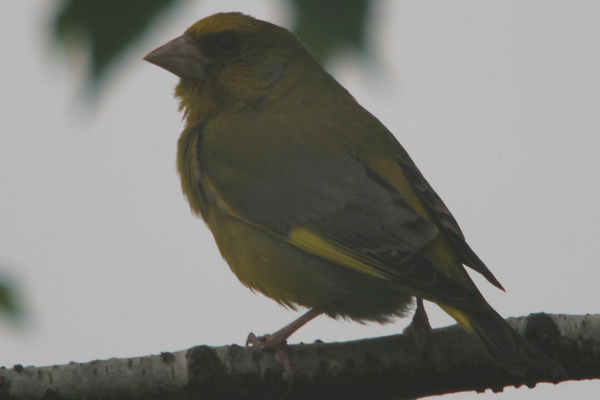 Most of the birds we spotted were not particularly cooperative so the Greenfinch above was greatly appreciated by both Sharon and I.  We decided that the thousands of years of hunting pressure must have made European birds more wary and less likely to tee up for the killer photograph for fear of a literal killer.  Other birds that would not cooperate for a picture included my life Nightingale, a European Robin, both Blue and Great Tits, and my life Blackcap, Chiffchaff, and Green Woodpecker.  One bird species didn't seem to mind a somewhat close approach, the White Wagtail, pictured below.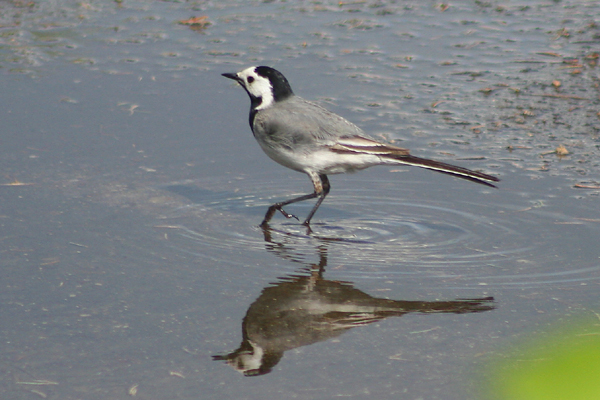 So while our brief visit to a hotel outside Frankfurt only ocurred because it was cheaper to fly to Germany on Saturday than on Sunday, we American birders certainly appreciated it.  Our twenty-four hours in Frankfurt may be likened to a light appetizer before the main course of four straight days of birding Kazakhstan, but with the amount of life birds we got it was one heck of a tasty appetizer!  Come back soon for the beginning of the main course!
Bird list for the twenty-four hours in Frankfurt, in no particular order.  Lifers are in ALL CAPS.
Common Buzzard, EUROPEAN SERIN, Chaffinch, House Sparrow, Eurasian Blackbird, Hooded Crow, Magpie, Great Tit, Blue Tit, Black Redstart, European Goldfinch, GREEN WOODPECKER, Fieldfare, DUNNOCK, Short-toed Treecreeper, White Wagtail, COMMON SWIFT, Wood Pigeon, Feral Pigeon, European Starling, CHIFFCHAFF, BLACKCAP, Grey Heron, Eurasian Kestrel, NIGHTINGALE, Greenfinch, European Robin, BLACK KITE