On our last day in Kazakhstan we birders traveled hundreds of kilometers to the east of Almaty in order to explore the desert environment there.  And while many birds were viewed, none were quite as fascinating to me as the two pink-winged finches we spotted, the Desert Finch and the Mongolian Finch.  This post, of course focuses on the Desert Finch, which is unusual in that everyone seems to agree on its common name, though some call it Lichtenstein's Desert Finch, but its scientific name is the subject of much controversy.  Birds of Europe, Russia, China and Japan (part of the Princeton Illustrated Checklist series) calls it Rhodopechys obsoleta, while The Birds of Kazakhstan calls it Rhodospiza obsoleta, BirdLife International calls in Rhodopechys obsoletus, and Wikipedia calls the bird Carduelis obsoleta and also notes that it has been placed in Fringilla and Bucanetes as well.  To be honest, I don't really care about the taxonomy of the bird so much as I care about how freaking cool it looked at a waterhole in the desert!  Pink wings!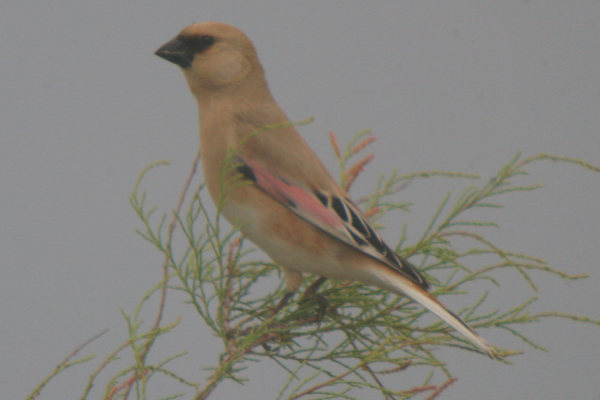 The bird in the pictures above and below is a male, given away by the black lores.  The finches were very flighty, and the only reason that we got the pictures we did was because we were set up next to a waterhole where the birds wanted to drink.  We were not the only creature perceived as a threat waiting at the waterhole: an Isabelline Shrike was waiting to ambush the unwary there as well.  Fortunately for the finches, the shrike did not strike and we were only seeking photographs.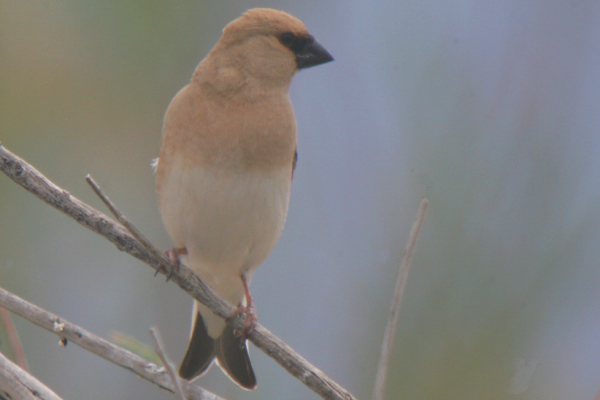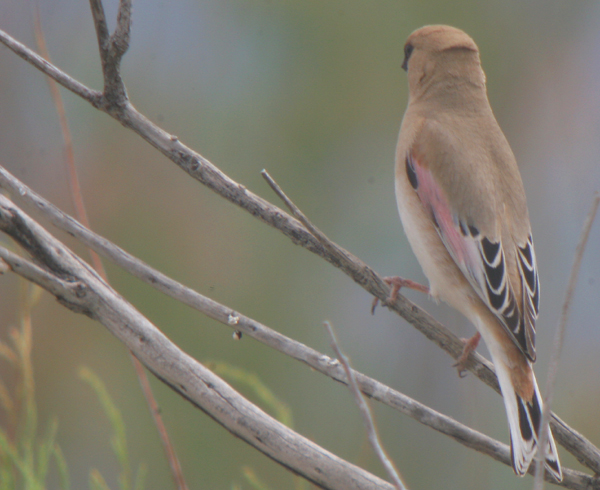 Watching these finches fly in as pairs, perch briefly, and fly off giving a call note described in one field guide as a "sharp shreep" was fun.  Actually getting a usable though partly obscured shot of the female when she overcame her trepidation and flew down for a drink?  Marvelous!
Desert Finches are a species of least concern according to BirdLife International and enjoy a relatively large range in southern Eurasia.  According to Wikipedia they are found in deserts only near a reliable water supply, and are otherwise found in foothills, low mountains and cultivated valleys.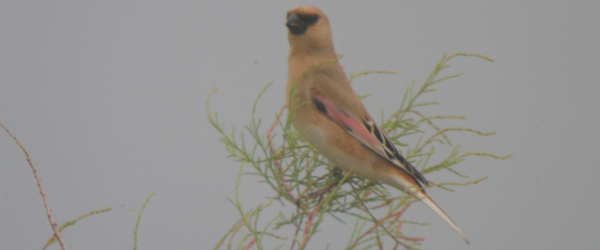 It is certainly a relief to know that such a superb-looking species is not threatened with extinction any time soon and I hope someday I manage to get back to the region to enjoy their presence again!
This post has been submitted to Bird Photography Weekly #38. Go check it out!