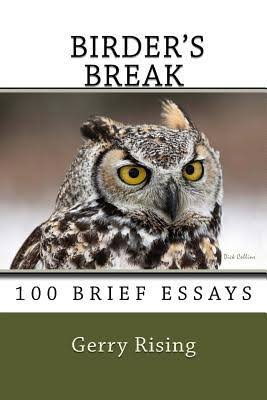 It is vexing to see (even more, to hear) three crows, common as dirt, chasing a red-tailed hawk out of the tree in which he had been placidly sitting, doing no one any harm — at least not yet.  One consolation is to hear the red-tail's scream (translation:  "OK, but I'll be back"), as he leaves the crows and their incessant, absonant caws behind.
Even better is the knowledge that sometimes the raptors rule, even over the clever and conniving corvids.  It comes from an incident related by author Gerry Rising in his book Birder's Break:  100 Brief Essays.  A crow was repeatedly bothering a hawk from above and behind, pecking at the tail feathers.  But when both birds approached an eagle, it attacked:  the hawk was able to evade the eagle, but not so the crow, which was killed instantly.
The story is part of a chapter on "Birds Attacking Predators," one of an hundred chapters in Birder's Break, each two or three pages long.  Other topics in other chapters include bird-banding (called "ringing" in Britain); the differences between binocular vision (humans and owls) and monocular vision (most other birds); and the talents of outstanding bird illustrators such as Louis Agassiz Fuertes (1874-1927)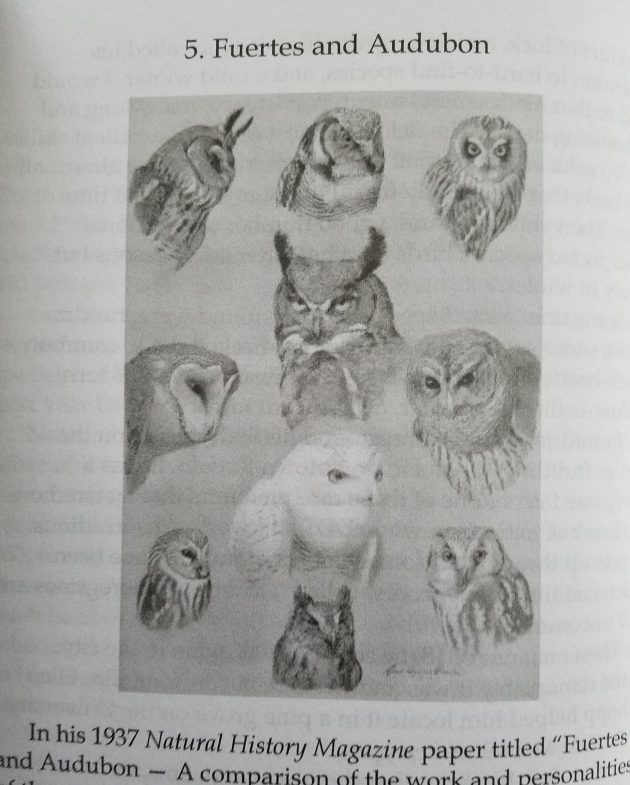 and the Buffalo native Fred Szatkowki.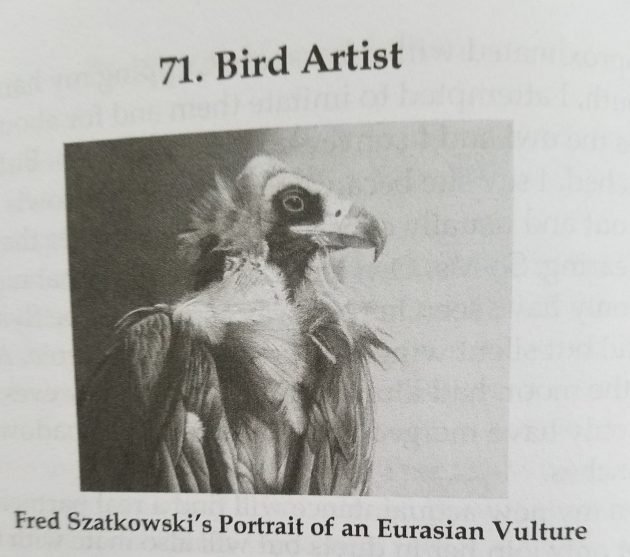 Rising himself is a retired mathematics professor at the University of Buffalo, and most of his essays are centered on the avifauna of the "Niagara Frontier."  He's a lifelong birder, with an acute eye and ear, a good, avuncular pen, and sophisticated knowledge – as, for example, when he discusses counter-shading, "the effect that a light source has in darkening objects in shade."  It is because of this phenomenon – to neutralize it –that most birds have lighter breasts than backs, Rising says.
Many of the pieces in Birders Break were first published as newspaper columns in Buffalo,  and there are a number of references to local place names, my favorite being "the Tan Tara Golf Club on Tonawanda Creek Road in North Tonawanda."  (It's an example, still a rare one, of a country club that has accommodated itself to wildlife, and has been certified as a bird sanctuary.)
The modest length of each of Rising's essays is well-suited to the comfortable (and often humorous) tone of the writing in this entertaining and diverting collection.
[Click on the navigation icon on the Great Horned Owl, above, to see a full image of the cover of
Birder's Break.
]
Birder's Break:  100 Brief Essays
by Gerry Rising
W.R.Parks, 2018 (March 1, 2018)
Paperback: 248 pp., 10 x 8 inches
ISBN-10:1983923141; ISBN-13: 978-1983923142
Paperback–$8.68 (variable)