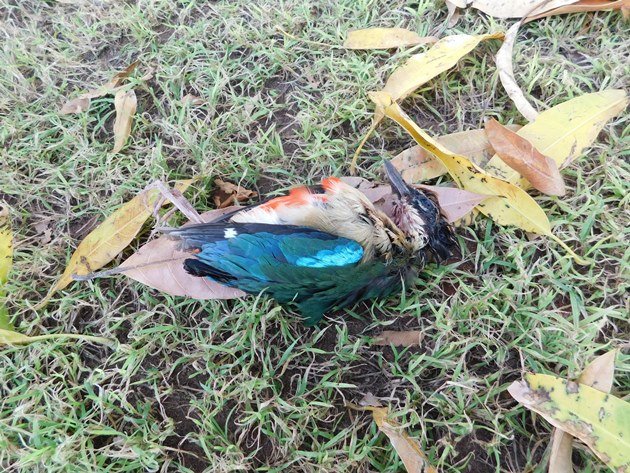 On the evening of the 7th of February we received a call from George Swann to let us know that Bruce Greatwich had seen a post on a Community Noticeboard Facebook page about a Fairy Pitta. As keen birdwatchers, who just happened to have found the Night Parrots in Western Australia, they were keen to look for the Fairy Pitta at first light the next day. There had a been a Fairy Pitta in Derby in 2007, but we were unable to get away from work to see it, so this would be a first for us. This was only to be the second record for Australia. We set our alarms for 4:30am and hoped we would be able to relocate the Fairy Pitta.
The reason for the Fairy Pitta being on the Community Noticeboard Facebook page was because it had actually flown into the window at the local brewery. A customer took it to the bar manager, who put it in a box to recover. It was soon active and calling and was released back into the garden around the Matsos Brewery. It gets interesting here, because the bar manager had no idea it was a rare bird and was just helping out a bird that had flown into a window. We don't do social media, so rely on information from other birders by text or phone call. The bar manager is not a birder, so put the photo of the Fairy Pitta in a box on the Community Noticeboard Facebook page.
Arriving at Matsos Brewery around 5am we walked around the block. Next door to the brewery is the Sobrane Gallery and both buildings are very old and on stumps. We noted that the Sobrane Gallery had a lot of leaf litter underneath it. Bruce arrived and told us that he had come straight down the previous night spotlighting and could not find the Fairy Pitta. We widened our search, but we kept returning to the leaf litter under the Sobrane Gallery.
There were a lot of birds about at this early hour and we were very surprised to see seven Magpie Geese fly by. After a very dry start to the year there had been no Magpie Geese observed locally at all. Plumed Whistling-Ducks, Hardhead, Black Kites, Australian White Ibis and Silver Gulls flew over the bay. We discovered a Black-faced Cuckoo-shrike nest with young in the garden at Matsos. Brown Honeyeaters, Singing Honeyeaters, White-gaped Honeyeaters, Red-collared Lorikeets, Great Bowerbirds, Little Friarbirds, Bar-shouldered Doves and Magpie-larks were also in the area.
All of a sudden, back at the Sobrane Gallery, right there in the leaf litter on the far side of the underside of the building Grant spotted movement. There it was! The Fairy Pitta had survived the night and was busy feeding. We soon got the attention of George and Bruce. We all lay down on the pavers peering under the building watching the Fairy Pitta hop around feeding. It looked so healthy and was nipping in and out on the far side of the gallery. It was still only about 6:30am and we don't know where it spent the previous night, but in their natural environment away from Australia they do roost in the trees. There are many tall trees that it could have been roosting in.
Bruce was able to take some photos of the Fairy Pitta as it nipped in and out of the sunlight, which he put on eBird. George returned in the afternoon to watch the Fairy Pitta continue to feed and to meet the bar manager that had put it in a box briefly to recover after hitting a window. This is where the story got very interesting. The bar manager said that there had been two Fairy Pittas together originally late last year and they fed together under and around the buildings. Sadly one of the Fairy Pittas had been startled and flew into Matsos and hit a ceiling fan and died. He had no idea it was a rare bird and subsequently buried it.
Word was soon out on social media about this Fairy Pitta in Broome and two men, Richard and Damian Baxter, booked flights from the Eastern States to see this rarity. Only a handful of people saw the Fairy Pitta on Friday 8th February and Bruce returned Saturday morning. At 10am the Fairy Pitta was still hopping around under the Sobrane Gallery feeding as it had been all day on Friday. We cycled to the bicycle racks at Matsos mid-afternoon to try and take some photos, because we had not wanted to disturb it too much and had not taken any on Friday. Richard and Damian had been waiting for 90 minutes and had not seen the Fairy Pitta in the area that it had been feeding. We were very concerned. We lay on the pavers looking for any movement and waited. We were getting more and more concerned as time went by.
At 5pm we decided to head back towards our bicycles and as we walked between the Matsos brewery and the Sobrane Gallery we stopped. We were commenting how the dripping water from the back of the brewery was obviously where it had been drinking when we had seen it in that area. Then as we moved forward Grant spotted the Fairy Pitta. Sadly it had recently been killed and was lying in the garden bed beside the path. The Fairy Pitta had been grabbed around the throat and then dropped. All indications are that it was a feral or domestic cat that had caused its demise. We were absolutely devastated. Grant carried the Fairy Pitta back to the lawn where Richard, Damian and George were growing more and more concerned. They were also devastated. We were grateful that we had found the Fairy Pitta while it was still only freshly killed and it will be going to the Western Australia Museum as a specimen. It was a very sad end to such a rare find. Although there were several photos taken of the Fairy Pitta in Grant's hand I also wanted photos of it on the lawn in a much more natural environment. These were not the photos I wanted to share with you this week, but sadly I don't have any of it while it was alive.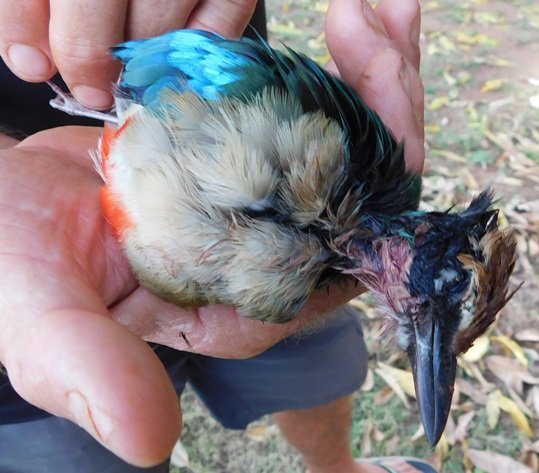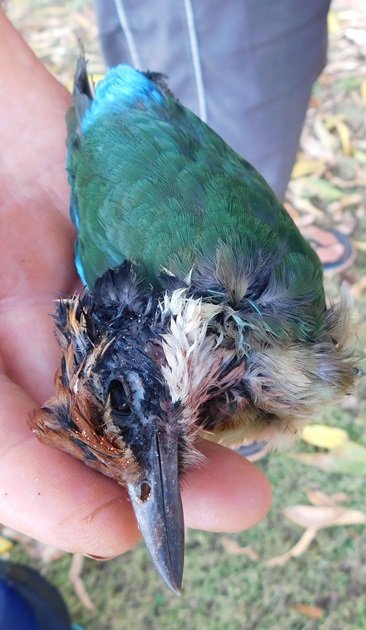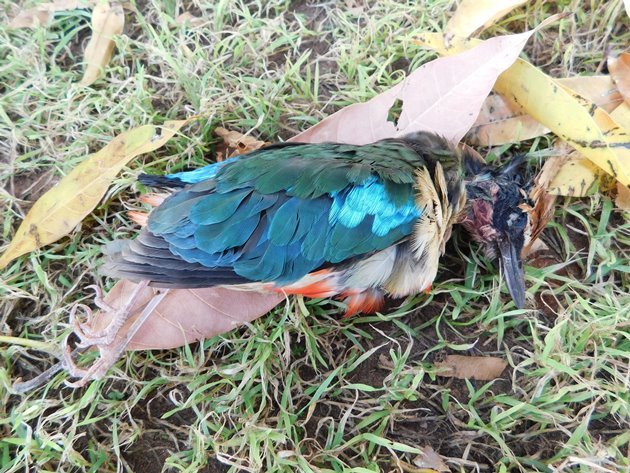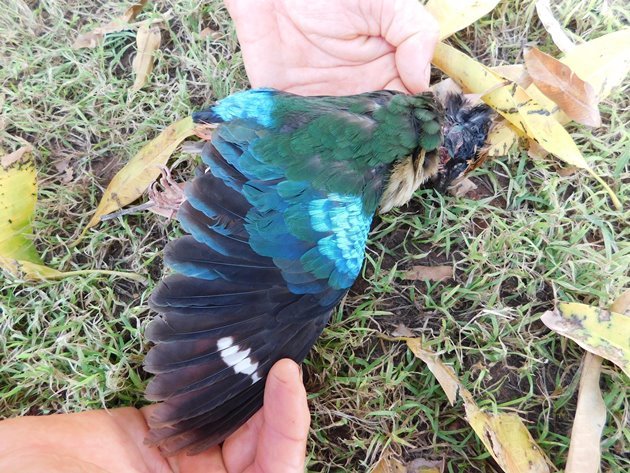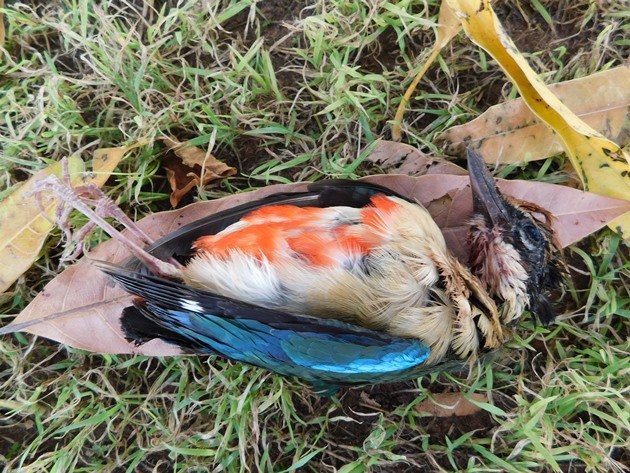 Fairy Pitta
There has been much coverage in the media about this Fairy Pitta. You can see the original photo of the Fairy Pitta in the box recovering here. You will note that Damian was able to enjoy a locally brewed beer while he watched and waited, so all was not lost on their long trip to Broome.
We gather there has been a lot of discussion on social media about the cat problem in Broome and maybe one day it will be addressed. Australia-wide there is a huge problem with cats taking animals and birds.
It also raises the question on how many other rare vagrants make it to Australia and don't even get noticed. Without the incident of the Fairy Pitta hitting the window Thursday afternoon nobody would have been any the wiser. There are so many pretty birds around Broome it could be easy to presume the Fairy Pitta was just one of our locals to a non-birder.