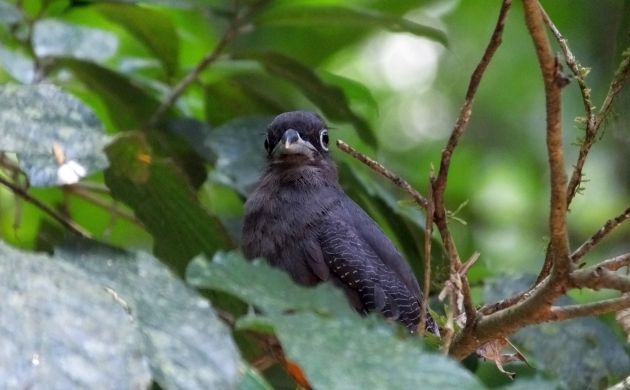 When it comes to initiatives that promote birding, the Cornell Lab of Ornithology is hard to beat. The lab at Sapsucker Woods is where we find thousands of nature recordings housed at the Macauley Library. Numerous projects take place that monitor bird populations and help educate people of all ages about birds. The Lab also acts as the heart and soul for the very popular (and often addictive) citizen science gem known as eBird. Different promotions and activities are carried out to boost the use of eBird including Global Big Day, a worldwide event that happened on May 5th. It was easy enough to participate, all anyone had to do was watch birds and record the number of species identified using eBird. As with using the mobile bird count platform on any given day or hour, you don't have to be a scientist, expert birder, or techie either, just someone willing to watch birds for any amount of time and then submit the number of species identified. Those who did so on May 5th automatically became part of the biggest day of collective birding in 2018; Global Big Day!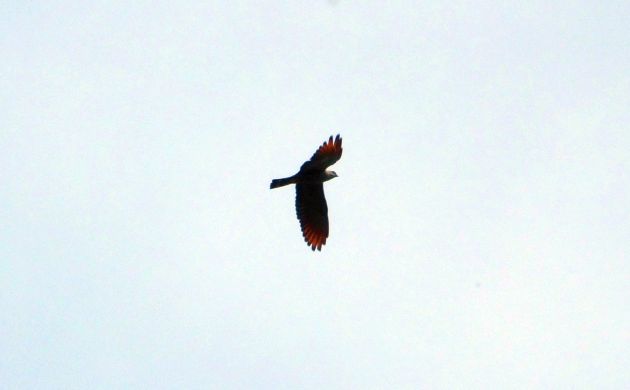 This Plumbeous Kite made it onto the list for the day.
The fun thing about this event (known as GBD around these parts) is that it can also be enjoyed at every level of expertise, challenge, and dare I say, obsession. Since it can also promote bird tourism, some countries get more organized, competitive, and serious than others about GBD. Costa Rica is one of those places. Although we don't really have a chance to top the numbers of birds identified in mega birdy places like Peru, Colombia, or even Mexico, we still do our best to make it into the top ten and at least see if we can beat the record from the previous year. This is some of what happened on May 5th in "Tiquicia":
More than a hundred birders participated– This was in large part thanks to local birder Guillermo Saborio who worked to get as many people on board as possible and cover enough sites for even the rarest of target species, mostly by way of a WhatsApp group. It was wonderful to see so many local birders get on board, the enthusiasm was high and it paid off.
One or two teams had their own tee-shirts– Like I said, the enthusiasm was high! I love birding tee-shirts, I have a small collection, next year, I'm getting my own for my GBD team.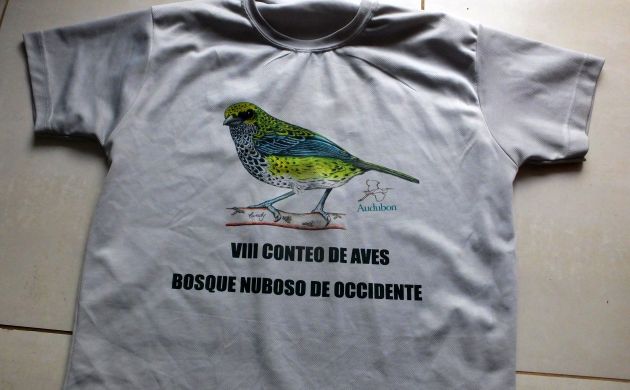 One of my favorite birding shirts from Costa Rica, this was from a Christmas Count near Sam Ramon and yes, Speckled Tanagers were seen.
One team got stuck in the mud– Challenges like this are expected on any Big Day, especially in tropical locales with lots of rain and while looking for birds in the dark of the night. The Northern Raptors, a team made up of guides and birders from around Fortuna, some of whom also happen to be eBird reviewers, covered the wetlands and woods of the northern plains. In doing so, while unsuccessfully looking for the rare Ocellated Poorwill, they got stuck in the mud just as the official count started! Fortunately, they were able to extract themselves to eventually get the highest total for the day in Costa Rica, 230 plus species.
The Zen approach pays off– On previous Big Days, extreme concerns to identify more species never gave us significantly more birds. On the contrary, too many expectations about traffic, weather, and other things beyond my control acted as catalysts for disappointment. This year, I was determined to stick to a Zen birding approach, one where I could focus on the birds with no such expectations, stay in the now, and get the birds…or not, but always be pleased with the results. It helped that I had formulated a worthy itinerary based on far too many calculations that factored in past experiences, logistics, and eBird data. Like so, I could follow the schedule and let the birds roll on in. This sort of worked out because my two person team ended up with one of the highest totals. We logged an awesome 225 species! Starting late. Leaving out the night birding. Resting during the day! Not even doing our entire route. And, quitting early because of rain! Birding from the Carara area to Poas, constant bird song and cloudy weather gave us near constant bird activity, even when we were tempted to just take naps. It was Zen birding at its finest. Namaste!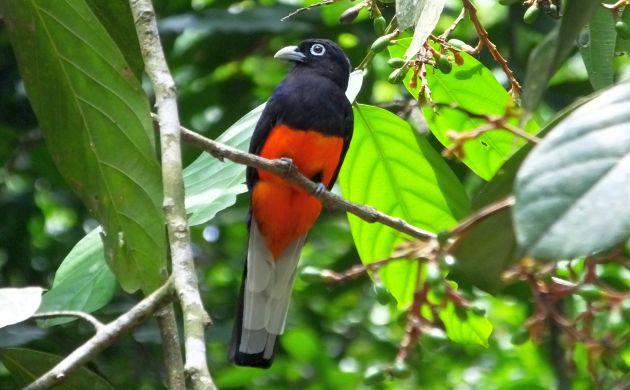 We had especially nice looks at the beautiful and range restricted Baird's Trogon.
More than 680 species identified!– Given the enthusiasm expressed well before count day, I figured we would get good, overall results. Us birders in Costa Rica did indeed with more than 680 species identified including the likes of crakes, most raptors, Unspotted Saw-whet Owl, Lanceolated Monklet, Bare-necked Umbrellabird, Sharpbill, and an overall high percentage of bird species possible on that date. Next year will be even better.
GBD, 2018 in Costa Rica also resulted in conversations about organizing a Big Day and/or other birding events for Costa Rica. I hope we make that happen and hope to see you celebrate all things avian with us in Costa Rica!