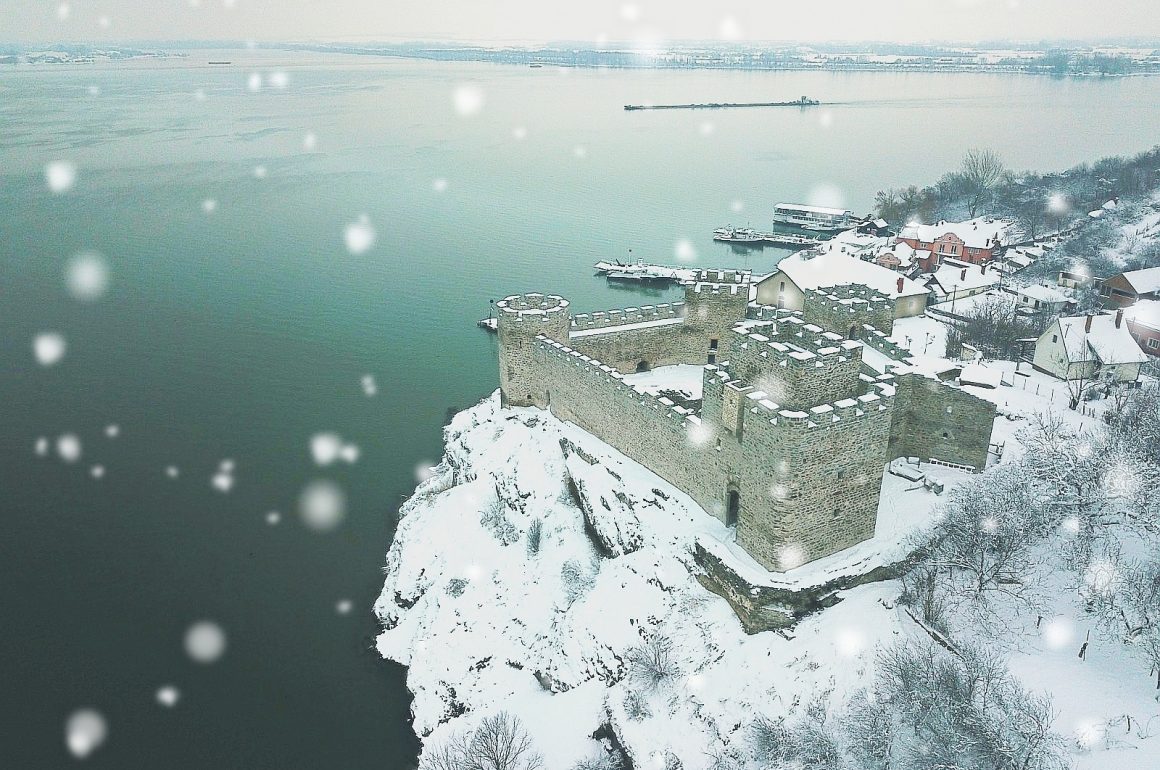 Cover photo: Ram Fortress by Ilija Jacanovic
In the chill morning of late January, I am driving east of Belgrade towards the Two Towers section of the Danube and the best waterfowling bonanza in the whole of Serbia. Actually, I visited the Two Towers twice, had about 50 bird species each time and about 60 in total, so this is sort of a composite tour description.
Some two hours later, we are in front of the first tower, the early 14th century but recently restored Golubac Fortress. The first known record of Golubac is in Hungarian sources from 1335, when it was occupied by Hungarian military. It changed hands repeatedly, passing between Turks, Bulgarians, Hungarians, Serbs and Austrians until 1867, when it was turned over to the Serbian Duke Mihailo Obrenovic III. Nevertheless, the fortress has the distinction of successfully repelling over 120 conquering attacks during its history. The remains uncovered during the 2010s reconstruction point to the Roman and Byzantine settlement which predated the fortress [source].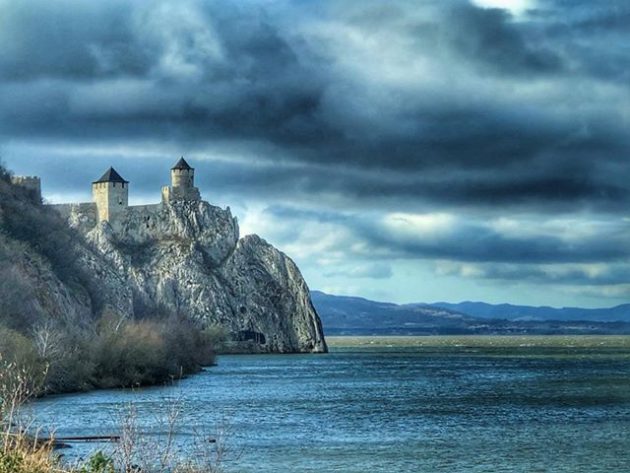 Golubac Fortress by Drasko Vujic
The Danube here is more than 5 km / 3 mi wide, with a partially submerged island in the middle of this "lake". The shallows at its lower end are full of Tufted Ducks (500) and Common Pochards (350), Great Cormorants (50), all of them dissolving in the mist hanging low over water and hiding further rafts. A few dozen Common Goldeneyes and several Smews are among them but it takes a scope to locate these diminutive ducks.
Golubac Fortress is surrounded by limestone cliffs and I presume that the waters underneath have to be deep, as indicated by diving birds that choose to overwinter there, such as Goosander (aka Common Merganser), Red-throated and Black-throated (Arctic) Divers (Loons). (However awkward this seems, I am using both British and (American) names – I wouldn't be surprised if they do become different species in years to come. In recent years, two races did become full species.)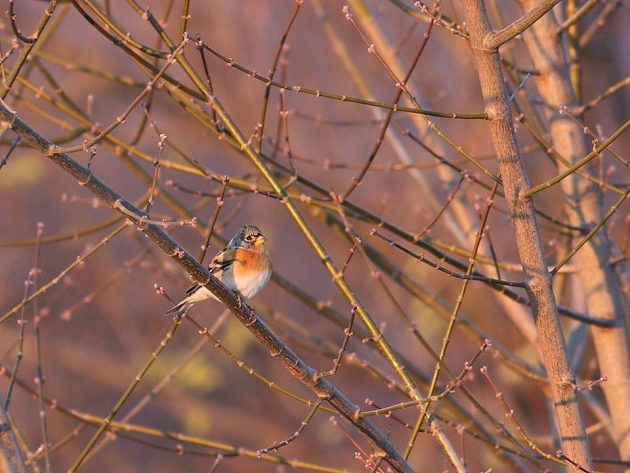 Brambling by Snezana & Slobodan Panjkovic
Downriver from the tower starts the imposing Iron Gates Gorge and the Djerdap National Park, but we will be heading upriver and towards the second tower. As I drive up the Danube, the sun is rising and clearing the mist. The river becomes narrower and Smews and Goldeneyes are closer now. First Greylag Geese, Gadwall, both Caspian and Yellow-legged Gulls appear, together with dozens of Pygmy Cormorants and one Eurasian Sparrowhawk. Low roadside trees are full of finches and buntings: Brambling, Common Chaffinch, European Goldfinch and especially numerous Yellowhammer. In a huge crown of an old ash, two adult White-tailed Eagles await us, posing confidently for some time.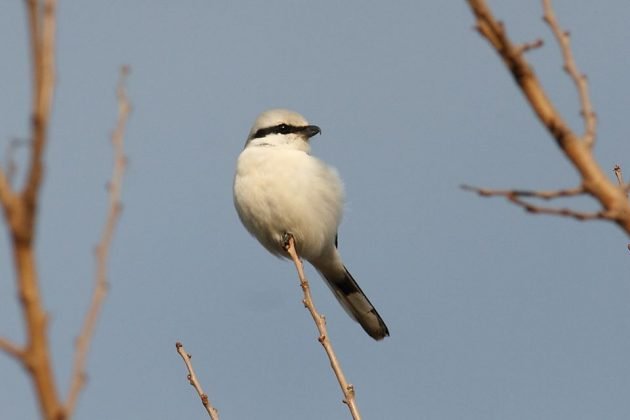 Great Grey Shrike by Snezana & Slobodan Panjkovic
At the Srebrno jezero (Silver Lake) Resort, I drive along the island's outer bank, along the river (and not the former river arm cut off from the flow and called a 'lake'). Birds are mostly the same, only Pygmy Cormorants are becoming more numerous. This winter is rather mild and without snow, hence we saw only one Great Grey Shrike, here. They usually come to overwinter in larger numbers.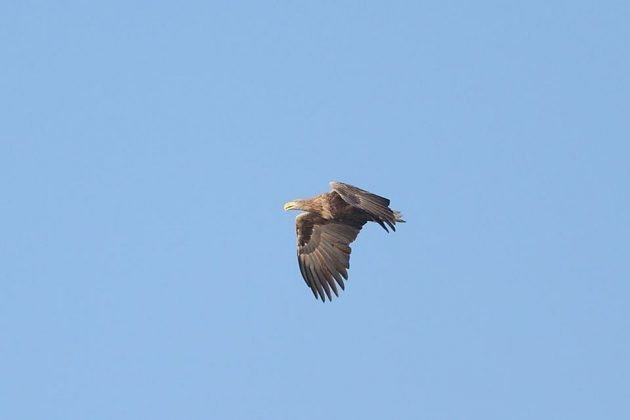 White-tailed Eagle by Snezana & Slobodan Panjkovic
As we approach the final section of the Danube for the day, the Labudovo okno Ramsar site, another pair of White-tailed Eagles flies from one side of the road to disappear in the poplar plantation on the other side, while the roadside bushes hold Reed Buntings, Yellowhammers and even more Bramblings.
Following the construction of the Iron Gates Dam, 50 years ago, the Danube water levels rose and the river flow slowed down, causing the flooding of several islands and lower banks. Labudovo okno special nature reserve represents one such a section of the Danube and includes the river flow and the surrounding floodplains, together with the submergerd islands of Zilava, Zavojska ada and Cibuklija. It is an important migration stopover site and wintering area that attracts the largest congregations of waterbirds anywhere in the country, up to 80,000 during cold spells – half of them geese.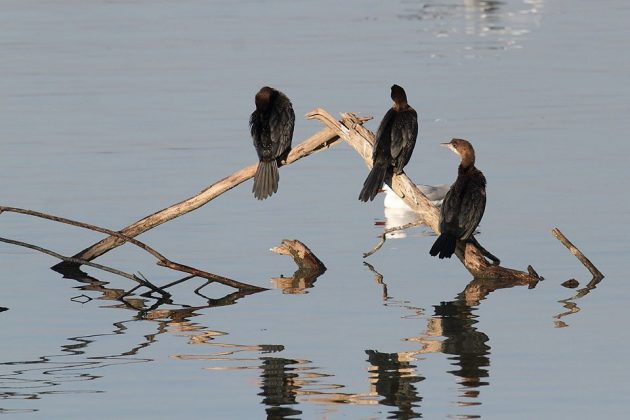 Pygmy Cormorant by Snezana & Slobodan Panjkovic
The willows along the levee are full of Eurasian Blue, Great and constantly whistling Long-tailed Tits. Still water in the river arm next to the bank is mostly frozen yet, oddly, the chocolate biscuits left under the windshield are melting under the cool January sun. A Black Redstart on the fishing cottage rooftop, Mistle Thrush in a distant tree, European Greenfinch and the Eurasian Siskin right in front of us.
Waterbirds here are marked with geese, predominantly Greylag Goose, with perhaps up to a quarter of the total number belonging to the Greater White-fronted Goose. Every now and then, a flock of 200, no, 400, no, 800, no, 1600… and more geese would be flying above us. This is the most important roosting area for geese in the country, and yet, these figures are weird. Normally there would be two thirds of Whitefronts vs. one third of Greylags, but last winter there were hardly a few per cent of Whitefronts, and this year's result is one step further towards the normal percentages. In all, I estimated some 13,000 geese, mostly in flight and it was an early afternoon, they weren't coming to roost, but commuting to their foraging fields.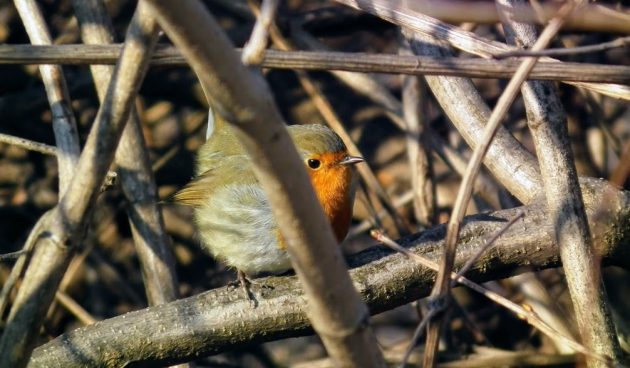 European Robin posing in the bush by Dragan Simic
Apart from geese, wildfowl were represented by Mute Swan, Eurasian Wigeon, Gadwall, Mallard, Eurasian Teal, and even more Goldeneye and Smew. Other waterbirds included Black-headed and Common (Mew) Gulls, Pygmy and Great Cormorants, Grey Heron, Great Egret, Common Kingfisher, together with Eurasian Marsh-Harrier and two White-tailed Eagles. There was a Black Woodpecker, twice, and showing really well, European Robin posing in the bush by the roadside and several Water Pipits at the water's edge.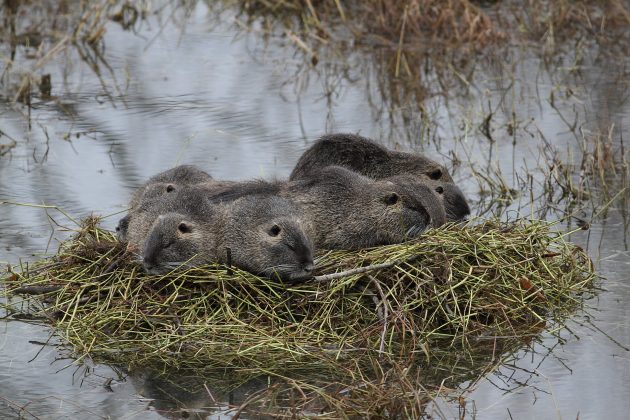 Coypu by Snezana & Slobodan Panjkovic
The only mammals we saw were an alien introduced from Patagonia – Coypu (Nutria). Animals of all ages and sizes were quite active and agile, as opposed to their usual laziness. A female Coypu can become pregnant three times in a year and she may give birth to as few as one or as many as 13 offspring. Coypus herbivory "severely reduces overall wetland biomass and can lead to the conversion of wetland to open water." In Louisiana wetlands, on plots open to Coypu herbivory, 40% less vegetation was found than in plots guarded against nutria by fences [source]. And at one moment we had 40 of them running and then swimming away, in total, more than 60 Coypus within 200-300 metres. I have never seen such density.
Ending this levee section, the second tower – Ram Fortress is in front of us, at its commanding hilltop position overlooking the 3 km / 2 mi wide Danube, and also recently restored. Unlike the better preserved Golubac, this one was in a poor shape with a crumbling citadel and a huge hole in the wall, which in turn was a favourite selfie spot. The earliest fort here was known from the 12th century (1128 AD), although most of the fortress, as it is today, originates from the late 15th century, from the periods of Ottoman conquest.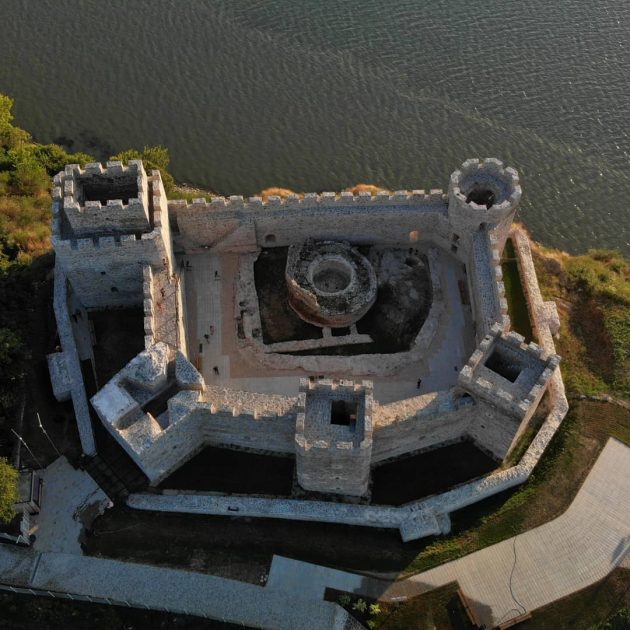 Ram Fortress by Ilija Jacanovic
There is an even older tower within the fortress, whose purpose was completely unknown until the 2010s surveys prior to the reconstruction when the plaque was discovered. It was placed by one of the legionnaires of the Roman emperor Claudius, who, as it came out, built the tower and dedicated it to Jupiter. The inscription on the plaque says: "To Jupiter, the greatest and the mightiest, the standard-bearer of the Legio VII Claudia, Gaius Licinius Rufinus dedicates this plaque". Also, though not mentioned in historical records, there were artifacts found pointing out to the pre-Roman habitation of the Celts [source].
After a long, chill day of open-window bird-driving, we went to a shabby village tavern, the only one around. It is mostly a bar doubling as a diner, and the last bastion of male chauvinism. Still, the beer was cold, grilled meat very good, and both was surprisingly cheap for someone used to big city prices. After linner (lunch/dinner), we had about an hour to reach Belgrade, where we will be swallowed whole by the worst of the city rush hour.