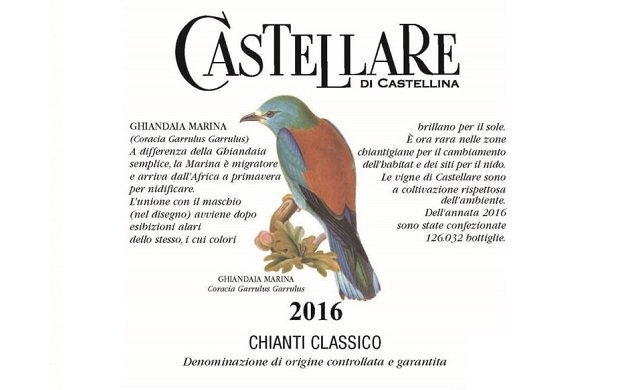 Today is Valentine's Day – which means that at this very moment, countless would-be Romeos and hopeful Casanovas are undoubtedly scurrying around at the eleventh hour trying to find that perfect gift, tracking down the last florist in town not already sold out of roses, or perhaps merely struggling to choose a perfect bottle of wine for tonight's dinner. While we're not quite in such dire straits here at Birds and Booze, there may have been some last-minute rummaging around the cellars for this week's featured wine. But, in the end, we did find one with a hint of romance: a 2016 Chianti Classico from Castellare di Castellini.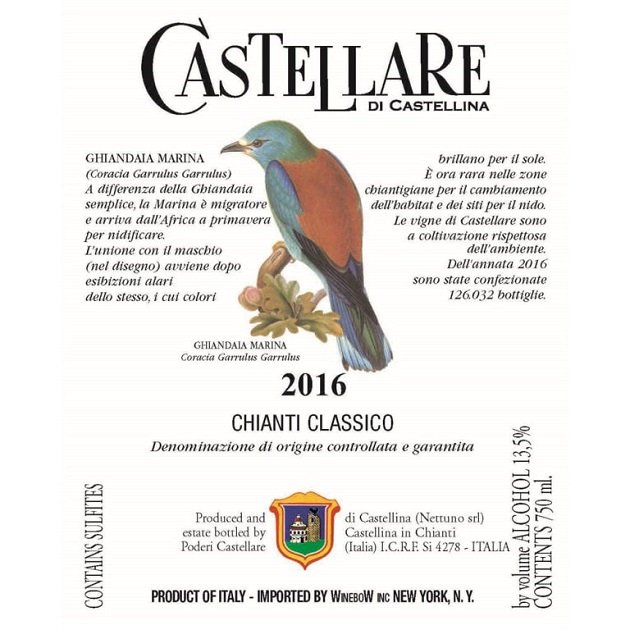 As far as wine goes, we'd be hard pressed to name a more romantic style than Chianti. True, the Castellare di Castellini Chianti we're enjoying this week doesn't arrive encased in a fiasco, the traditional sun-dried straw basket featured so prominently as décor in Hollywood depictions of Italian restaurant romance. While it certainly looks pretty and makes a charmingly rustic candlestick when empty, it can be a fussy and impractical packaging and it's been abandoned by more and more Tuscan winemakers over the years in favor of more typical bottles. But whether it comes in a wrapped in woven reed or in packaged in a more modern, Bordeaux-style bottle like the one now used by Castellare de Castellini, Chianti remains a classic accompaniment to tomatoes, pasta, aged cheeses, olive oil, and other lusty Italian fare that evokes romance for so many diners on this day.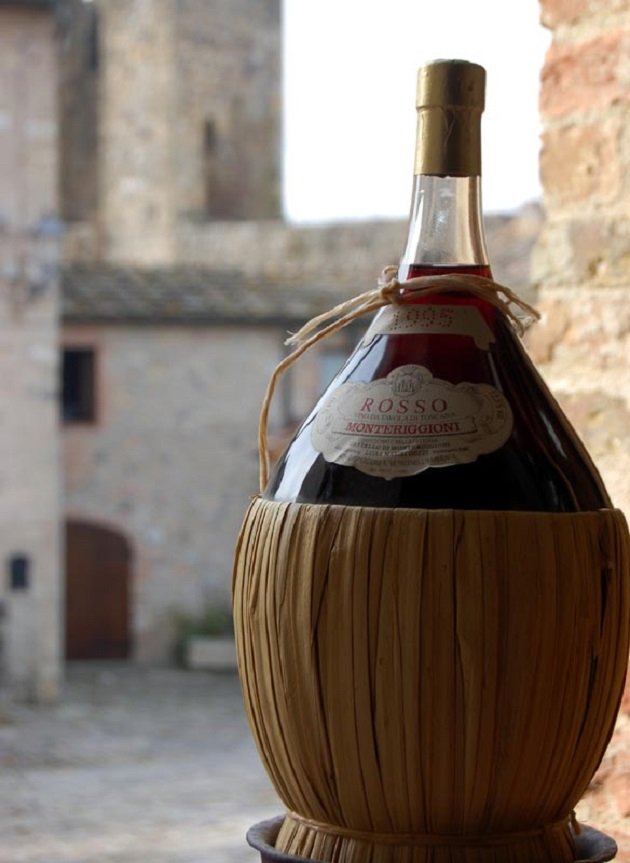 "Waiter, there's some wine in my candlestick…" 
Bucking both tradition and romance, many Chianti producers are moving away from the traditional fiasco in favor of bordelaise bottles in the French style.
For most couples, it'd be enough just having a romantic wine to share on Valentine's Day, but birders will surely appreciate a bottle that celebrates birds, too. Luckily for us lovers of birds as well as wine, the Castellare di Castellini estate is fond of adorning its bottles with pictures of the avifauna of its native Tuscany, offering images far closer to our hearts than the holiday's more traditional roses and cupids. Still, at first blush, the colorful male European Roller (Coracias garrulus) that adorns the label of the estate's 2016 Chianti Classico may not scream "I love you!". And despite it being undeniably gorgeous, we're hardly likely to see this species replacing white doves on Valentine's Day cards anytime soon. But anyone who's seen this species during the breeding season knows that the European Roller is far more dramatic in expressing its all-consuming ardor than any lovey-dovey columbids.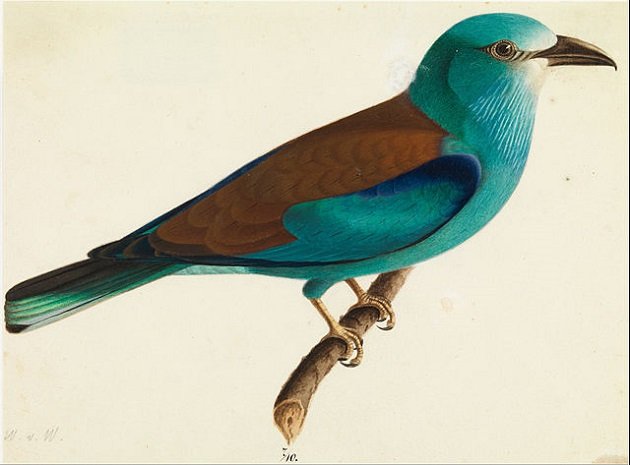 The European Roller (c. 1828), a watercolor by Swedish-Finnish painter Wilhelm von Wright (1810-1887). 
In fact, the species earned its common name in English for the acrobatic display flights the male of the species performs for its prospective mate, in which the dashing aerialist somersaults across the sky, flashing its brilliant sapphire and turquoise plumage with each impressive twist and turn, and capping these performances with the steep, rolling dives for which the bird is named. Of course, there are many other birds known for equally flamboyant courtship efforts, but few are named so matter-of-factly for their ability to woo their sweethearts like the roller. The European Roller is also known to perform a similar flight routine for its rivals, albeit one marked by even greater aggression, noisily driving off challengers that dare encroach on its territory with with a series of imposing flight maneuvers.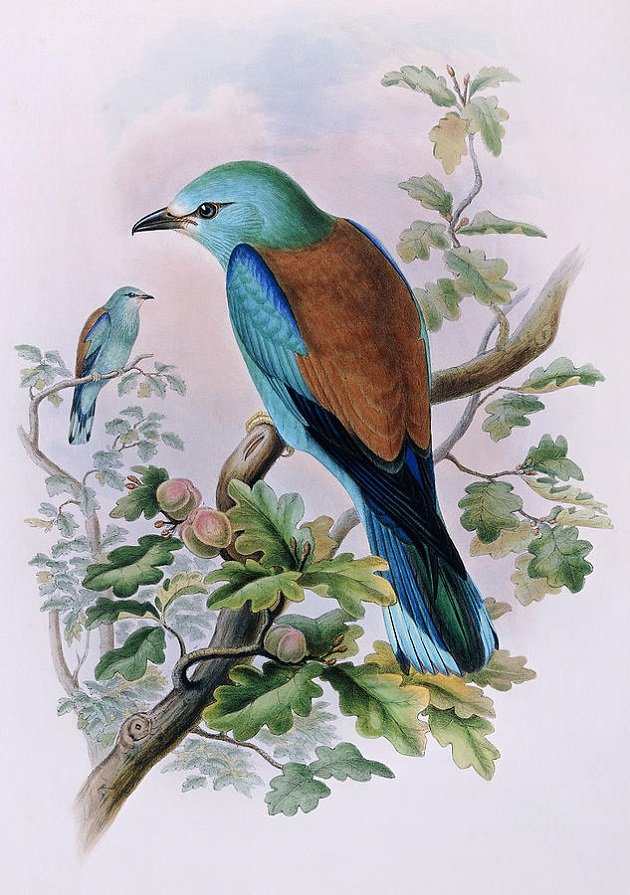 Who says rollers aren't romantic? A pair of European Rollers depicted by English ornithologist and artist John Gould (1804-1811), which looks suspiciously like the label for the 2016 Castellare di Castellini Chianti Classico.
With luck, you won't find it necessary to fend off any romantic adversaries as you sit down to enjoy this wine on Valentine's Day – and perhaps the intimidating presence of a European Roller at the dinner table will help keep the competition at bay. Assuming there's nothing but love and tranquility for this special evening, you'll find this blend of Sangiovese and five percent Canaiolo grapes offers plenty of musky and juicy sweetness on the nose, with hints of violet, strawberry, cherry, and cigar box. The 2016 Castellare di Castellini Chianti Classico rolls around the mouth quite nicely (sorry!) with a well-balanced palate of subtle tannins, an appetizing acidity, and plummy notes of fresh red fruit with a dash of black pepper and baking spice.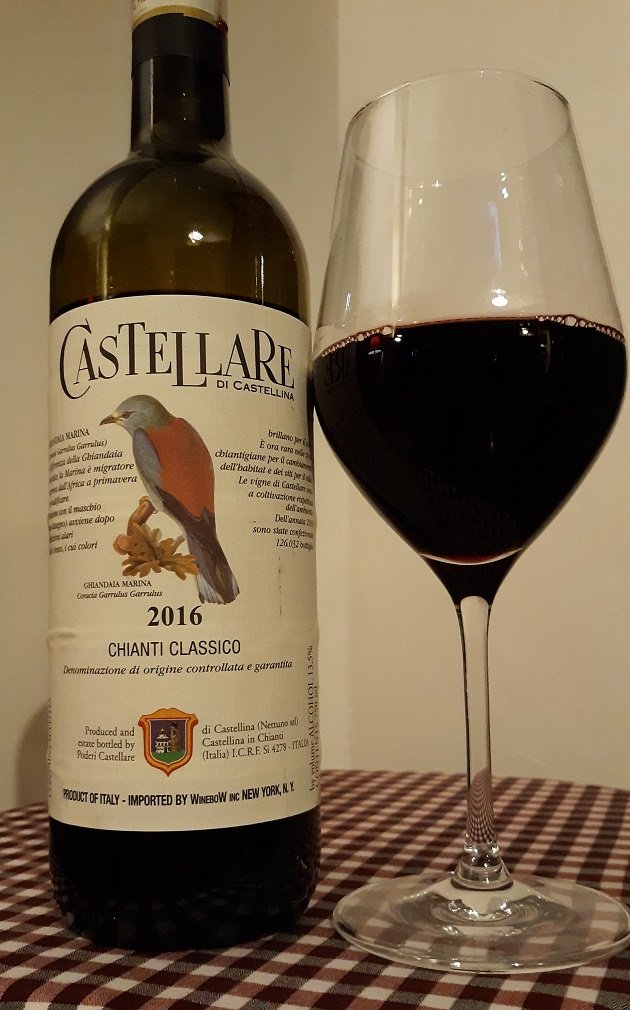 The Castellare di Castellini estate decorates many of their bottles with bird artwork, and even changes the depicted species from vintage to vintage, so we'll be sure to return to this winemaker for a more thorough discussion of Chianti wines in the future. We thought we'd keep this review short and sweet for now to allow for any last-ditch Valentine's Day shopping – as well as giving us all a little more time for birding.
Good birding, happy drinking – and happy Valentine's Day!
---
Castellare di Castellini Chianti Classico (2016)





Four out of five feathers (Excellent).