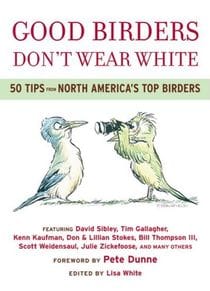 One of the many reasons why the passion for birding can be sustained for a lifetime is that the undertaking can never be considered complete. You'll never see all the birds nor will you ever see all of your favorites enough to be satisfied. Bird watching can be taken up in a moment, but takes decades to master. After four years of exploring this topic daily, I can attest how much there is to learn of ornithology, ecology, optics, field behavior, and even simple etiquette. Instead of feeling intimidated by the current depths of my ignorance, however, I'm elated at how much discovery lies ahead. I'm also supremely grateful that a book like Good Birders Don't Wear White can speed me along my way!
Good Birders Don't Wear White: 50 Tips from North America's Top Birders presents scintillating pearls of wisdom dispensed by many of the biggest names in avian observation. An all-star line-up addresses all of the essential topics from backyard birding to optics acquisition to field identification. These sages also share the kind of advice that even experienced birders can appreciate from the importance of keeping your bins clean to the benefits of slowing down rather than racing from one tick to the next. You'll learn how best to track the elusive Mangrove Cuckoo and why you should never wear white in the field except for those times when you should. Truth be told, every single chapter shares at least one pertinent point. Not every insight could be described as earth-shattering perhaps but each is certainly worthy of remark.
Who are North America's top birders anyway? A name-check would be futile, since in mentioning ten, I'd be leaving out at least twenty more of equal celebrity in this admittedly small pond. Suffice to say, the editor Lisa White has elicited excellent contributions from just about anyone in the U.S. who regularly writes birding articles, books, or field guides. She's also attracted most, if not all the well-known birding photographers, artists, tour leaders, and magazine editors. Even if you're new to bird watching, you'll be surprised at how many names you'll recognize. The only voices in the birding world not represented in Good Birders Don't Wear White, it seems, are bloggers as distinguished from those contributors with blogs who achieved their notoriety in other arenas. Lisa, if you're putting together a sequel, call me!
Good Birders Don't Wear White is a quick, enjoyable read, classy, confident, and congenial. It doesn't take long to realize that the expert panel equates good birding with fun birding. This struck me as both encouraging and liberating. While some of the tips herein are more revelatory than others, the proffered wisdom is secondary to the shared sense of joy. Every page of this splendid book celebrates the subtle wonders of birding, making it ideal for absolutely anyone who raises bins to eyes in order to appreciate avian activity. No matter where you are in the continuum of your bird watching career, Good Birders Don't Wear White: 50 Tips from North America's Top Birders will remind you not only why you got interested in the first place, but why you'll most likely be birding happily for the rest of your life. You'll probably learn something too!