On Saturday, before the Western Reef Heron had fortuitously reappeared, Daisy and I journeyed through the boroughs of New York City seeking out birds.  Our last stop was Great Kills Park, more properly known as the Staten Island Unit of the Gateway National Recreation Area. Wait, what? Staten Island?  Is that even in New York?
Yes, Staten Island is one of the Big Apple's five boroughs, though it is often aptly referred to as the forgotten borough.  It is so forgotten that neither Daisy nor I had ever travelled beyond the ferry terminal after taking the free ride from Manhattan.  That made the ride over the Verrazano-Narrows Bridge somewhat fun.  Fun, that is, until we paid the $9 toll for crossing said bridge.
Though the bathing beach was crowded with those who were enjoying a more sensible pursuit on such a hot day, the rocky shore to the north of the beachgoers was mostly empty, of people at least.  We found a nice spot to sit and enjoyed two distinctly different views.
The first was the rocky flats, exposed by the low tide, being picked at by gulls and herons.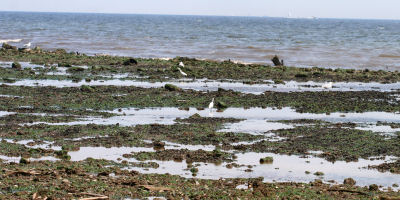 We kept an eye out for the missing reef heron, as Staten Island is only a short distance from Brooklyn as the heron flies, but despite seeing three other species (Great and Snowy Egrets and Little Blue Heron) we were disappointed.
The other view, of the exposed bank behind us, was pretty cool too.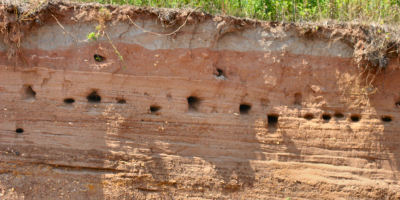 And what made the bank so cool?  Those holes are Bank Swallow nests!  There were dozens of the birds swooping around, snatching bugs from the air.  With the binoculars we could see young in a couple of the holes but I didn't dare risk disturbing them by approaching close enough to get a picture.  You'll have to be content with this shot of an adult in flight, the only pic out of forty that I took with which I was happy.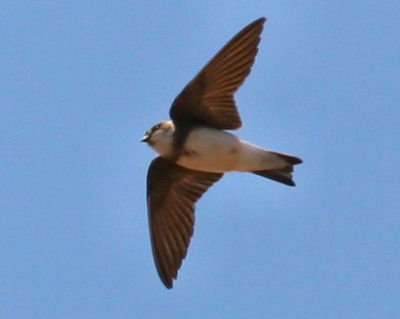 Brown swallow with a stripe?  Bank Swallow
We also spotted an Osprey being chased by a pair of Common Terns, Ring-billed, Herring, Great Black-backed and Laughing Gulls and the expected birds you would find in any city park.  It's probably a park that if we had spent more time in we could have found more birds but we were hot and tired and didn't feel like beating the bushes so we stayed by the shore awhile, enjoying the sea breeze and the sun and then headed home to Queens.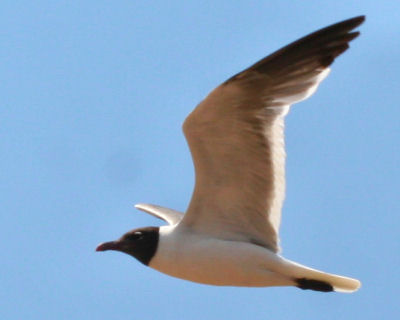 Laughing Gull in flight