Saturday morning I arose before dawn, brewed and drank some coffee, got my gear together, and headed to Jamaica Bay.  When dawn came it was anticlimactic: the cloud cover was complete and what little light filtered through was barely enough for photography.  And when I got off the bus at the entrance to Jamaica Bay the wind out of the south was blowing hard, keeping most birds hunkered down under cover.  It was clearly not good weather for seeing lots of birds but I was there and I figured I would make the best of a bad day's weather and see what I could spot.
I didn't spot much.  For the first time ever at Jamaica Bay I didn't see a single mimid: they must have all been under cover.  The kinglets that have been blanketing all appropriate habitat of late were entirely absent.  The only warbler that crossed my path were the ubiquitous-at-this-time-of-year yellow-rumps and even they were uncooperative, typically only registering with me as chip notes as they fought the wind overhead or foraged deep within impenetrable tangles.  No woodpeckers, flycatchers, nuthatches, wrens, vireos, or finches showed.  The only corvids were a small murder of American Crows and another individual that was being harassed by a Merlin.
So I focused on waterfowl!  Brant were around in huge numbers, as were Double-crested Cormorants.  Of dabbling ducks I saw a few, with Northern Pintail and Gadwall being the highlights.  A flock of 37 Bufflehead on the West Pond were a treat, as was a single Pied-billed Grebe.  I searched through a small flock of American Wigeon trying to make one Eurasian, but, alas, it was not meant to be.  Ruddy Ducks in nice plumage were around in their usual large numbers and I can watch them for hours, though, with the wind as strong as it was, I must admit to only giving them a cursory once-over.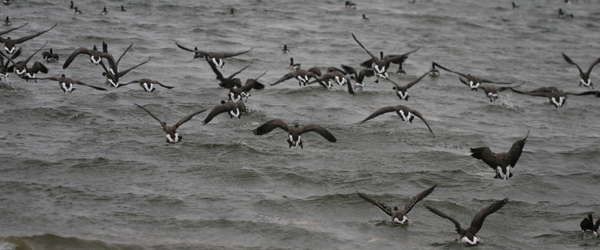 Brant taking flight (both above and below)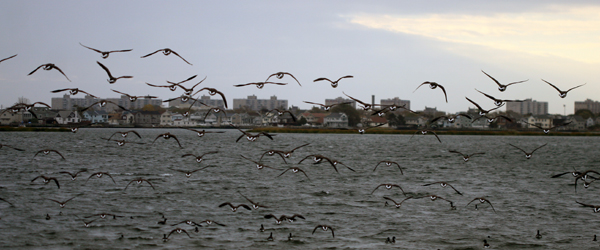 What else was around besides waterfowl?  Not much.  Only raptors were around in any number: three Northern Harriers, two Peregrine Falcons, the aforementioned Merlin, and single Sharp-shinned Hawk all alternately fought and rode the wind in search of prey.
After a couple of hours I gave up and took the bus to Forest Park, where I didn't see much more.  So it was home to do laundry.  Not the best day I've had out birding but sometimes, well, the birds just aren't going to cooperate.  Maybe today will be better…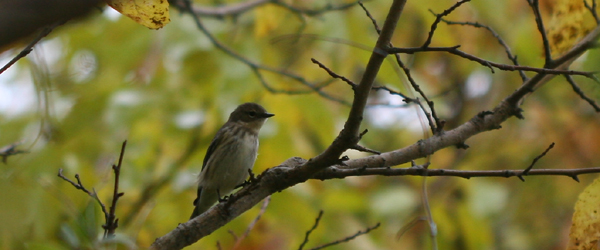 the only remotely cooperative Yellow-rumped Warbler of the day