It's Saturday.  That means it's time for the answer to Wednesday's "Just For Fun Avian Quiz".
Here are the clues again…
Five things you probably didn't know about this species:
* Many thousands pass through the James Bay area Canada in late summer.
* May migrate up to 5,000 miles non-stop (that's longer than most commercial flights ).
* Surprisingly, little is known about this bird due to the remoteness of breeding and wintering sites.
* Migratory flight lines are along narrow corridors.
* Winters in a just handful of locations … exposing the population to potentially dangerous crashes.
Five things you might know about this species:
* Mostly feeds by touch rather than sight.
* Pointed wings.
* White stripe in wing.
* Black tail.
* "Arguably the best place to see (this species) is on road-side flooded fields along the Gulf of Texas during April."
And the correct answer is Hudsonian Godwit.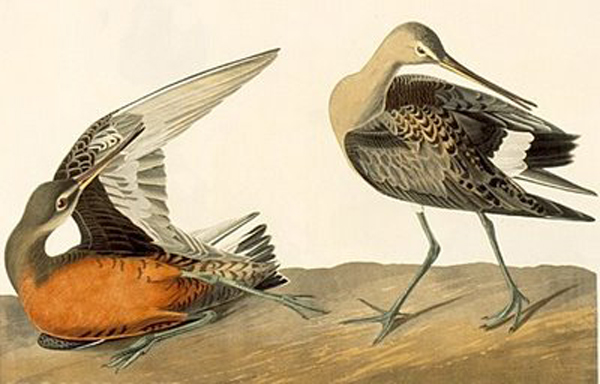 Audubon's Hudsonian Godwit plate
Harry was the first to guess and the first to guess correctly.  Mike Powers and Liz Gordon also got the correct bird.  Sandra took a stab and guessed Red Knot, which was a reasonable guess but didn't fit some of the clues.  Pete made the interesting guess of Common Nighthawk but quickly retracted when he realized it was not correct.  At what point did those who guessed correctly know the bird?
Almost an EXTRA CREDIT question: Do you know of other species that feed by touch rather than by sight?  "Wow, what a great question", I thought.  I started to answer this question and quickly found this following statement from the BBC website.  "We tend to think that, with the exception of owls, all birds are inactive after dark. This is far from the truth. Tidal rhythms mean that mudflats may be exposed during darkness allowing those species to feed that find their food by touch."  In addition, I've found various references to spoonbills, storks, ibises and baby owls feeding by touch rather than by sight.
EXTRA CREDIT: A 5,000 mile non-stop migration is impressive, but it's not the longest non-stop migration.  What bird has the longest non-stop migration and how long is it?
This coming Wednesday expect a different type of quiz.  Stay tuned.