Every other year, a large chunk of my family (my wife's mother's side) rents a fancy house on a fancy beach somewhere on the East Coast. We've been to the Outer Banks of North Carolina and DownEast Acadia in Maine as well as New York's Finger Lakes and the Jersey shore, but apparently we love Sandbridge, VA because we've returned. Let me assure you that the birds of Virginia Beach 2010 are just like the birds of Virginia Beach 2008. What could be better than watching Osprey, pelicans, terns, gulls, and even Purple Martins soaring above the Atlantic Ocean?
Last time we were here, Seth and I explored the beauteous Back Bay National Wildlife Refuge, home of bounteous Blue Grosbeaks and Yellow-breasted Chats. This time, we turned our attention inland towards the Great Dismal Swamp, reputed to be a reliable stronghold for breeding Swainson's Warblers. This single fact made the swamp sing for me, since I'm running out of new warblers to chase. So the hunt was on!
The name "Great Dismal Swamp" seems somewhat forbidding, but, thanks to an extended drought, the place was neither dismal nor swampy. It was pretty great though…

Seth on the Washington Ditch boardwalk
Reports online suggested the Washington Ditch trail to be an auspicious place to seek out Swainson's Warblers. Our welcoming committee consisted of warblers of a different, more luminous color. I never imagined I'd find a place in this world where Prothonotary Warblers were the most common birds. Now that I have, all I can say is, "Wow!" What a privilege it is to see these glowing golden embers flycatching all around. Second only to the prothonotaries were Ovenbirds, acting unusually arboreal. Clearly, the Great Dismal Swamp was well-stocked with warblers, but where were the Swainson's?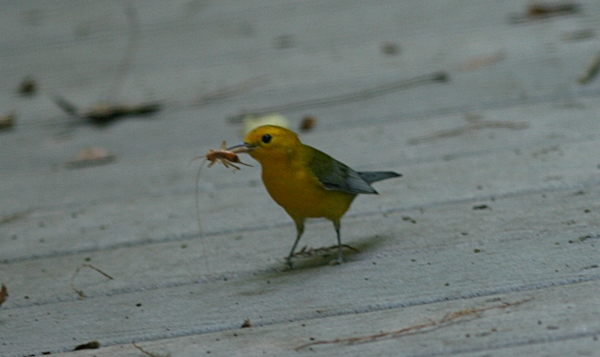 My ISO was set wrong so even my best photo fails to do this bird justice
The swamp was surprisingly birdy for mid-summer. Carolina Wrens squalled and Pileated Woodpeckers cackled, while, high in the trees, a variety of nuthatches battled for dominance with Carolina Chickadees and Tufted Titmice.  We found ourselves on the edges of this kind of mixed flock when Seth spotted our target bird. I couldn't get on it from that vantage so we moved into the midst of the action and struck paydirt: that proud head, that sharp bill and brilliant eyestripe… it must be Swainson's Warbler! Alas, the southern forest was too close and dark to permit decent photos, but at least we enjoyed multiple looks at multiple birds to fully establish this lifer.
Dry conditions in the Great Dismal suppressed much of the mosquito and biting fly action, but you can't keep a good bug down for long. Eventually, these pests found us, chewed through our layer of Cutter, and chased us back to the car. On the way, we added killers like Hooded Warbler, Louisiana Waterthrush, and Yellow-billed Cuckoo. The non-biting bugs were also amazing, from dragonflies like Slaty Skimmers to butterflies like Eastern Tiger Swallowtails. But the beach beckoned, so we burned rubber out of Dismal Town, richer for the experience. The Great Dismal Swamp, or at least the small slice we experienced, really impressed with rock-solid boardwalks and exuberant flora and fauna. Maybe we'll come back in 2012 for another look…