Have you ever started your day knowing that the word "mundane" just wasn't going to apply? That's how I felt this morning when I woke up in GUATEMALA! I'm here to participate in the fourth Birding Encounter courtesy of the Guatemala Tourism Commission. This noble enterprise has been conceived to promote bird watching and ecotourism in Guatemala, a Central American jewel oft overlooked by travelers. Frankly, I feel that selling Guatemala to birders should be about as easy as selling water to people whose hair is on fire. We're talking about a country smaller than Tennessee harboring more than 700 bird species. The numbers do not lie: Guatemala is a birding paradise.
This is not my first trip to Guatemala. I first had that pleasure when a day trip to Tikal was included as part of a larger Belize jungle vacation. In fact, that visit, with its profusion of phenomenal tropical birds, occurred just one month before I started 10,000 Birds. It would probably be accurate to say that Guatemala was instrumental to both this blog and my indefatigable desire for birding. As anyone who has visited the equinoctal Americas can attest, the Neotropics are a hard habit to break, particularly if you're in a position to appreciate its embarrassment of biological riches.
As thrilled as I've been to make this trip, I still wasn't prepared for how beautiful Guatemala City appears from the air. The capital city sprawls with obvious ambition across a broad valley, but is still creased with deep, forest-lined crevasses. The complex topography of Guatemala City plays out on a smaller scale the grandeur of the surrounding mountains. It was to these highlands that we repaired as soon as our planes landed, "we" being me and some of the other Encounter participants. Without adequate time to show off a local preserve or finca (farm) but aware that we needed more than the ubiquitous Great-tailed Grackles and Black Vultures to get in the Guatemala groove, our incredible tourism ambassador Bitty brought us to her own house in the highlands. Sweet!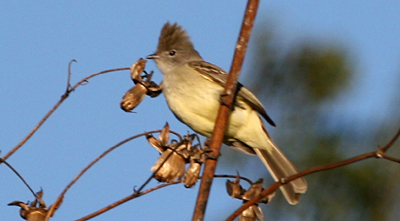 In no time at all, I was exploring this fertile new ground, joined by the highly knowledgeable tropical birder and Nikon rep, Mike Freiberg. Soon we were into birds like Turkey Vulture, Eastern Bluebird, Wilson's Warbler, Common Yellowthroat, Rose-breasted Grosbeak, and House Wren. "Wait a second," you're probably thinking (since saying that out loud might seem weird to whoever is sitting next to you,) "why would you go all the way down to Central America for the same birds you'll be seeing once migration kicks in. Sure, Guatemala is the winter home for tons of beloved United States migrants, but it has a lot more than that going for it. For example, instead of American Robin, I saw Clay-colored Robin, with abundant Rufous-collared Robins to boot, in place of Red-bellied Woodpecker, I saw Golden-fronted Woodpecker, and rather than Northern Mockingbird, I saw Tropical Mockingbird (though that last one doesn't represent much of a difference.) The fact is that spotting a male Baltimore Oriole in full, incandescent orange plumage is always special, particularly when it's two branches down from a Social Flycatcher.
Yes, the highlands had plenty of outstanding birds, and more than a few new ones, for me. Gray Silky-Flycatchers, for example, are gregarious spitfires whose cacophonous squawks can be heard incessantly throughout the highlands. They're also worth paying attention to as the vivid yellow of their yellow untacs contrast nicely with their dove gray plumage. Band-backed Wrens are pretty spectacular themselves, garbed in a motley of black and white stripes against rich cinnamon. Encountering a small group of these striking wrens occupying the branches of a tall pine was one of the highlights of the outing, Another was an admittedly drab, but still desirable Contopus flycatcher; the name Greater Pewee may sound somewhat oxymoronic but it sure looks great on my life list.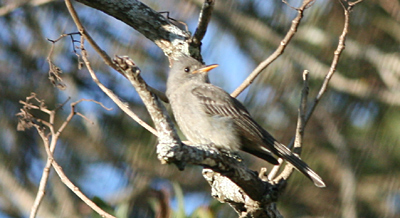 Buff-breasted Flycatcher, Dusky-capped Flycatcher, Lesser Goldfinch, Yellow-bellied Elaenia, and Rufous-collared Sparrow also featured prominently in our late afternoon birding. One of the most interesting sightings was Townsend's Warbler since (a) I didn't expect western wood warblers, (b) this brilliant bird in full dazzling plumage was my first, and (c) there was apparently plenty more where this one came from. However, that is a story for another day. Suffice to say, as twilight deepened and Cattle Egrets soared overhead to their evening roosts, I knew that this brief foray into Guatemala highland birding heralded even better things to come.