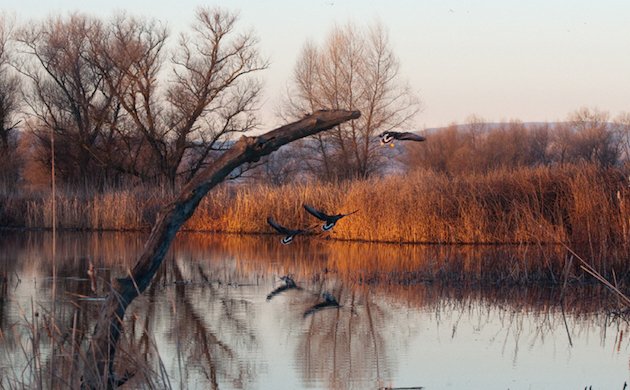 Colusa National Wildlife Refuge is part of the Sacramento National Wildlife Refuge Complex in California's Central Valley. This complex consists of five national wildlife refuges (NWR) and three wildlife management areas (WMA) that comprise over 35,000 acres of wetlands and uplands. There are also two photography blinds on Sacramento NWR, one blind on Colusa NWR, and one blind on Delevan NWR.
These photo blinds offer exceptional views and photo opportunities for wildlife photographers and are available by reservation via lottery. These images were taken from the blind at Colusa NWR, click on photos for full sized images.
At first light, about 7:30 AM, the winter bulrush gives a golden glow to the wetlands. These Greater White-fronted Geese (Anser albifrons) flew in with just enough light to begin taking photographs.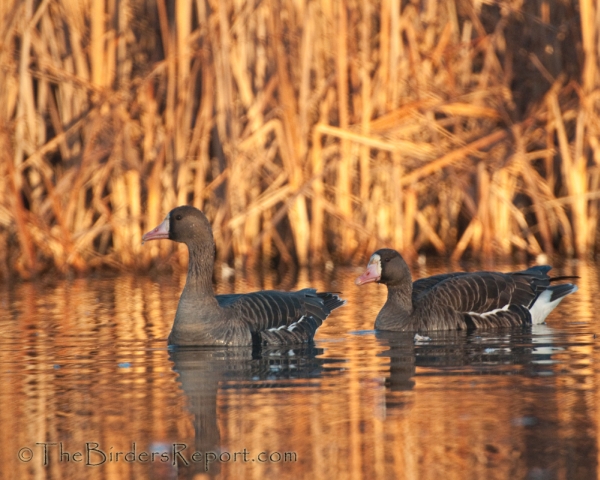 In North America, the Greater White-fronted Goose breeds in open tundra areas of the low Arctic from Point Barrow, Alaska to northeastern Keewatin, Northwest Territories, and it winters south to Chiapas, Mexico, thus having the broadest latitudinal range of any arctic-nesting goose1. Range map courtesy of South Dakota Birds and Birding.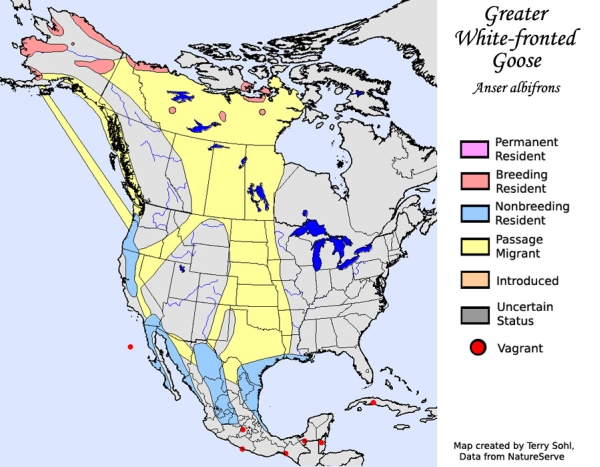 As the sun rose higher in the sky I was able to get some shots of the geese flying in…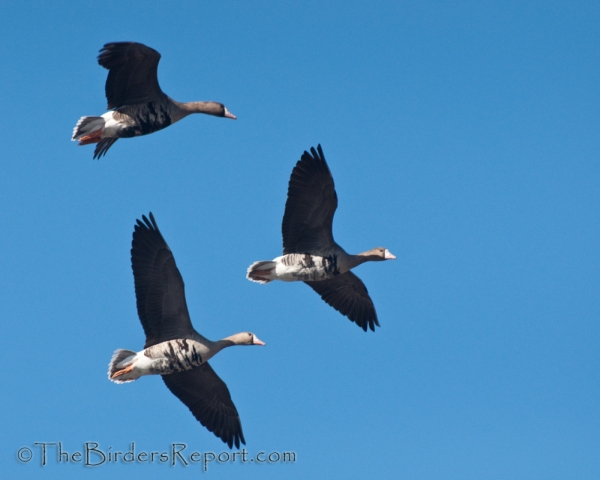 and landing among the tules.
They would fly over the bulrush in small groups of five or six birds and wind their way through the maze of waterways..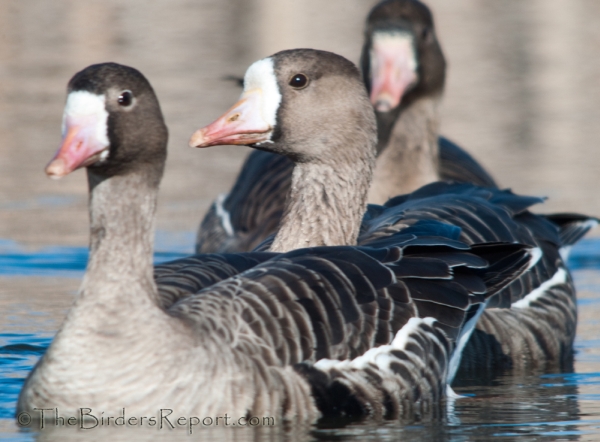 often finding their way into my view.
Greater White-fronted Geese are sexually monomorphic and being generally monogomous, maintain permanent pair bonds throughout the year.
During autumn migration, hundreds of thousands of Greater White-fronted Geese travel the Pacific Flyway to Washington and Oregon, some travelling directly to the Central Valley of California. Approximately 44% of the Pacific Flyway's waterfowl population winters in the Sacramento Valley2.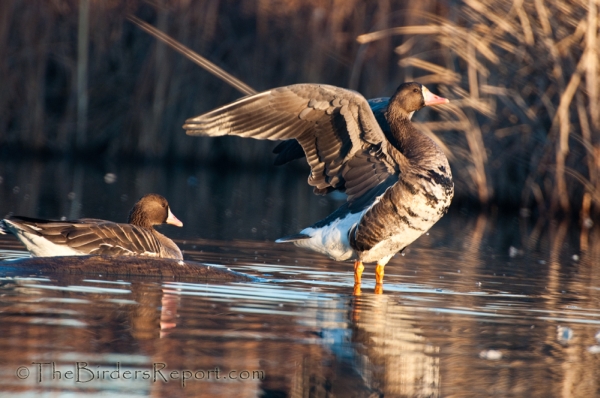 Here they can rest and recuperate for the inevitable northern migration back to their breeding grounds.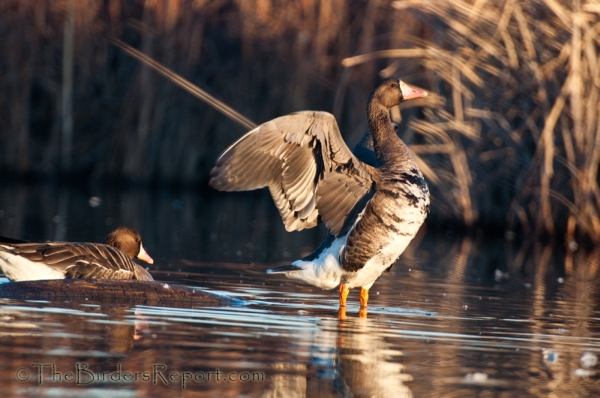 They can also spend some quality time stretching and hanging out with their friends and relatives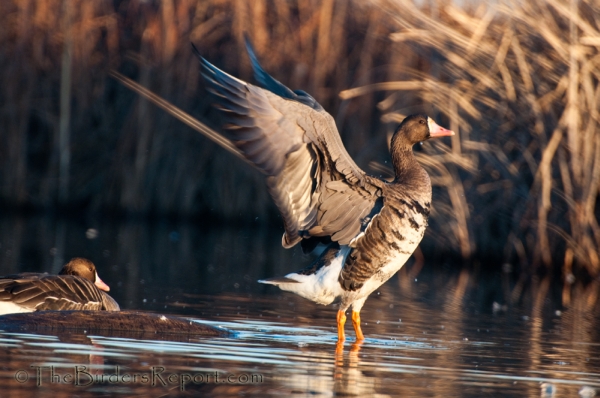 I had a great time photographing the Greater White-fronted Geese at Colusa National Wildlife Refuge, along with several other ducks and waterfowl observed from the photography blind.
As the day warmed up and the birds took siesta time from their morning foraging or took off for other parts of the refuge…
I left the blind and headed back to the refuge entrance to see if the vagrant Falcated Duck (Anas falcata) would appear this day. I was not disappointed!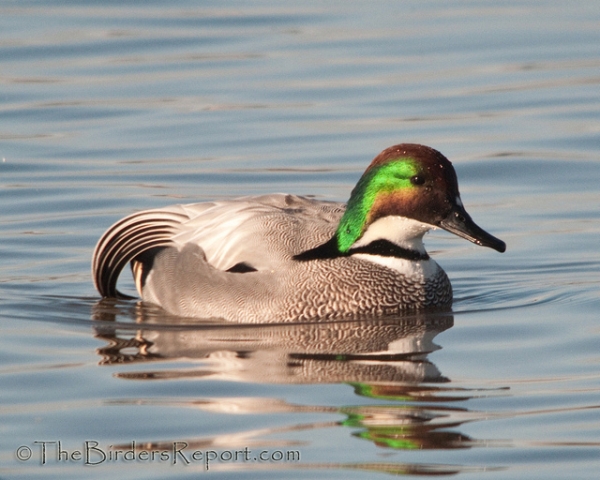 Great birding!
References: 1Birds of North America Online, 2Sacramento National Wildlife Refuge Complex