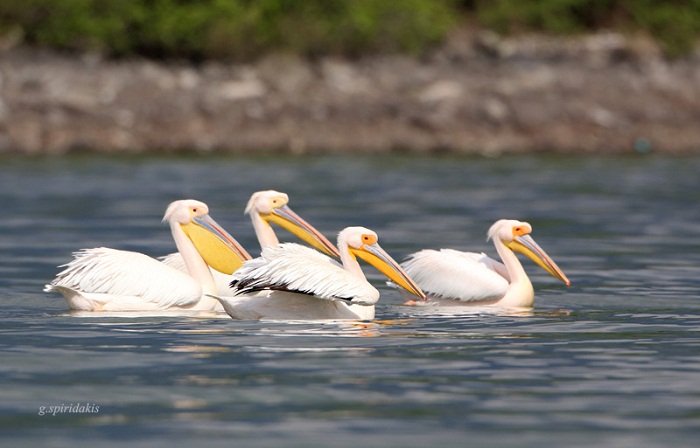 Our bird guide, Georgos Spiridakis, is driving slowly along this dirt track, checking the mud all the time. And then he stops and leaves the car – to show us a Grey Wolf track! It is an early April morning and we are in the hills surrounding Lake Kerkini in the north of Greece.
A movement in the bushes… a Lesser Whitethroat is hiding among the leaves, but we manage to see it. A few metres further, something is jumping from one branch to another… a pair of Subalpine Warblers, a Mediterranean species that does not go much further north than this. A male and a female and, very much warbler-like, they are hardly visible inside a low tree crown. Still, a few metres further, one, then another male sings in a low, dancing display flight (barely two-three metres above the bushes). It is still early spring and the leaves are small, not fully developed, so we manage to see them too, and we did it very ethically, without provoking a response by the mobile phone.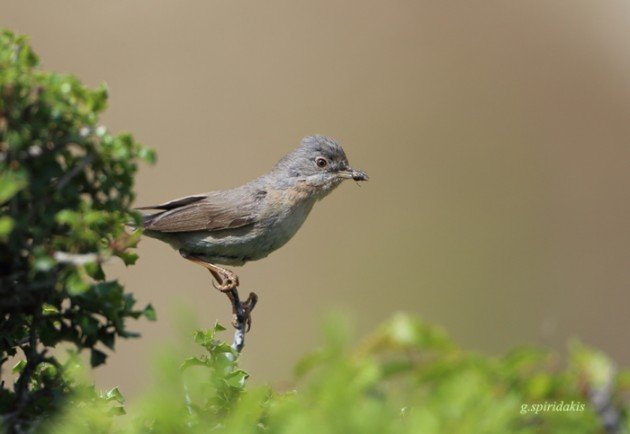 Subalpine Warbler (female) – Photo (c) Georgos Spiridakis
Hoopoes… Red-rumped Swallow… panorama of the lake… and we turn back to the lakeshore, where we have booked a boat tour. Stop! A large raptor just across the hilltop… Georgos says that at this time of year, we can expect Common Buzzard, Booted, Lesser Spotted and White-tailed Eagles. The bird is not showing again, so we use the elimination system: the first and the last are way too different, and dealing with the other two, we ID it as a Lesser Spotted Eagle.
Above the lake is another raptor, a Black Kite chased away by several aggressive Yellow-legged Gulls. At the same time, one Black Stork wades through the shallows, right next to the road. In the village of Kerkini, there are at least a dozen fiberglass platforms for stork nests at electricity pylons; these are erected higher above the wires to prevent bird electrocutions. We stop by one especially unruly nest with half a dozen round nests of Spanish Sparrows below – two are chatting on a wire right now – while at the first floor, inside the nest construction, the House Sparrows live; and, at the top floor, the White Storks are clapping their bills.
We are entering a long boat and sail by the wooden poles in the water, decorated with Common Terns (and one Black Tern that I've dipped), towards the greatest attraction of the lake, the pelican colony. We sail into the drowned forest (the trees stand in water for six months at a time, from mid-winter to mid-summer) which hosts a heronry and we enter straight into it! I haven't said that we are inside a national park and these visits are strictly regulated. There are a few spots where entering the heronry is allowed and the birds breeding in that section seem to be habituated to the visits. Around us are Pygmy and Great Cormorants; Eurasian Spoonbills; Squacco, Black-crowned Night and Grey Herons and Little Egrets. Among them are a few Eurasian Penduline Tits that keep eluding me. Despite the cacophony of all those croaky voices, the heronry is a strangely calming place.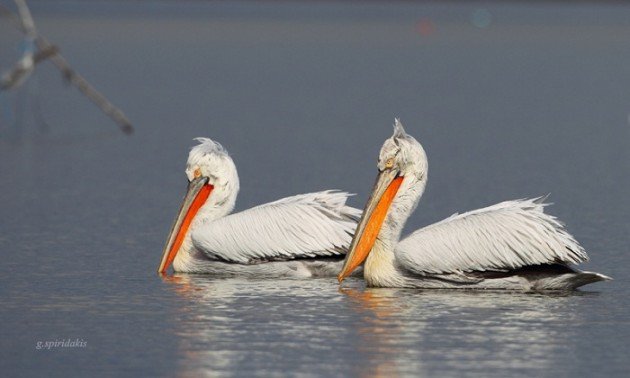 Dalmatian Pelicans – Photo (c) Georgos Spiridakis
Off we sail to another breeding colony – that of threatened Dalmatian Pelicans. This time we stop by the yellow bouy – again, that is as close as we are allowed to go. The main threat that the Dalmatian Pelicans are facing nowadays is what we are doing right now: disturbance by tourists (our level of disturbance is being controlled by the authorities and tolerated by the birds) and fisherman as well as wetland alteration and destruction, water pollution, collision with overhead power-lines and over-exploitation of fish stocks, while breeding colonies in Mediterranean lagoons are often threatened by coastal developments and the alteration of the functioning of the lagoons.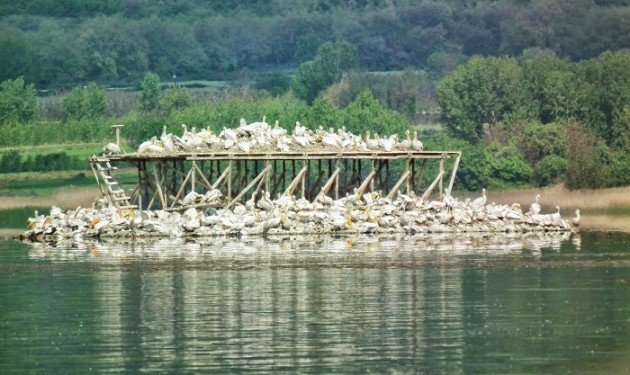 Dalmatian Pelicans – nesting platform

But it is not a hopeless situation, there is a way around those threats: marking (easy and cheap) or dismantling of power-lines (expensive, requires construction machinery), the provision of breeding platforms – such as these we are looking at right now – and rafts, together with wardening, water level management and education programmes. Such actions were performed here and have reduced mortality and significantly increased breeding success: in 2013, over 190 youngsters successfully left the 130 nests on the artificial platforms at Lake Kerkini.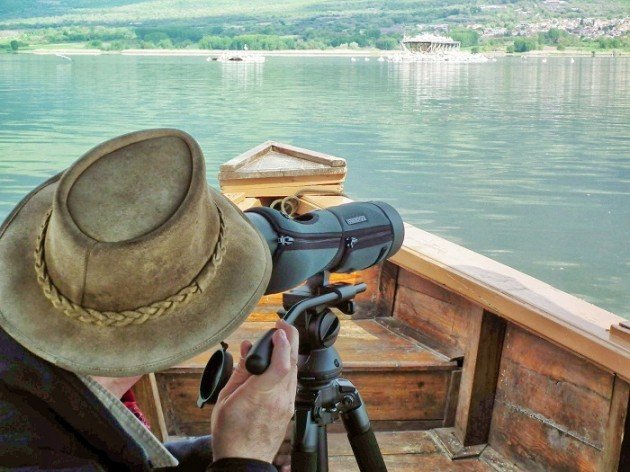 We are floating by the bouy and observing the birds coming and going from the nearest platform (I like to see my activity as "observing" as opposed to mere "watching"). The water level is not too high and an artificial island – the pile of rocks that is the foundation for the platform stilts stand exposed and is used by numerous pelicans for resting and preening, while only two metres higher, breeding is in full swing. Estimating all the flocks together, in those two hours of sailing we have seen some 250 to 300 Dalmatian Pelicans.
Back towards the quay, we stop by a group of another pelican species, this one only passing through the area – Great White Pelicans (cover photo). It is nice to see both of them at the same time at such close range and have a chance to compare the head shape and pouch colour. My only other chance to study them both was last year in Gujarat, but they were too far for subtle differences: the pink-tinged plumage of Great White as opposed to somewhat greyish of Dalmatians, yellow-ochre pouch as opposed to red-orange, visible forehead and "beaded" eye of Great Whites…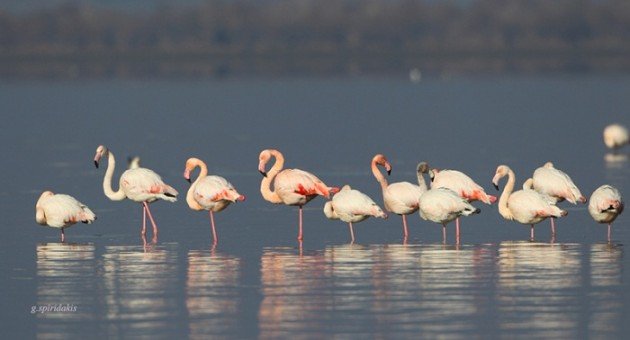 Greater Flamingos – Photo (c) Georgos Spiridakis
From the lake shore to the river bank in the nearby forest: Middle Spotted Woodpecker, Tree Pipit, Short-toed Treecreeper, Eurasian Blackcap, Common Chaffinch, etc, and back to the eastern shore of the lake. Driving along the dike, we are watching Garganeys… some waders… taking off… I've seen where they landed… flamingos! It turns out that the waders I was watching were Ruffs, about 50 of them, but they have landed by the unnoticed flock of Greater Flamingos. Counting… 20, 30… 70, 80… 130, 140! They are wading in deep water – some of them even swimming and against the reflections of the setting sun on the water, almost invisible without binoculars.
On a low willow branch, two round nests of Eurasian Penduline Tits are swaying in a light breeze, but – again – I cannot see their builders. High-pitched chee-chee-chee of a Common Kingfisher, but I do not see him either. A church tower in the next village boasts an enormous stork's nest, about three metres tall… and off to the hotel for quick packing before the return trip to the Thessaloniki airport.
Practicalities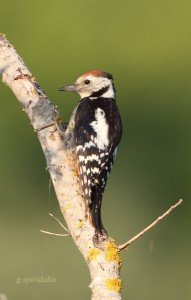 Middle Spotted Woodpecker – Photo (c) Georgos Spiridakis
Lake Kerkini lies among the 2000 metres high mountains (offering a wide range of habitats) by the Bulgarian border, some 110 km north of Thessaloniki and 240 km south of the Bulgarian capitol, Sofia. There are more than 300 bird species recorded in the national park. The best birding season here is spring, from early April to late June, while the second best is winter, when tens of thousands of waterbirds come to overwinter on ice-free waters. Once here, you can finally rest assured that you are off the beaten tourist paths – Lonely Planet has not yet discovered this place.
I was on a new birding tour well organised by Natural Greece and accompanied by their nature guide Georgos Spiridakis, who lives on the shore of this lake and specialises in this area, as well as wider northern Greece. We stayed at comfortable, family-run B&B Limneo Hotel at the village of Chrysochorafa, whose friendly owner, Nikos Gallios is ready to personally serve breakfast at 4 am, if his eccentric guests wish so. For dinner, there are several taverns at the village square, some 100 metres away, which, among other dishes, serve local specialty – water buffalo sausages.
As air carriers, to Athens I used the Aegean Airlines, from Athens to Thessaloniki, I used the newly open Ryanair line and later, from Thessaloniki, Air Serbia.
Find more about Lake Kerkini here, or get a copy of the Birdwatching in Northern Greece – a site guide by Steve Mills (all money raised from book sales go towards helping birds in Greece). BirdLife Greece has recently published the Greek bird finder, available online as pdf and downloadable as an android smartphone application. The Lake Kerkini chapter starts with page 48.
My Lake Kerkini eBird list.
In the previous post: birding the Cyclades under sails.