May 30 is the sacred feast of Ivynox, the day we celebrate our lovely daughter's birth. Since this was Ivy's very first birthday, we wanted to make it special. So, the family made a mid-week excursion to Jones Beach. What a day! A weekday at the end of May seems to be the perfect time to visit the most popular beach on the East Coast, as we had the place pretty much to ourselves. Since it's still too early in the season to go swimming, we could devote ourselves to more toddler friendly pursuits such as playing in the sand and eating, or in Ivy's case, a combination of the two! And of course, there was a little bit of birding.
Tranquility and empty parking lots aren't the only draws at Jones Beach this time of year. Naturalists should make the trip for breeding Least Terns and Piping Plovers. Both of these endangered species enjoy the protection they need during this delicate time of year when their biological imperatives clash with out recreational ones. Most visitors can not help but note the dainty white terns flitting about, filling the air with their squeak toy call. Other more perceptive ones might catch the elusive plover parading about apparently unperturbed by human intrusion. I was fortunate enough to spot plenty of terns and plovers: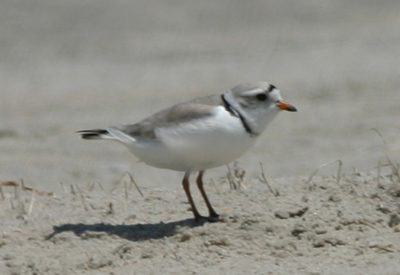 Piping Plover
Least Terns kept primarily to the dunes while Common and perhaps also Forster's Terns sped by along the ocean side of the beach. Plenty of the usual gulls made the scene, as did the assorted shore- and songbirds typical of the Long Island Atlantic coast on the cusp of summer. My favorite bird sighting apart from the plovers was a flock of about ten Northern Gannets plunging recklessly into the surf far from the beach. But the best sighting of the day was indubitably that of my sweet little Ivy Bean enjoying her first birthday cake: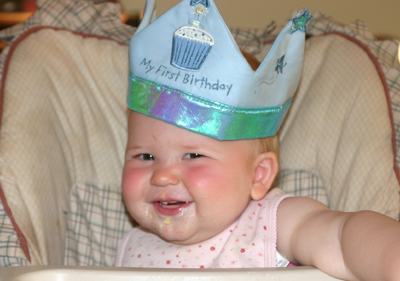 Happy 1st Ivynox!