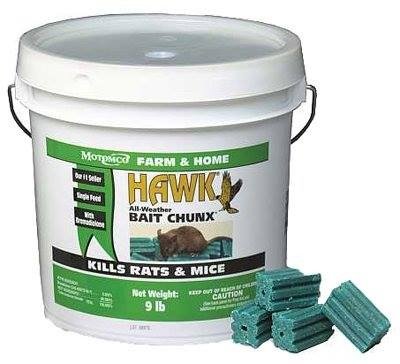 Does the product above strike you as black humor, only not funny? Let me introduce my guest blogger, Lisa Owens Viani, co-founder of the Earth Island Institute-sponsored group RATS (Raptors Are The Solution), which educates people about the dangers of rat poisons. I'll leave today's blog in her capable hands.
It takes a lot of nerve—or something that can't be printed here—to name your rat poison after the animals that so effectively and efficiently control rodents but that are also being poisoned—as "non target" animals—by your product. The label on Motomco/Bell Lab's rodenticide "Hawk" even sports a drawing of a hawk getting ready to pounce. But "Hawk"'s active ingredient, a deadly second-generation anticoagulant, bromadialone, has been implicated in the deaths of Red-tailed Hawks, Red-shouldered Hawks, Cooper's Hawks, and other raptors: American Kestrels, Barn Owls, Golden Eagles, Great Horned Owls, and Turkey Vultures. These birds are being poisoned after eating rodents that have been poisoned by products like "Hawk."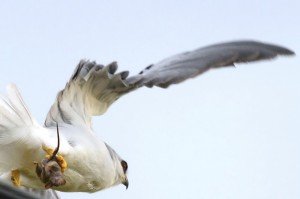 Motomco's Material Safety Data Sheet for "Hawk" warns that the product "is extremely toxic to fish, birds, and other wildlife" and that "dogs and predatory and scavenging mammals and birds might be poisoned if they feed upon animals that have eaten this bait." They also warn that the product should not be directly applied to "water or to areas where surface water is present or to intertidal areas below the mean high water mark," and that "runoff also may be hazardous to aquatic organism in water adjacent to treated areas." Perhaps their next product will be named "Gills"—or "Turtle" or "Trout" or Salmon?" Or better yet, "Ecosystem."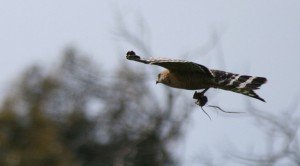 Syngenta's product "Talon"—evidently inspired by the talons of the natural pest- controlling birds of prey—uses the active ingredient brodifacoum. Syngenta warns that "Talon" is "hazardous to dogs, cats, pigs, poultry and other wildlife." In addition to killing birds of prey, brodifacoum has also killed coyotes, grey foxes, red foxes, kit foxes, mountain lions, bobcats, black bears, Pacific fishers, and other animals, including domestic dogs and cats. Syngenta advises users to "NOT place baits in locations which are accessible to pets, domestic animals, livestock or birds" or to "contaminate dams, waterways and drains with the bait or its used container." In addition to that helpful information, they include another thoughtful warning: "The use of this product for the control of protected native rodents and rodent like animals requires permission from wildlife authorities." (Thanks for your concern for wildlife, Syngenta.)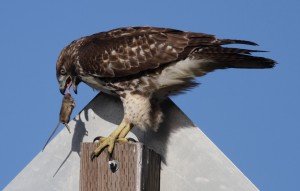 Motomco also makes "Jaguar" and "Tomcat," complete with cat icons, of course. Like Syngenta's "Talon," "Jaguar"s active ingredient is brodifacoum, which has killed mountain lions, bobcats, and house cats, plus all of the species mentioned above.
"Tomcat" uses diphacinone, a first generation anticoagulant known to have caused the deaths of bobcats, mountain lions, domestic housecats, songbirds, and birds of prey including Kestrels and Bald Eagles. Researchers have also found that bobcats and mountain lions exposed to diphacinone and other first generation anticoagulants have an increased susceptibility to mange—to the point where it has caused serious illness and death.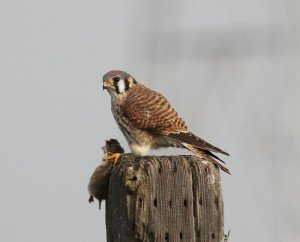 Perhaps not surprisingly, the poison companies seem to be hiding behind Teflon shields about the problems with their products. For example, when a RATS supporter wrote to Motomco/Bell Labs raising concerns about "Hawk," this is the response she got (verbatim):
"When we first started to make products for the Ag market we introduced 'Tomcat' with the idea that a cat is nature's domestic mouser. Tomcat seemed a better, more aggressive sounding choice than just 'Cat'. (many pesticides have aggressive, masculine, or other names of the like – I think it goes with the killing concept (I'm a scientist, not a marketer)). When we introduced our next product some years later we thought we'd stick with the theme and chose Hawk as a nod to this raptor and it's skills at killing rodents. I don't think the name, Hawk, misleads anyone into thinking the bait is meant for use against hawks, and I don't think that it tricks hawks themselves into buying it for personal use (sorry, trying to be funny). As mentioned above, the name is a tribute to the hawk. I am extremely interested in what the reasoning is or why the concern about the name and what problems it represents."
Sincerely, Craig A. Riekena Compliance Manager Bell Laboratories, Inc./Motomco Ltd criekena@belllabs.com 608-241-0202 x3052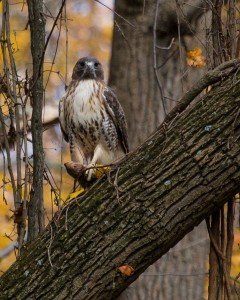 Mr. Riekena, perhaps this blog will fill you in on the concerns some of us have about your products. The poison used in your product "Hawk" and others like it is killing real hawks, taking them out of the ecosystem, preventing them from doing their job of rodent control, and allowing rats to proliferate. It seems that your "tribute" is not quite working. In fact, "Hawk" is being used against hawks, just indirectly.
Before too long, if we continue to use such ingeniously named products as "Hawk," "Talon," Tomcat," or "Jaguar," we'll have a lot fewer real mountain lions and bobcats, and hawks and owls—with their real talons—to help us control rodents.
And their pest control services are free.
For poison-free alternatives, see here.
Photographs, in order, courtesy of: Cayce Wallace (White-tailed Kite); Dave Harper (Red-shouldered Hawk); Mary Malec (Red-tailed Hawk on roof); Dave Harper (American Kestrel); Pam Dimeler (Red-tailed Hawk in woods).