That's right, I'm going to the First Annual Mesoamerican Birding Festival.  Now while Mike has enjoyed birding the neotropics (the sub-tropical and tropical parts of the New World) and Charlie has birded, well, pretty much everywhere, I have never birded outside of the temperate zone.  While I am set in terms of the field guides I'll be using and have studied hard to get a slight grasp on the birds I might see (Resplendant Quetzal has me drooling already) I am still worried about what to bring with me.  While the festival organizers have shared with me a useful checklist of things to bring, and Julie Zickefoose, who is also going on the trip, has been helpful, I figured that asking 10,000 Birds' diverse and knowledgeable readership would be helpful too.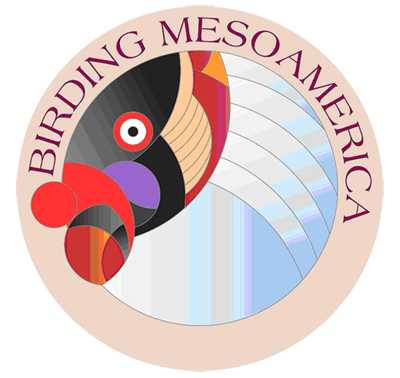 Now it's not like I am going to be camping out in the jungle with scorpions crawling on my face while I am asleep.  No, it looks like accommodations are going to be comfortable, and in some ways, luxurious.  The Lodge at Pico Bonito, which has compiled a bird list of over 400 species on its grounds, looks wonderful (and an email from a manager there that had as an attachment a picture of a Blue-crowned Motmot, made me start drooling again).  Hotel Las Glorias looks outstanding as well, and the idea of nearly two weeks in Honduras focusing almost entirely on birds, well, I might have to see a doctor about this drool problem I seem to be having…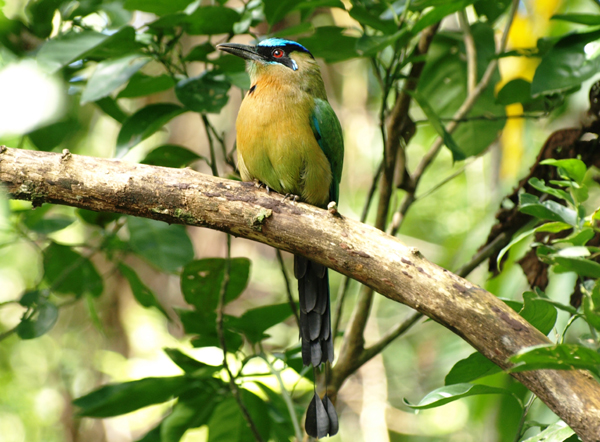 Blue-crowned Motmot by James Adams, The Lodge at Pico Bonito (used with permission)
Right now, my list of birding-related equipment to bring includes my camera, several lenses, extra memory cards, my binoculars, my scope and tripod, two field guides (Ber Van Perlo's Birds of Mexico and Central America, part of the Princeton Illustrated Checklists series, and Steve Howell and Sophie Webb's A Guide to the Birds of Mexico and Northern Central America), John Kricher's A Neotropical Companion, my optical cleaning kit, pens and a notebook.  I will most likely be bringing my laptop for downloading the pics I get and to occasionally blog and check email while I am in Honduras (there will be much more blogging upon my return).  In terms of clothing I plan to bring a full complement of underwear and socks, a couple pairs each of cargo shorts and cargo pants, several T-shirts, some long-sleeved shirts, a single hooded sweatshirt or windbreaker, a couple of caps, a pair of flip-flops, and a pair of sturdy New Balance sneakers.  I am still debating whether or not I am going to take malaria medication or get my doctor to provide me with doxycycline in case it seems like I am getting malaria and cyprofloxacin in case I start to, umm, leak from my nether regions.  I will also be bringing over-the-counter pain medications and anti-diarrhea medication, sun-tan lotion, bug spray and a small first-aid kit.
We'll be birding everything from hotel grounds to cloud forests to mangrove swamps to Mayan ruins to straight-up rain forest.  Temperatures should top out in the high eighties and bottom out in the high sixties (Fahrenheit).  I expect rain and sun to alternate.  Hot, humid weather makes me sweat like a horse but I imagine I'll be able to survive the heat: the real question is if I will survive the joy of seeing what folks I have talked to estimate will be over 200 life birds, to say nothing of a variety of mammals, bugs, plants, reptiles, and amphibians.
So, what am I forgetting?  What advice do you have for a first-time neotropical birder?  What are the odds of my head exploding?  What should I look out for?  What should I be sure to see?