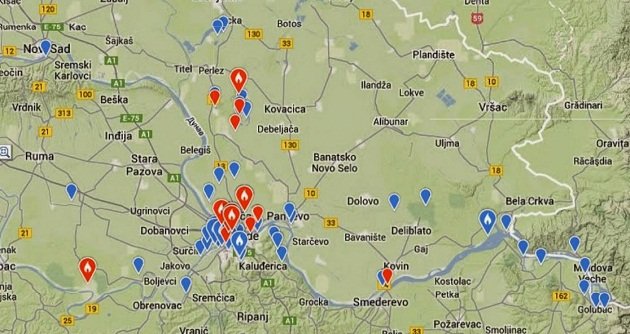 These days I am busy with something called the "avitourism product" of Belgrade, Serbia. Yes there are birding sites and there are birds – but hardly much info about them (beside Fat Birder). When discussing this topic for local media, I often say that because of their White-tailed Eagles, the Scottish island of Mull makes 2 million pounds per year from birders alone. Belgrade's tourism symbol is – a House Sparrow (no one is able to tell me why), and while Belgrade has six to seven pairs of WTE – one of them breeding at the river island reserve practically in the city centre and with a beach visited by more than a hundred thousand sun bathers every summer, Belgrade's ecotourism income equals 0 pounds, dollars, dinars – whatever.
Local birding sites are well known – among local birders. Some of those more often visited are marked as hotspots at eBird – about 15 of them in and immediately around the city. Nothing impressive, but Serbian birders started using eBird only a year ago.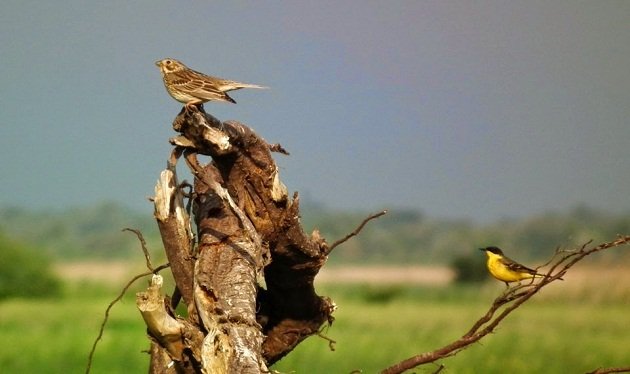 Corn Bunting and Yellow Wagtail – common
Nevertheless, describing where to bird is easy. Defining Belgrade bird specialties is the hard part – there is no defined criterion, beside attractiveness which often comes from how uncommon some species is. E.g., a few weeks ago I guided a British couple around Belgrade, visited about four major sites and found more than 60 species. By the end of a day, the best bird was the White-tailed Eagle that caught and ate a fish right in front of us – a species they have seen in the UK only once. Yet, my best bird was a Common Kingfisher in a quick and low fight above a wheat field – I have never seen anything like it.
Okay, that choice is something to be expected, but how about this: some seven years ago I was guiding another British couple to a nearby fish farm where I was happy to show them the Great White Pelican – the only one I have ever seen in Serbia! Well-traveled as they were, they only ticked off the species and continued to admire a – Hooded Crow! Should I add, for the crow, there was no need to leave the city.
And so, which dozen or so birds to choose as the Belgrade specialties? At this page you can find what was recorded in Belgrade mostly in the last few years (ignore those with Domestic type or hybrid in a bracket next to the species name, plus the introduced Ring-necked Pheasant or the feral Rock Pigeons and Ruddy Shelduck that were reported; as well as the Yellow-legged/Caspian/Armenian Gull reported by mistake instead of some hard to ID Yellow-legged/Caspian Gull). Checking that and some other species lists, I have come out with a two dozen species:
Red-throated and Black-throated Loons (Divers) – winter
Pygmy Cormorant – winter (it breeds in Serbia, but overwinters in Belgrade)
Black-crowned Night and Purple Herons – spring/summer
Black Stork – spring/summer
Eurasian Spoonbill – spring/summer and mild winters, too
Garganey – late winter to summer
Ferruginous Duck – year round
Greater Scaup – winter
Common Scoter – winter
Goosander and Red-breasted Merganser – Belgrade in winter; otherwise, the first one breeds in Serbia
White-tailed Eagle – year round (breeds inside the city)
Common Crane – migrating over Belgrade, sometimes landing at city outskirts
Whiskered Tern – spring/summer
Long-eared Owl – year round
European Bee-eater and Roller – late spring/summer
Black and Syrian Woodpeckers – year round
Penduline Tit – spring/summer and mild winters
Spanish Sparrow – still ill-numbered but, since recently, breeding near the city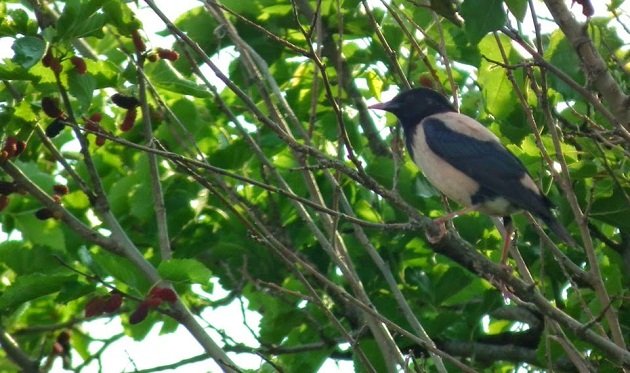 Rose-coloured Starling – irruptions every other year
My friend B.C, a British expat birder living in Belgrade for a few years, commented this topic: "For me the top species is undoubtedly White-tailed Eagle. I was so excited when I saw my first (and they were my first ever) over the Danube from in front of the 25 May Sports centre that I called my wife and told her 'something amazing has just happened'. Next in line, for me, are the rivers in winter, and the possibility of Black-throated Diver, Scaup, Smew, Velvet Scoter etc. – so unexpected in the heart of the continent. Then there are the Pygmy Cormorants. Tree Sparrows are almost as common as House Sparrows in some parts of the city, while Ravens and Rooks can be seen among the corvids in the city – unusual for Western birders. Sometimes you can see both Bee-eaters and Golden Orioles in the city, and hear Nightingales singing. The springtime Night Herons deserve a mention and finally the Cranes in Spring.
"That's for the city itself. I'd mention that within an easy 90-minute drive of the city are sites holding Lesser-spotted and Eastern Imperial Eagle, Red-footed Falcon, Roller, Black Stork, Savi's Warbler, Ortolan Bunting, Wood Warbler, Barred Warbler, Tawny Pipit, Saker Falcon, Long-legged Buzzard, Bluethroat etc."
What do you think – which of these (or some other from the already mentioned eBird page) would make your top-five?
Cover photo: Where to bird around Belgrade (source: eBird)