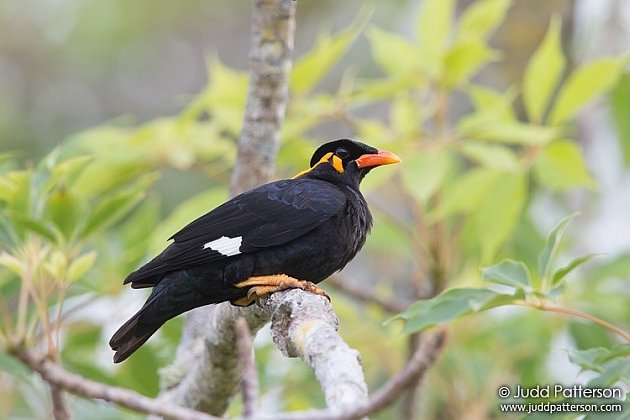 Miami, Florida has a reputation among the birding community for being overrun with exotic bird species. It is well-deserved. Spot-breasted Oriole, Purple Swamphen, Common Myna, White-winged Parakeet, Red-whiskered Bulbul and Monk Parakeet are the ones that garner the most attention among those interested in listing, since they are ABA-countable. However, the typical birding experience for someone down here also includes a large menagerie of other species such as Orange-winged Parrot, Mitred Parakeet, Egyptian Goose and Nutmeg Mannikin. One of the more unusual additions to our local avifauna is the Common Hill Myna (not to be confused with Common Myna, a parking lot obligate in Miami), a popular bird in the pet trade due to its ability to mimic human speech. Their loud, descending whistles, gurgles and screeches are a common feature of parks and suburban neighborhoods in parts of Miami-Dade.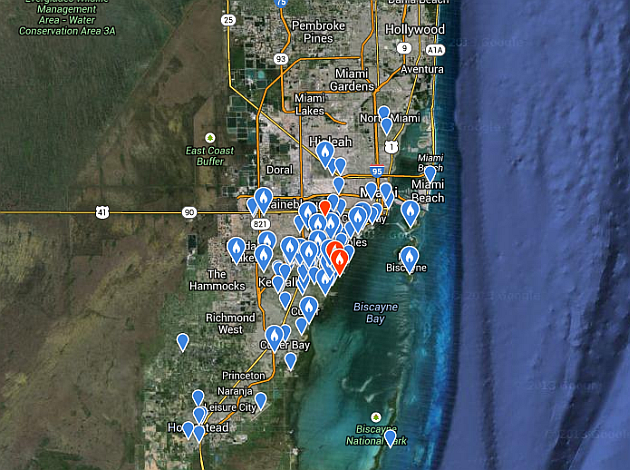 Common Hill Myna's range in South Florida.
Distributed across a broad swath of territory that includes India's Himalayan foothills, Thailand, Indochina, peninsular Malaysia and western Indonesia, this species occurs in moist or semi-evergreen forests that may include secondary growth and degraded habitats in its native range. It even occurs on small, remote islands in the Andaman Sea which harbor few other native land birds. Despite their apparent adaptability, Common Hill Mynas seem to thrive in a very small, triangular piece of Miami-Dade demarcated by Tamiami Trail to the north, the Florida Turnpike to the west, Cutler Bay to the south and Biscayne Bay to the east. The eBird map above illustrates that it is a relatively common species within its tiny introduced range where it favors tropical hardwood hammocks and lush neighborhoods with relatively old, mature trees that provide cavities for nesting. From experience, these primarily frugivorous birds do show local movements that may depend on the local ripening of fruit outside the breeding season.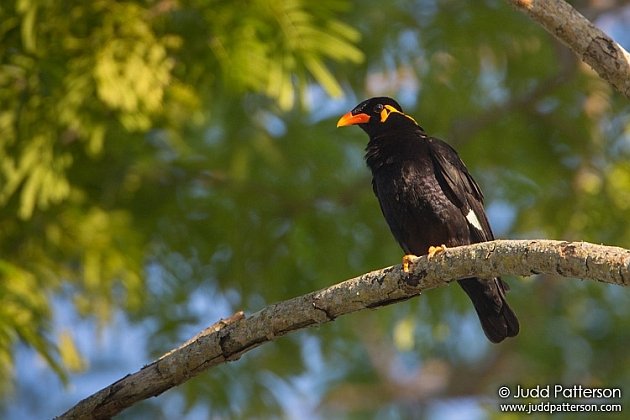 Common Hill Mynas are easy to locate due to their loud, shrill calls.
Observers confirmed that Common Hill Mynas were nesting in Miami-Dade in 1973. During the 1986-1991 Florida Breeding Bird Atlas, breeding was confirmed in three quadrangles that more or less reflect its present distribution. Although its presence predates the arrival of several now countable exotics and it is still successfully nesting in the area, Common Hill Myna seems unable to spread beyond their suburban stronghold. Could it be due to climate? Lack of feeding opportunities? Availability of nesting cavities? No one is really sure. This local oddity seems doomed to dwell in perpetual listing limbo as an innocuous, non-countable species.
If you would like to make a trip to southern Florida in search of Caribbean specialties, exotics, or general birding, please visit my webpage at www.ecoavian.com or contact me by email at csanchez1230@gmail.com to inquiry about my guiding services.
Images for this week's blog post are courtesy of Judd Patterson. More of his stunning photography can be seen at www.birdsinfocus.com.
…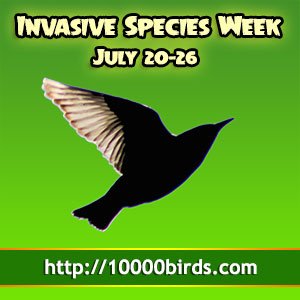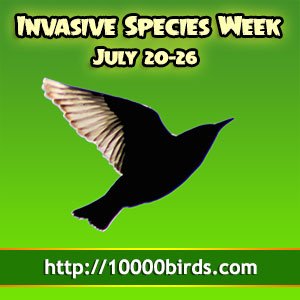 Here at 10,000 Birds 20 July – 26 July is Invasive Species Week. We use the term "Invasive Species" in the broadest sense, to encompass those invasive species that have expanded beyond their historical ranges under their own power, by deliberate introduction, or by unintentional introduction. The sheer number of species that have been shuffled around on our big earth is impressive, though we will be dealing with the smaller sample size of invasive avians and other invasives that effect avians. Nonetheless, this week will be chock full of invasive species. So batten down the hatches, strap on your helmet, and prepare to be invaded! To access the entire week's worth of content just click here.