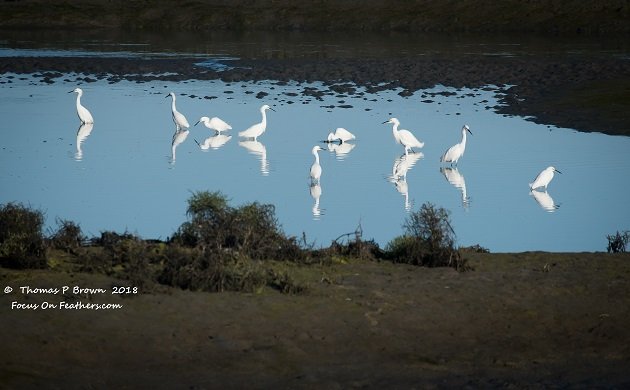 February 1st
As we begin traveling north up the Baja, our first stop on February 1st will be Puerto Escondido. While there is not really a "birding" stop, there are plenty of opportunities for adding to this year's growing species list. Puerto Escondido is a small protected harbor that caters to transient boats, both fishing as well as sailboats. The trip from La Paz to Puerto Escondido is about 4 hours by car, 5 hours if you are pulling something like our big 5th wheel. It passes thru some nicely varied terrain, most of which is typical arid desert. A good portion though is agricultural and so the chance for a new group of birds is there. A couple of small towns along the highway seem to be badly over run with Eurasian Collared Doves. This recent addition to the area has to be completely for the food that would normally support the local birds, like Mourning, White-winged and Common Ground Doves. One nice surprise was three Western Meadowlarks sitting on the barbed wire fence along the highway.
As we pulled down the lane to the marina parking lot, I was finally able to get that Ladder-backed Woodpecker that has been stumping me at every patch I was used to finding them.
February 2nd
We pull out of Puerto Escondido just as the sun is rising, on our way to Guerro Negro, and the most anticipated stop of the Mexico part of our journey north. This area is known for its salt flats where millions of tons of salt are harvested every year. It is also known for the 10,000 acre wetlands that have been set aside for migrating birds. In order to keep this short, I will limit my driving/trip part of the story out of this and just cover the birds. But, I need to add that there was a small "incident" when we got to the RV park, which is going to cost me quite a bit of my birding time while I do some repairs.
Despite the issues, I was able to get about as much time as needed in order to cover the prime areas, and hit almost every one of my targets for this area. Black Brant, American Wigeon, Gadwall, and Red-breasted Merganser. My biggest miss comes with the Black Oystercatcher that has been seen several times, but I just could not track it down. Turns out the bird was reported in an eBird.org rare birds report, that same day that I was there, in the rocks at the base of the light house, exactly where we drove to, but never saw. For anybody traveling in this area, this is a area that is just not to be missed! The sheer number of birds is just unbelievable.
I got several nice photos of the Red-Breasted Mergansers, but I think this is my favorite.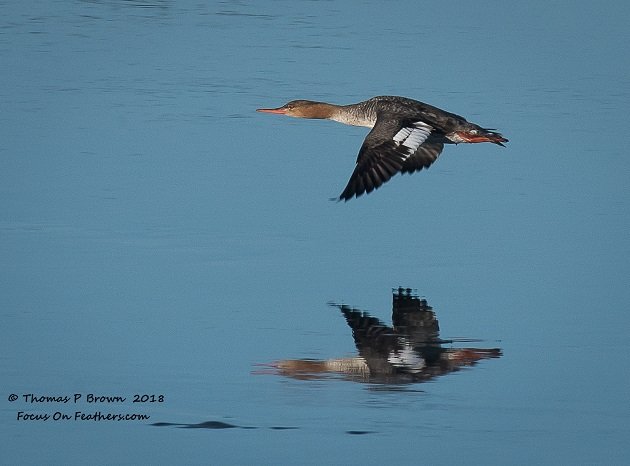 There were over 400 Black Brant in the area.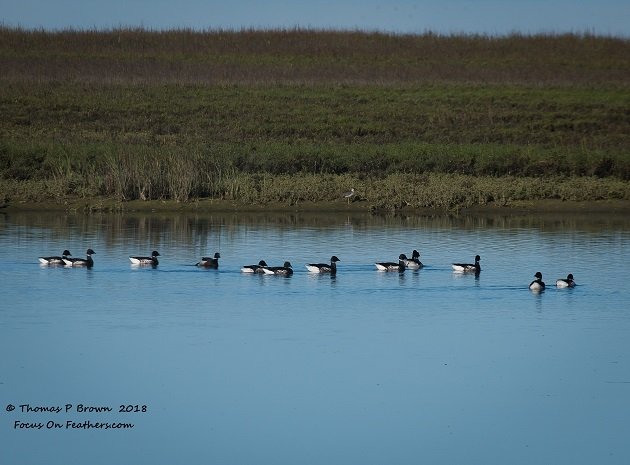 February 4th
After a long day of miserable roads, 200 miles of highway took us over 7 hours, we stopped at a beach side RV Park in San Quintin. Sunday Night, Super Bowl Sunday, and the day before a huge national holiday here in Mexico. This long what sandy beach that we had hoped for, turned out to be nothing short of a race track, with hundreds of locals, racing back and forth on the beach in ever manner of vehicle. Nothing more than a couple of gulls to be seen, but after dark, everybody left, and it was actually quite nice. The next morning was completely different, as we had the whole place to ourselves, us along with Western Gulls, California Gulls, Ring-billed Gulls, and couple of Snowy Plovers.
I always enjoy finding a Snowy Plover.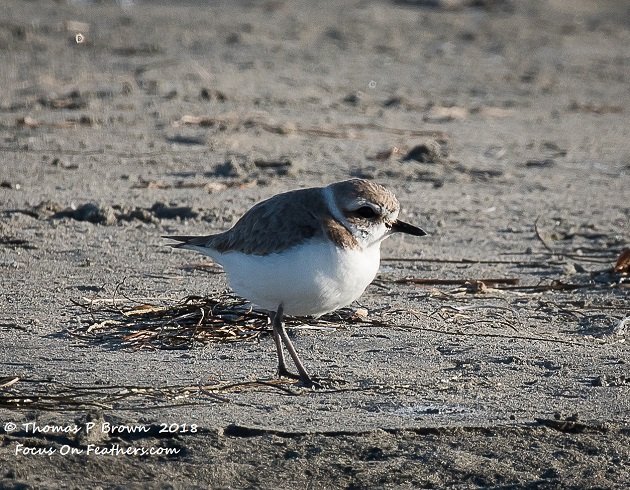 February 5th
This was to be my huge surprise day! I had gotten a tip, that just below the observatory, above San Telmo De Abajo, is a feeding station, and protection area for the local California Condors. This was going to be the home run in my first couple of months. We were told that you just go about 25 miles up into the lower hills, and can park the RV at Melling Ranch. Then drive the remaining 30 miles + or – up the steep hills to see the condors. It would be easy they said, and I was very excited to be able to photograph such a wonderful bird. OMG!! I was not aware you could even pave a road that was that steep, and after going 22 of the 30 or some miles, I waved the white flag. I was actually afraid for our rig, and somewhat the same for us. We found a somewhat wide spot in the road, did a 6 point turn and headed back down the hill with our proverbial tales between our legs. The condors would have to what for another day. On to Puerto Ensenada.
I know that this photo does not even come close to showing just how crazy steep this hill was, but that is where we turned around!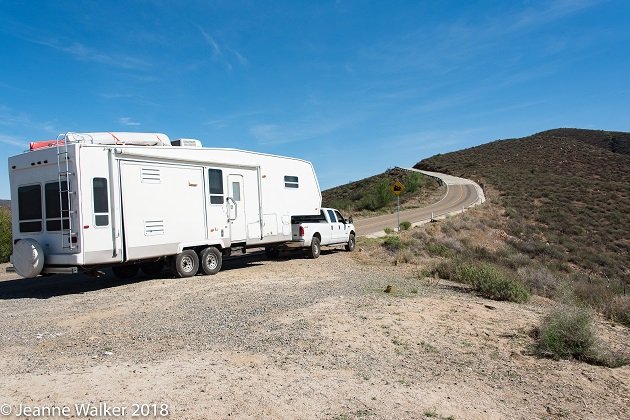 February 6th
Today finds us enjoying the southern end of the estuary that is formed by Bahia Ensenada. This is a large commercial port, but has hundreds of acres of tidal flats in the south end and is full of birds. We have the 5th wheel parked within a few yards of the bay, and had a great morning. Form me, the highlight was having a Common Loon, swim right up to me, within 7 or 8 feet. Other birds added to the list in this area are Bushtits, Merlin, Greater Scaup, Anna's Hummingbird, and Least Grebe. There are rumors of a Wandering Tattler in the area, so perhaps I can track that down before we pull out tomorrow, and cross the border back into the US again.
Here is that Common Loon.