True to form, our unseasonably warm weather snapped just in time for the weekend. Twenty-four hours of torrential rain was followed by twenty-four more of snow, ice, and frigid winds capable of flaying the skin off a hapless birder. But I had to get out anyway. The fact that one person once reported seeing Horned Lark in Van Cortlandt Park means that I have to check those 1146 acres of prime Bronx habitat every so often, just in case. Also, I have this new 2006 year list to populate. Last but not least, I just like to go birding. So, yesterday I got away for a couple of bone-chilling hours to enjoy Bronx birds of winter.
Foremost on my list was snapping a few Hooded Merganser photos for the edification of all. The lovely Lophodytes cucullatus was right where I expected them to be. In fact, just about all the birds I saw last time I visited Van Cortlandt were in their usual spots. As I walked the wetland path between the athletic fields and the golf course, I spotted the single specimens of Belted Kingfisher, Great Blue Heron, and Double-crested Cormorant, probably the same ones viewed here in November. The Rusty Blackbirds appeared on cue, as did the Black-capped Chickadees and Ring-billed Gulls. The sense of understanding an individual ecosystem, of knowing its denizens and feeling its rhythms and flows is thrilling. This connection to seasonal ebbs and flows, flowering and fruiting, and the comings and goings of countless busy creatures is a gift that comes of birding an area over time. If you haven't tried it yet, you really should.
Winter in the Bronx is surprisingly rich with birds. The chickadees comported with Tufted Titmice, Northern Cardinals, Blue Jays, and Mourning Doves. Mixed flocks of Song, White-throated, and American Tree Sparrows grazed enthusiastically while the larger Old Word House Sparrows sat on the sidelines. White-breasted Nuthatches, Northern Mockingbirds, American Crows, and Red-tailed Hawks all attended in plain sight to their particular niches. So did Downy and Red-bellied Woodpeckers. So did the waterfowl.
Waterfowl were the reason I visited Van Cortlandt (forget about those elusive larks) and waterfowl there were. The dominant species was, by an enormous margin, Canada Goose. Despite the hundreds, perhaps thousands of geese, I didn't detect a single Cackling Goose. One of these days I expect to run into this runty goose, but for now, I'll settle for a look at species beyond the typical triumvirate of Canada Goose, Mute Swan, and Mallard. Searching the massive flocks of geese delivered fortuitous single pairs of American Black Duck and Northern Shoveler. And, of course, those exquisite mergansers!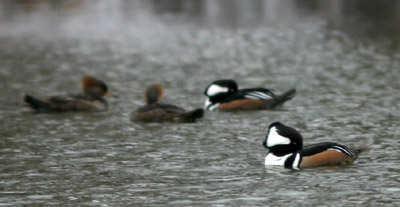 Hooded Mergansers